Anton Cederholm was a bit of an unknown commodity to Canucks fans when the team signed him last week to an entry level contract. Few remember the big defenceman being selected in the fifth round in last year's draft, and most fans probably would have guessed he was Russian. But he's impressed Canuck brass with his play and development, and they will be looking forward to seeing what he can do in training camp this year.
In The Beginning
Cederholm is from Helsingborg, Sweden, and grew up admiring Scott Stevens and Nicklas Lidstrom. It seems he chose good role models, as he showed some promise early in his career when he suited up for three games as a 15 year old for an Under-18 Club team. It's a difficult leap to make for any player, but all the more impressive for a defenceman, who play a very physical position and typically take more time to develop, a good example being Chris Tanev.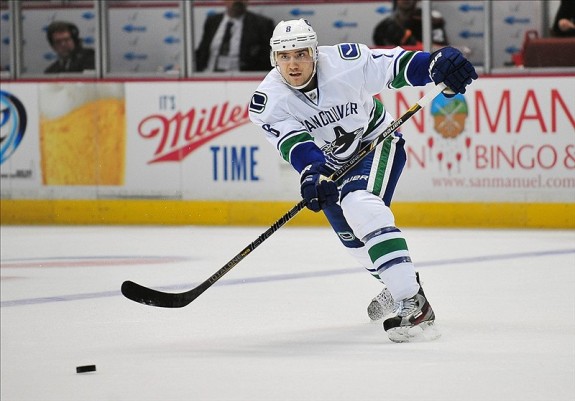 He continued to move himself up the ladder in the Swedish system, playing in many international tournaments, and had a particularly good year as a 17 year old playing for Rogie BK's Under-20 team in the Swedish SuperElit League. He put up 5 goals and 8 assists and was +25 with 64 penalty minutes, and was making himself into a solid stay at home defenceman who could look after his own zone.
By now people were starting to notice him, and Central Scouting had him ranked 25th among all European skaters before the 2013 draft. He was ready and willing to make the leap to North America and pursue a career in the NHL, and the Canucks took the 6'2", 215 lb D-man in the 5th round. The Portland Winterhawks were paying attention as well, and made him a first round pick in the CHL import draft in 2013.
Life In North America
There were some adjustments for sure. Originally Anton had planned on attending a school in the Portland area and continuing his education with North American students. But eventually he found it would be easier to complete his high school in the Swedish system by doing it online. Adapting to the style of play and the size of the arenas over here, as well as the cultural differences among students his age is a huge undertaking, but happily technology was available to him to allow him to graduate while living in another country.
To help him combat the challenges of playing the North American style, he found a sports psychologist from Norway that has made a big difference in his mental game and improved his confidence tremendously, helping him find what he was told was always there.
"What he says is that I've always had it in me," explained Cederholm. "He's helped me. Now I'm a lot more confident."
Cederholm is returning to Sweden this month to participate in his graduation ceremonies, and had hoped to have a large trophy to take back with him to show his friends back home. Unfortunately, they lost to the eventual Memorial Cup Champions in the Edmonton Oil Kings, in game 7 of the WHL Conference Final. A series, it should be noted, where he distinguished himself with his solid play.
Regardless of not reaching the goal of a championship, his season would have to be viewed as a huge success. Portland finished the season on a 28-1-0-0 run and came within a whisper of going to the Memorial Cup.
Cederholm himself had 4 goals and 16 points in 71 regular season games, typical stats for someone with his defensive mindset. But what stands out is his +/- rating of +42 and his 95 penalty minutes.
The +/- rating isn't everything for a defenseman, but it is one effective stat to measure a player's defensive ability. And the 95 penalty minutes include 7 fights, indicating a toughness the Canucks could really use on the backend, and on the team in general, as the bulk of the blueline grit comes from Kevin Bieksa.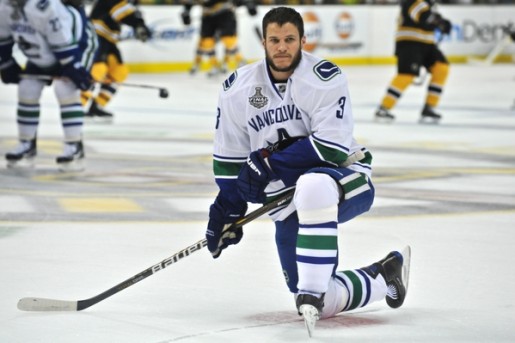 He also spent the year paired with Derrick Pouliot, who just won the CHL Defenseman of the Year. When you can spend a season playing with the best defenseman in the league, it's a pretty good indication of your talents. And it perfectly sums up Cederholm's role, a strong defensive player who can be counted on to back up an offensive partner and be part of a dynamic 1-2 punch.
Overall, although it was one season, Anton must be pleased with how the year developed and has to be encouraged with how he has progressed, given all that he has had to process and adapt. Now the focus shifts to taking the next step, and how best to reach the next level of play.
The Future And The Canucks
Clearly the Canucks are happy with what they've seen thus far from their 5th round draft pick. They have someone who has developed into a player that skates well for his size, and as a result, will be encouraged to use his skating more, and is a reliable defensive defenceman. The thinking is that he is progressing into someone who would play as a 5th-6th defenceman and ideally be paired with someone who can rush and add offence.
His work ethic and conditioning are first rate, in the off season he could always start a career as a fitness model, so maybe Kesler will have some competition for magazine appearances if Cederholm makes the team.

And there is the key element of his physicality and his desire to play tough, somewhat resembling fellow countryman Mattias Ohlund in that regard.
The general consensus is that he will return to the Portland Winterhawks, where he would see an increase in responsibility and be relied on even more, as they will be losing some key defencemen next year. But he is actually eligible to play in the AHL as well, and could develop his skills against players who have already been, or are going to be, in the NHL.

The issue of where he will play next season will likely be influenced by his performance in the upcoming Canuck training camp. But one thing is for certain, should the day come where he puts on a Canucks jersey full time, he will be embraced by the team and the fans.