No one in the league was raving about the Vancouver Canucks goaltending prior to the season, but one ranking was especially damning.
TSN's Jamie McLennan released his starting goaltender rankings before the start of the season, the results for the Canucks two Swedish netminders weren't flattering.
In fact, it couldn't have been any worse. McLennan had the Canucks dead-last. He also had the Canucks as the only team where there wasn't a defined starter.
Just to put that into perspective, he had goalies such as the Cam Ward, Scott Darling and Jimmy Howard behind the Canucks tandem.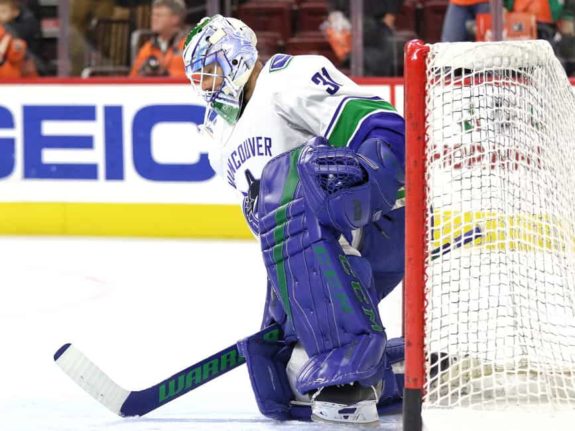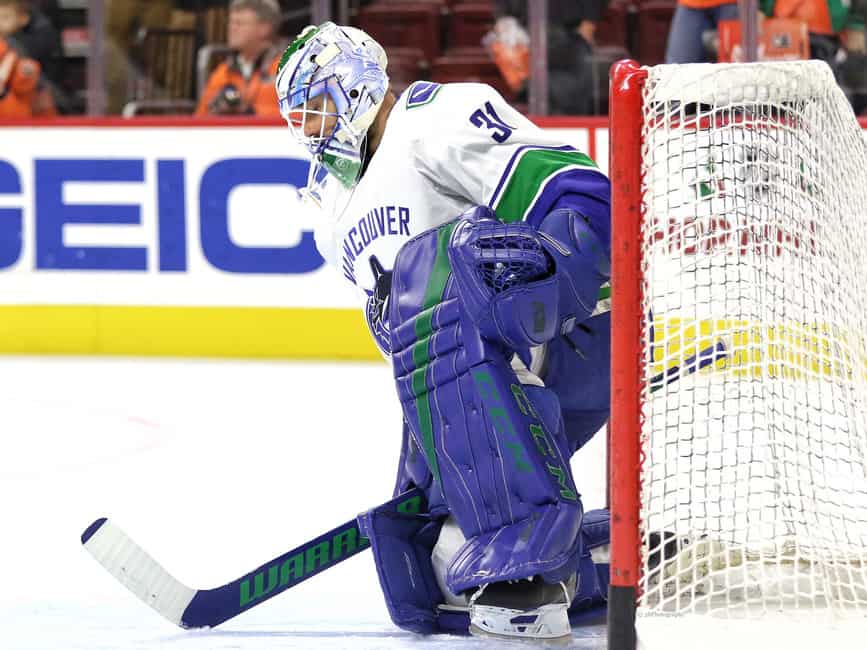 Granted, Jacob Markstrom and Anders Nilsson weren't great last season. Both had knacks for giving up goals early in games. For big goaltenders, they were also criticized for having too many holes for shooters.
Goaltending was once again supposed to be a weakness this year for the Canucks. However, you could argue that goaltending that the Canucks have surprised many to start the season. Both goaltenders have split starts early on, with Markstrom and Nilsson both showing improved play early.
What's Changed With Markstrom & Nilsson?
One of the biggest changes for the tandem of Markstrom and Nilsson was the addition of goaltending coach Ian Clark. Those in Vancouver known Clark from his time in Vancouver, where he spent nearly a decade with the organization. Clark was a goaltending consultant for the Canucks beginning in 2002 and became the full-time goaltending coach in 2005.
He then spent seven years with the Canucks organization before they let him go. Since then, he spent time with a Markus Naslund 0wned team in Sweden before hopping on board with Sergei Bobrovsky and the Columbus Blue Jackets.
By the way, how is Bobrovsky doing this season without Clark?
Noted goaltending guru and Canucks analyst Kevin Woodley was on TSN 1040 radio earlier this week to break down the changes in both Markstrom and Nilsson's game.
"The changes were obvious," said Woodley. "As soon as you saw these guys in the preseason, the stance was different, glove positioning was different, post play was different. It will remain a work in progress."
"The two places where Clark's changes will manifest itself, and I've talked about stance [previously on the show] with Nilsson and the same with Markstrom, are with the feet a little closer together, a little more upright through the chest, and the hands out in front of you."
Markstrom: "We both want to be in the net, but it's a healthy competition and you really need that to take your game to the next level. I know if I don't perform, he (Nilsson) is going to be there. I really have to step my game up if I want to play." #Canucks https://t.co/T5O0V3VpvS

— Ben Kuzma (@benkuzma) October 26, 2018
Even though both goalies stand and six and a half feet tall, both played hunched over in their own net. One of the biggest differences in their game was that both goalies seem to be playing without their number facing the roof.
Woodley also touched on the mental aspects of Markstrom's game last season, and how he looks to improve on that.
"Last year, [Markstrom] felt like he would get into a game and he would be so jacked to make that first save, so rare to go, so energized, then he would lock into this sort of low-wide stance, and it's not relaxed.
"It can lead to some of those goals from Jake early in his career that we've seen. He feels like as the game goes on now, he conserves energy."
"The words that Henrik Lundqvist used, that Markstrom is still trying to find, is relaxed intensity."
Can Markstrom & Nilsson Sustain Solid Form?
The performances of Markstrom and especially Nilsson, cannot be fully judged by looking at a stat sheet. To be honest, their numbers early on aren't earth-shattering. Markstrom's save percentage sits at .902 while Nilsson's sits at .912. One bad game did Markstrom in on Saturday night, where he gave up five goals to the Pittsburgh Penguins. Before that, his save percentage was at .911.
However, the stats aren't necessarily indicative of the goalie's performances. Their combined save percentage at even-strength ranks 14th in the NHL, despite them giving up the second-most scoring chances per 60. It is worth noting, however, that Nilsson's, .924 save percentage at even strength is much better than Markstrom's .891.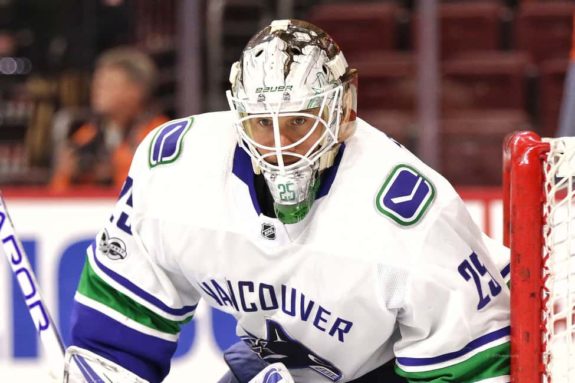 Markstrom had a couple of rough outings early in the season in losses to the Calgary Flames and Carolina Hurricanes. In his two following starts, however, Markstrom stopped 63 of 66 shots (and four shootout attempts).
One thing that has evaporated from their games early on is the weak goals. Part of that has to do with the Clark influence as well. Clark has helped Markstrom and Nilsson shore up their reverse VH technique, which is when a goalie hugs the post with lead pad horizontal as opposed to vertical. It's a technique that both goalies have worked on, and to their credit, the weak goals have disappeared early.
Unfortunately for Markstrom and Nilsson, it will be tough to sustain a high level of play with the Canucks giving up so many chances. That being said, Nilsson completely lost Travis Green's confidence last season. If Green does have two goalies he can trust, then the Canucks are already in better shape than they were last season.
KPU Journalism Graduate. Trevor has been writing for The Hockey Writers since October 2014. He has contributed articles related to the Ottawa Senators, Vancouver Canucks, and other issues/stories regarding the game of hockey. Trevor currently lives in White Rock, B.C.