It is a crazy time in the world with COVID-19 running wild and a Presidential election occupying most people's time in the United States. However, there are some other things that need to be focused on in Washington, D.C., and that is the Washington Capitals' roster for the upcoming season. They currently sit over the NHL salary cap and need to make some financial wiggle room prior season's start. That's why we need to stop, look around, and admire the great contracts that general manager Brian MacLellan has signed.
We will be going over the three best contracts on the Capitals in no particular order. These are solely my opinion, so I reserve the right to have you attack me online for my choices. With that out of the way, let's dive into the contracts.
Jonas Siegenthaler
After being a restricted free agent through the beginning of free agent frenzy, the Capitals inked Swiss defenseman Jonas Siegenthaler to a one-year, $800,000 contract. Although it seems like an insignificant contract from the outside looking in, the Capitals organization and their fans know just how valuable this young player is.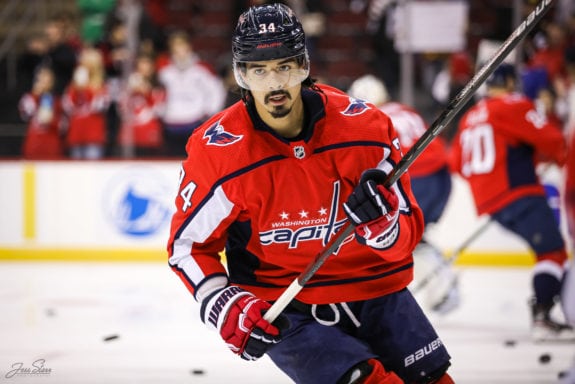 Siegenthaler is a solid defensive defenseman, and at a young age, too. He made the full-time leap to the NHL last season and was arguably the Capitals' best defensive defenseman. He played tons of penalty-killing minutes for how few minutes he played total and blocked the second-most shots on the team behind only John Carlson.
At 23 years of age, Siegenthaler injects some youth into an aging Capitals' blue line in desperate need of some players for the future. And, at only $800,000, he seems to be a steal for the one year they signed him. The Capitals' defense has needed some re-tooling and signing this guy to a contract that cheap is a very positive step in the right direction.
After looking at these impressive numbers, it is clear to see the Capitals have one of the league's best and brightest defensive players on their third pair.
Lars Eller
Now, shifting gears to the forwards, we have third-line centreman Lars Eller. The 31-year-old was a staple of the Capitals' 2018 Stanley-Cup-winning team and scored some huge goals. You may be familiar with one of those goals that, without spoiling anything, won them the Stanley Cup.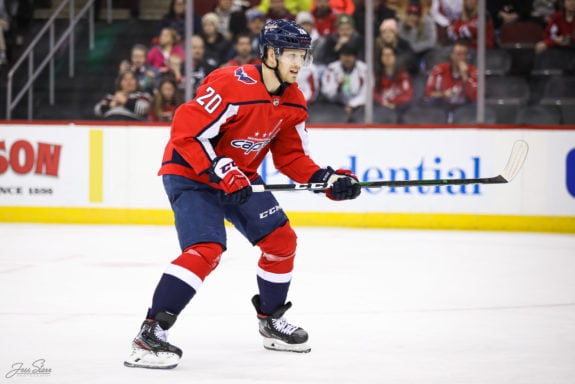 When he isn't scoring championship-winning goals, Eller has been a phenomenal third-line centre for the Capitals over the past four seasons. His career high in points for the club is 39, which he accomplished this past season with only 69 games played, which had him on pace for an impressive 46 points.
Eller is signed to a five-year, $3.5 million average annual value contract, which he signed back in February of 2018. This contract is extremely friendly, especially considering how much value he brings to the team. He plays on the third line, but can and has moved up in the lineup because of injury (most notably during the 2018 Cup run). He also plays second-unit power play and first-unit penalty kill.
That is worth a few million on its own, but then you factor in the 34.5 points he averages per season and you have a solid third-line player. That's why it is impressive how MacLellan was able to get him signed to a contract where he is worth every penny.
Jakub Vrana
Jakub Vrana emerged as one of the league's top even-strength goal scorers this past season as only one of his 25 goals came on the power play. His 24 even-strength goals were tied for seventh-overall in the entire NHL ahead of the likes of Nathan MacKinnon and Connor McDavid.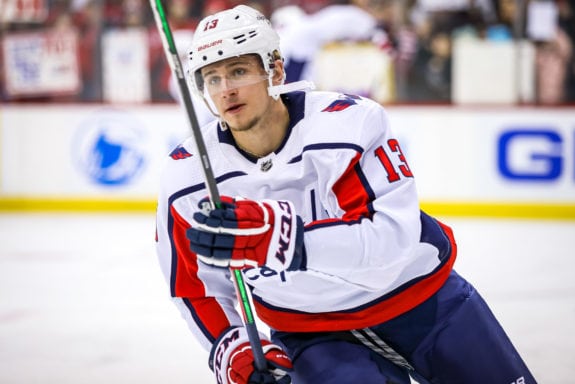 Vrana, much like Siegenthaler, is one of the few players on the Capitals under the age of 28. In 2019, he signed a two-year, $6.7 million bridge contract, which has proven to be a bargain for Washington. This past season, Vrana notched the 25 goals I mentioned, but also added 22 assists for 57 points in 69 games. He is only signed for one more season, so this valuable contract will turn from a bargain into a young player being paid what he's worth in a year's time.
It is crucial to have secondary scoring, and Vrana is the epitome of that as he is arguably the next best goal scorer on the team aside from Alex Ovechkin. During this upcoming season, he will hopefully develop even more and make this contract look like an even bigger steal than it already is for a season. He can absolutely become a 30-goal scorer in this league, and that's a nice piece to have if you are the Capitals' general manager.
There is little in terms of room for improvement required in Vrana's game, aside from his lackluster performance in the playoffs that left many underwhelmed. However, in his defense, nobody played their best hockey in the playoffs. I still believe that his current contract is one of the best-valued contracts on the team.
The Financial Struggles
There is no denying that the Capitals are in a cap struggle at the moment, but it should ease a lot of fans and management knowing that these players are on these contracts for the time being. Although not all of them will last, these deals are what will keep the team in the contending conversation. It is nice to have the Ovechkins and the Nick Backstroms on their big contracts, but in order to be successful a team needs to have value players on good deals. That's exactly what these players are for the Caps.
---
---