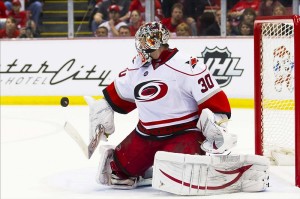 The Carolina Hurricanes have been one of the NHL's hottest teams of late, sporting a 5-1 record in their last six games.  Their latest effort, a 3-0 loss to the Columbus Blue Jackets last Friday evening, has done little to quell the expectations the Hurricanes have built for themselves.
It also did little to solve the three headed monster in their crease.  Before Friday's setback, Anton Khubodin had gone 6-0-0, riding a .943 save percentage and a 1.84 Goals-Against-Average in those six games.  He currently has a 2.00 GAA and a .936 save percentage.
His backup, Justin Peters, is right behind him, with a 2.38 GAA and a .922 save percentage.  He has proven to be a very capable NHL goalie most nights.
Incumbent starter Cam Ward, currently sidelined by injury, has proven to be the least effective of the three, with a 3.15 GAA and an .895 save percentage.  But he has also proven to be one of the league's best goalies when on his game, as his run in 2006 proved when he took the Hurricanes all the way to the Stanley Cup after starter Martin Gerber faltered in the first round.
Mind you, that was eight years ago.  A lot can–and has–changed.
Ward has been a consistent performer for Carolina in his career.  His lowest GAA was 2.44 in 2008-09, when he notched 39 wins in 68 games.  This was also the year he took the Hurricanes to the Conference Finals.  He has been a rock for the most part in the Carolina goal until recently, as the injury bug has caught up with him.  Last season, he missed 27 games with an MCL sprain, and this season he is currently sidelined with what is being called a lower body injury.
Carolina Roster Room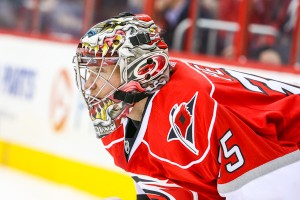 The big question is who will be the victim of a trade.  The Hurricanes have a wonderful problem to have:  three NHL ready goalies.  But it is still a problem nonetheless, as coach Kirk Muller cannot play all three of them every game.  Right now, his choices are made easy by the Ward injury.  When Ward returns, however, one of the three must be traded or relegated to the press box.  With Carolina needing some extra pieces to their roster, GM Jim Rutherford would be foolish not to take advantage of the extra goalie to fill those holes.
Carolina Goalies By Numbers
Cam Ward's value may have been hurt by his recent injury plague, but there's no doubt of his abilities to carry a team when healthy.  In his career, Ward has 450 NHL games under his belt, with a 220-162-52 record, a 2.76 GAA, and a .910 save percentage.  When healthy, there's little speculation of his talents.  He has a Stanley Cup and a Conn Smythe trophy with Carolina to attest to this.  He is 29 years old with eight NHL seasons under his belt.
Anton Khubodin has shown flashes of brilliance, but he's still young and untested over a long period of time.  He has a total of 29 NHL games on his resume.  He does carry a sparkling 20-6-1 record; however, he has played the most this season, having appeared in 15 games.  His previous high was 14 with the Boston Bruins in 2012-13.  He has fine stats in those 29 games; along with a great win/loss record, he carries a career 2.02 GAA and a .934 save percentage.  Khubodin is 27 years old.
Justin Peters is the last of the three Hurricanes goalies.  He comes in with 67 games of NHL experience to date.  He carries a 22-31-8 record in those games.  He has a 3.01 GAA and a .905 save percentage.  He has played 20 games this season, and carries a 7-9-4 record, with a 2.38 GAA and a .922 save percentage.  Like Khubodin, he is a relative unknown in the NHL, and between the two, he has the lesser stats.  Of course, to be fair, a lot of those stats came when Carolina wasn't very good.  Like Khubodin, he is 27 years of age.
 Odd Man Out In Carolina?
By the numbers, Peters is the least likely to be traded.  Any team looking for goaltending help will certainly not be impressed by his overall statistics, but they should be taking notice of this season.  He may not have a winning record, but he does carry a shining .922 save percentage.  Most hockey experts will agree, a goalie's save percentage is a true testament to his abilities, not the goals-against.  The bigger question will be if Carolina gives up on him.  However, his name just doesn't carry the weight a Cam Ward or an Anton Khubodin does.
Who Goes?
My money will be on the Hurricanes taking a chance and trading Anton Khubodin.  For this team to have any success, the Hurricanes need to hang onto Cam Ward.  Justin Peters seems to have fit nicely into a backup role.  He would be the perfect relief for Ward once he returns.  Of the three, Khubodin appears to have the most trade value.  He has taken over the starter's role in Carolina in Ward's absence and done very well.  He came into the league highly favored, and his play has matched that expectation.  There's no signs of him wilting in the starter's spotlight, and he has kept the Hurricanes in every game.
Of course, this is the NHL, where the unexpected can and does happen.  While I'm betting on Khubodin being the one shipped out, who knows what cards Jim Rutherford has left up his sleeve?
It's a problem, this three-headed goalie monster–but when all three are capable, it's a nice problem to have.