The Washington Capitals skated off the ice on Monday night with a sense of accomplishment after tying their series on the road against the No. 1 seeded New York Rangers, but when it came time to talk to the media post-game the most popular question was still "what do you think of Ovechkin's ice time?"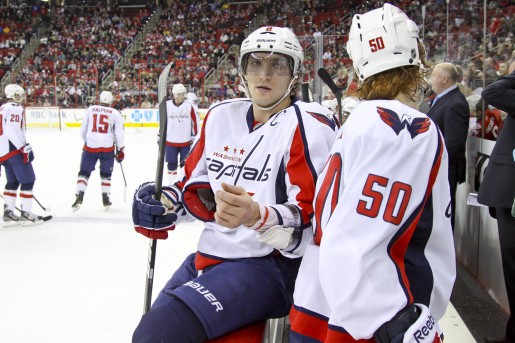 Each of Alexander Ovechkin's teammates had their own variation of the same answer that's been given since game one of the first round, and it goes a little something like this: "To be honest, it's not even something that we notice. We don't go down the sheet at the end of the game and say, 'How much did Ovi play? That's just not something that we do," Capitals defenseman Karl Alzner said on Tuesday.
The latest trend for the Washington Capitals' ice time is for the players with the shortest shifts to end up with the most ice time. The Backstrom, Ovechkin and Semin line ranked tops in goal production in the regular season, but come post-season these offensive forces rank 5th, 6th and 7th in number of shifts played, and when they do get in the game they're often reluctant to come back to the bench.
These marquee players have all had their ice time cut significantly and also average the longest shifts on the team (51 seconds each). On the other hand, Jay Beagle, Brooks Laich and Troy Brouwer have been rewarded with the most shifts in these playoffs, but only spend an average of 44 seconds at a time on the ice, the lowest of all Caps forwards.
The new barometer for Ovechkin's ice time comes in the form of Jay Beagle who has eaten up some of those extra minutes shaved off of Ovi's game. The fact that Beagle played six minutes more than Ovechkin on Monday night has been much discussed. Here's another one: the Caps have only won once (double OT in Boston) when Ovechkin's played more than Beagle. Every other win in these playoffs has come when Ovechkin has played less ice time than Beagle, makes one wonder, not for the first time, whether Hunter is a tactical genius or just really lucky. Either way, so long as the Caps are winning, no one has any need to complain about Ovechkin's ice time other than the man himself, who admits there's nothing to do but "suck it up".
Maybe there's some method to Hunter's madness. Look no further than the three forwards who lead in ice time these playoffs. First there's Ilya Kovalchuk who averages over 24 minutes of ice time per game and has the longest average shifts of any forward going. Along with eating up massive amounts of the clock he also has the humbling stat of having the worst plus/minus of any Devils player at minus five. Maybe not surprisingly, after all that hockey Kovalchuk has now been sidelined with a lower body injury.
Next in line is Rangers captain Ryan Callahan who ranks second in ice time for forwards these playoffs but has only four points in nine games. Callahan has also been a little bruised and battered these playoffs and was suspected of playing through a bruised finger in Round One. Last and least is Henrik Zetterberg sitting in third place for average per-game ice time in the playoffs, but he's now on summer vacay after posting a minus three and just three points in five games against the Nashville Predators.
It would seem that we're all surprised that a $10 million dollar man isn't seeing as much ice time as those nickel and dime players, but the stats back it up –  hockey is the quintessential team sport and the Caps are firing on all pistons no matter how much handwringing the commentators do. Until Hunter loses a game while Ovechkin is sitting, we can't knock the strategy.