After a terrible start to the season, the Colorado Avalanche have managed to pull themselves back into the playoff picture. At one point, it seemed very likely that the Avalanche would be throwing a fire sale and blowing up the roster; fast forward to today and the situation is something completely different. Rather than making moves to lay the foundation for another rebuild, the Avalanche should be looking at what they can do to boost their roster for a playoff push. So what are some of the pieces that they could give up in order to make those moves?
Alex Tanguay
Alex Tanguay has had a disappointing season for the Colorado Avalanche, but he does still have something to offer other teams. He's not the fleetest of foot but has some of the sweetest hands and vision of anybody that plays. He's having a tough season with the Avalanche, but could possibly be a good fit on a team that doesn't try to go as fast as the Avalanche like to. A team more focused on puck possession and cycling could benefit from adding Tanguay. After all, Tanguay is, and always has been at his best when he has the puck on his stick and can survey the ice.
Duncan Siemens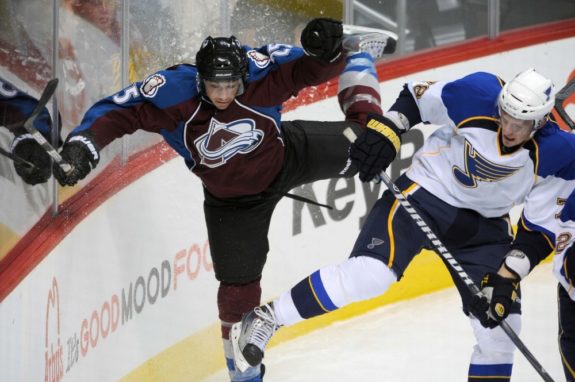 Duncan Siemens has become a bit of an enigma within the Colorado Avalanche system. He was taken 11th overall in the same draft that brought Gabriel Landeskog to the Colorado Avalanche but, unlike Landeskog, Siemens has had a much more difficult path to the pros. Part of this has been that Siemens has had to deal with injuries while in the AHL that kept him out for prolonged stretches of time. At the moment, however, it seems that Duncan Siemens has become another discarded prospect that simply won't get a shot if he stays with the Avalanche organization. In a recent round of call-ups, the Avalanche opted to call up both Nikita Zadorov and, more interestingly, Chris Bigras to shake up their defense rather than Siemens, a veteran of 100+ AHL games. This is not to say Bigras wasn't deserving or that he hasn't played well, but it is an interesting choice given Patrick Roy's clear preference for veteran players.
Duncan Siemens may not be worth much at this point but, if nothing else, is still an intriguing piece. He's a young defensive defenseman that can skate well, plays a physical game and makes a good first pass. There is definitely still an upside to his game and, frankly, I would hope that the team would want to be able to put him in a situation where he will get a chance, especially if it's clear to them that he isn't in their plans going forward. He might not bring back a lot in terms of roster players, but he would free up a contract spot and could bring a draft pick back.
Brad Stuart
Easier said than done with Stuart as he is currently residing on injured reserve, but that doesn't necessarily mean it can't happen. Stuart is another guy that has worn out his usefulness to the team. When he does get off of the IR, I honestly can't see an excuse to let him play in place of any of the defensemen currently on the roster. Stuart isn't the greatest option available for teams but could be a good piece for a team that is already set with the majority of their defense that needs a player that they don't have to rely on much for anything other than even strength play on the bottom pair. Stuart can do that and also has a wealth of playoff experience.
The hard sell on Stuart will be his contract. Teams might not want to take on his cap hit, $3.6 million AAV, which goes for another season. The Avalanche would likely have to retain a portion of the contract, which might be worth it in the long run. The Avalanche might not get much more than depth pieces back for him or a later draft pick; but it would be worth it to have his contract spot off the books.
I'm a Denver native who has been a fan of the Avalanche since they came to town and a fan of the game before that. I started writing my own blog a couple years ago before moving to Bleacher Report and becoming a Featured Columnist there. You can also find me the Burgundy Brigade Podcast