Sometimes the thing you love the most can end up saving your life. The best thing to do after a life changing event is to pay it forward.
This is story of how USA Warriors Hockey goalie, Johnny Laursen, is paying it forward.
For as long as Laursen could remember hockey had been life and ice reigned supreme.
I grew up on the ice. I was at Madison Square Garden before I could walk rooting on Beezer and the New York Rangers. I had my first pair of skates when I was two.
Laursen even played for the Brick Hockey Club in his hometown of Brick, NJ. As he grew older Laursen's love of hockey flourished. However, In 8th grade Laursen's life took on a new meaning. Life was no longer just about hockey, it was about his country.
While September 11th, 2001 was a horrifying day for everyone around the country, for Laursen it was a glimpse into a nightmare he hoped would never happen. At the time, Laursen's dad was a Port Authority of New York and New Jersey Police Officer who was working the midnight shift at the World Trade Center.
When I saw the towers fall, I was sitting in science class in 8th grade. I remember looking over to a good friend of mine and saying my dad is in there.
Luckily, Laursen's dad just missed what had happened and was able to pick his children up from school. Unfortunately, 37 of his partners did not come home to their families that night.
A few hours later, Laursen's dad reported to the airport where he was assigned to Ground Zero to assist in recovery efforts.
It was at least a week before we saw him again. When he did come home we went to church in Brick. That was the only time in my life I ever saw my father shed a tear.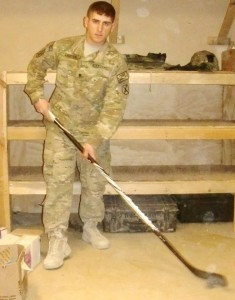 After watching the community suffer Laursen knew he wanted to join the Army. When old enough, Laursen became a member of the U.S. Army's 10th Mountain Division,2nd Battalion, 14th Infantry where he was stationed at Fort Drum. While at Fort Drum Laursen continued his hockey career.
I got stationed at Fort Drum, NY right by the Canadian boarder and ended up becoming Captain of the Mountaineers hockey team representing the 10th Mountain Division up there.
Laursen spent six years of his life with the Army deploying twice. First to Iraq from 2009-10 as part of Operation Iraqi Freedom and Operation New Dawn. Then in 2013 to Afghanistan as part of Operation Enduring Freedom.
While in Afghanistan, Laursen was injured in the field and sent to Fort Belvoir Community Hospital for recovery. Life slowly began to lose meaning. All of his goals and dreams were now out of reach.
The Army was my life. It was all I knew, I was going to do my 20 years and then some. I was going to retire, then follow in my father's footsteps and continue to serve wearing blue. Then everything I planned for was gone.
While in Afghanistan Laursen had little to no free time. After being sent to Fort Belvoir Community Hospital he had copious amounts of free time. When you go from having no free time to a lot of free time you don't know what to do with yourself. The average person becomes stir crazy and begins to question their life choices.
On top of having too much free time and being unable to obtain his planned out life, the meds Laursen was on at the time had side effects which made dealing with everything a lot worse. Laursen entered the darkness and almost didn't make it out alive.
I came real close to becoming just another number. The team, the guys on the USA Warriors truly saved my life.
Hockey saved Laursen's life. The one thing he grew up loving more than life turned out to be a life saver. The sport loved him back through the form of the USA Warriors hockey team.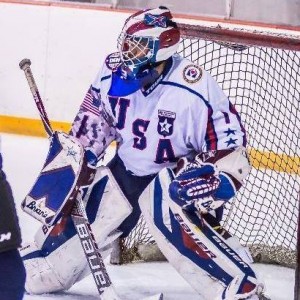 USA Warriors is a hockey team full of former military personnel who have been wounded or disabled due to their service to the country. Being on a team with people who have been where Laursen is and seen some of the things he has makes life a bit more bearable. It gives Laursen the same sense of teamwork and comradery he hungered for after being injured.
It doesn't matter if someone has never played hockey in their lives, or has been playing forever. It's about just getting together on the ice, having fun and being active again. It's more than a team, it's a family."
In 2014, the USA Warriors traveled to the NHL Stadium Series in Chicago and Laursen saw something which stayed in his heart.
Jon Toews being the class act he always is took four year old Nicholas Skretkowski out on the ice with him before the Hawks practiced. Nicolas was suffering from a form of childhood kidney cancer and wanted to learn to play hockey from Jon Toews. This is something that really stuck with me.
Laursen already had a passion for helping children but watching Toews skate around the ice with Skretkowski caught his heart on fire. Helping children is now on the list of things Laursen loves doing.
Back in October, Laursen put together a charity game to benefit a special needs school located in Baltimore, St. Elizabeth School. The Chive Maryland helped support the event. In fact, The Chive Maryland is known around Maryland for the good deeds they do in the area.
They are an all around outstanding group of individuals. In total, they have raised over $200,000 foir various charity organizations such as Chive Charities, SPCA of Anne Arundel County, Connected Warrior Foundation, St. Baldrick's, and more.
After the event, Laursen decided he wanted to keep the giving going. Through the Chive Maryland he found out about the St. Baldrick's Foundation. Next on Laursen's list of charitable endeavors is shaving his head to raise funds and awareness for childhood cancer research through the St. Baldrick's Foundation.
Within the United States, more children are lost to childhood cancer than any other disease.With the St. Baldrick's Foundation being the largest private (non-government) funder of childhood cancer research grants, it really was no question for me to join The Chive Maryland team in raising money for this organization.
You can help Laursen raise money by donating to the cause here.