Auston Matthews. Patrik Laine. We all thought we knew what was next, right?
Jarmo Kekalainen and the Columbus Blue Jackets had other ideas. Instead of picking Jesse Puljujarvi third overall, they went off the board and took Pierre-Luc Dubois.
They Did What?
The judgment started immediately after they made the pick. It was clear the Blue Jackets needed a center. Puljujarvi was a winger. The team loved what they saw in Dubois enough that they didn't complete a trade down the draft board in fear that they might not get him later. The Blue Jackets weren't the only team who had him third overall (I'm looking at you Montreal.)
To make matters worse, the Blue Jackets sent Dubois back to his junior team in Cape Breton. Then his season got off to a slow start. Many began to wonder if the Blue Jackets made the right pick.
Although the season started slowly, it picked up steam with the World Juniors and the trade. Cape Breton sent Dubois to Blainville-Boisbriand for the second half of the season. This allowed him to play for a contender and make a playoff run.
Dubois helped the Armada reach the QMJHL Finals. He did all this while learning a new position. He played center after primarily playing the wing for most of his career to date.
While some worried about his drop in production, Dubois' focus was on getting better at the little things as a center. Whether it was faceoffs, positioning or anything else associated with the position, Dubois showed an eagerness to learn everything he could to become a better center.
Dubois kindly spent a few minutes with us this weekend talking about last season and what he expects in his second training camp with the Blue Jackets.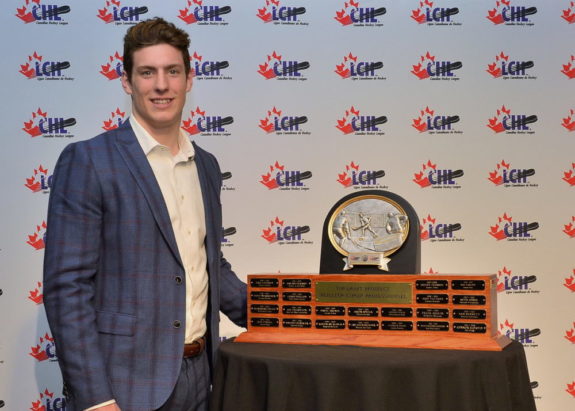 Dubois Talks Training Camp
So what helped Dubois get ready for this camp?
"The camp last year helped a lot," Dubois said. "That's a hard camp whether it's your first one or your fifth. I think this being the second one you get ready mentally for it. I knew what to expect. I knew it was going to be hard where last year it was all new. Last year helped a lot playing center, keep playing that position making it far in the playoffs, world juniors, stuff like that. It was really helpful for this camp."
Adjusting to a new position especially at the major junior level is not easy. Dubois knew it would take hard work to make it happen. But he carried the right attitude.
"It was pretty hard. It took a lot of work. I think I'm still learning the position. I was asking questions, asking wingers, defensemen, coaches and everything. It takes a lot of hard work. I really wanted to learn the position. It's been one of the goals of mine for the last two seasons, ever since my 17-year old year. I've been wanting to learn that position."
A Great Perspective
Even before the Blue Jackets drafted him, he wanted to play center. His desire to learn is off the charts. Look at the perspective he has in learning how to become a better center.
"My first thing when I went to center was I wanted to play center the same way when I was a winger I wanted my center to play. Whether I go on the wing or I go center I gotta think what would I want my winger or my center to do. Now I'm used to it. Maybe at the start it was a little hard. Some games last year I played all 3 positions in the same game so I think it's a really big advantage to be able to play all three."
The Blue Jackets have a player that can play all three forward positions. That versatility will only help the team down the road. The time he spent in juniors last season gave him the opportunity to play 80 games at center. We asked Dubois to reflect back on last season and share his biggest takeaways from 2016-17.
He made mention of the games played at center going from 40 the season before to 80 last season. He got more comfortable with the center position while rounding out his game. He also mentioned the deep playoff run as a huge confidence booster. That experience helped him become more comfortable in this camp.
Can he make the jump to NHL third-line center this season? That's the question. But thanks to his time in juniors last season, Dubois is confident that he'll make an impact this season for the Blue Jackets.
He's off to a good start.