Welcome back to Blue Jackets' Pressure Points. This is part three of our summer series answering hard questions about the Columbus Blue Jackets.
In part one, we recapped the offseason to date. In part two, we discussed why Alexander Wennberg must shine for the Blue Jackets to have success.
For part three, I thought we'd consult with the fans to see what they wanted us to discuss.
#CBJ fans, which topic would you like to see discussed on next week's Pressure Points? Most votes wins.

— Mark Scheig (@markscheig) July 15, 2017
This makes sense. For our third part of Pressure Points, the fans voted for an analysis of last season's third overall pick Pierre-Luc Dubois. One can understand why he would be a pressure point for the team. Let's revisit how we got to this point.
A Quick Review
The 2016 NHL Draft was thought of as the draft of the big three. Many expected Auston Matthews, Patrik Laine and Jesse Puljujarvi to go in this order at the top of the draft. The Toronto Maple Leafs took Matthews as expected. After securing an upset at the draft lottery, the Winnipeg Jets took Laine with the second pick. Now it was Columbus' turn. It seemed like the pick was a foregone conclusion, until it wasn't. Listen to the crowd reaction when head amateur scout Ville Siren announced the pick.
Everyone, except for Sportsnet's Sam Cosentino, was stunned. Nobody saw this pick coming. It was the first domino to fall that shaped the course of the draft. The Blue Jackets went against the consensus rankings and selected Pierre-Luc Dubois with the third pick. From this point forward, this pick and this player became a source of instant scrutiny and judgment.
The scrutiny only intensified when the Blue Jackets sent Dubois back to his junior team in Cape Breton before the start of last season.
Although Dubois was the last cut in camp, he still fell short of his goal of making the team right out of the gate. Many around the hockey world wondered if the Blue Jackets made the wrong pick. The judgment in this case was a bit premature given not all third-overall picks make the NHL right away (see Strome, Dylan.)
The Blue Jackets didn't think Dubois was ready for the NHL, although they gave him every opportunity to make the team at camp. They made the correct move in sending him back to junior. Why keep a player around if he isn't ready? Now Dubois can focus on the little things that can make him a better player.
Slow Start in Cape Breton
The voices of judgment only grew louder when Dubois got off to a slow start in junior. He scored just six goals in 20 games with the Screaming Eagles before the trade to Blainville-Boisbriand. He did add 12 assists in those 20 games to make him just short of a point per game player. Considering he scored 99 points in 62 regular season games in 2015-16, many were asking what happened?
At first, you can look at the letdown of a demotion. When you have your sights on the NHL and fall short, it's a natural reaction to feel disappointment in yourself. It was now up to Dubois to put that behind him and focus on becoming a better player.
Also keep in mind that Dubois was now playing center full-time. Although he played some center the season before, he was now perfecting his craft. That comes with a learning curve. His focus shifts to learning all the different facets of playing center, including faceoffs and positioning.
One last thing to consider was Dubois' shooting percentage. He shot over 17% in 2015-16. I didn't think he could keep that rate up. I didn't expect that rate to fall under 9% to start the season. The thing to watch in the second half of the season was how he'd respond.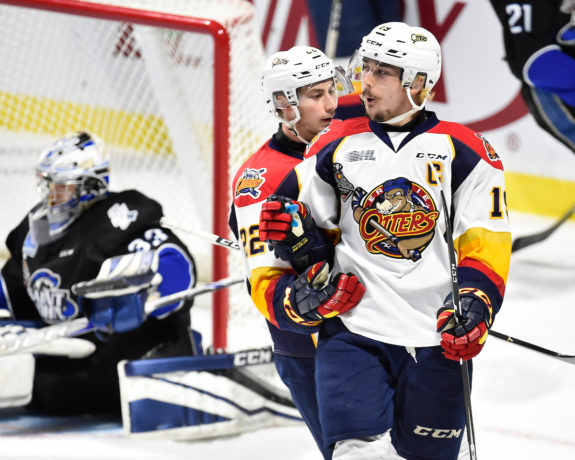 World Juniors & the Armada
Dubois got a chance to start fresh with a new team after Cape Breton traded him to Blainville-Boisbriand midseason. But up first were the World Junior Championships. This was a good opportunity to see where he was at on the big stage.
Dubois got the chance to play on the top line with Strome to start, but that didn't last long. Overall, he tallied five assists in seven games. Many who watched him during the tournament felt disappointed because they didn't see more. While his performance might not have met your lofty expectations, there were glimpses of hope in his game that gave me the impression that a rebound was coming.
Once Dubois got to the Armada, he enjoyed a nice second half.
Dubois recorded 15-22-37 in 28 games with the Armada, while adding 9-13-22 in 19 playoff games helping the team get to the Quebec League Final. While those numbers were still off of the 2015-16 pace, he was a more complete player now having much more experience playing center. I was very pleased with what I saw on tape with him during his time with Armada. So where did he improve?
First, Dubois' positioning was noticeably better at both ends of the ice. His play helped the Armada become the best defensive team in the QMJHL in terms of goals against. When he wasn't creating scoring chances at one end of the ice, he was breaking plays up at the other end. His play away from the puck was beautiful to watch. He knew when to jump into plays. He also had a better understanding of where to be on the ice in all situations.
Second, Dubois' confidence was back. He was more aggressive on the forecheck. He forced opponents into mental mistakes which his team took advantage of. Whether he pounded you into the glass or stood back and let the play come to him, he was a presence every time he took the ice.
The third improvement I saw was his playmaking skills. The main beneficiary of this was Alex Barre-Boulet. Barre-Boulet came to the Armada from Drummondville midseason and gave a boost to the Armada power play. Barre-Boulet scored eight power-play goals, most of which came off great plays by Dubois. As that tandem went, so did the Armada.
Dubois played part of the playoffs with a separated shoulder. The playoff numbers are even more impressive given that he played through injury. His playoff performance was a sign that he was ready for the challenge of the NHL this coming season. The million-dollar question now is, will he make the Blue Jackets?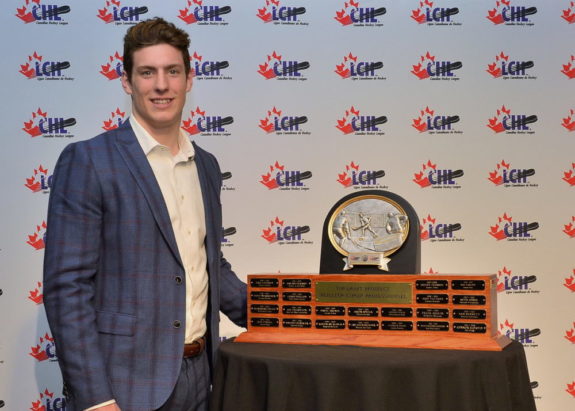 Opportunity Knocks
There's one person that will decide if Dubois makes the team in the fall. That's Dubois himself. This is an important summer for him. The opportunity for him to make this team is there for the taking. But it's not going to just be handed to him. He has to earn it. There are other prospects fighting for the same thing Dubois is fighting for. Just because he was a top-three pick doesn't guarantee anything. If the team feels he's ready for the NHL, they'll make room for him.
What does he need to show? He needs to show us that consistent, two-way game he showed during the second half of last season. He needs to show us his improvement in his positioning and faceoffs especially against NHL-caliber talent. He needs to show us the kind of impact he can have in a game. He must show us that junior is not an option for him.
If he doesn't make this team, he must return to junior. He is not AHL-eligible for another year because of the CHL-NHL agreement. It's either Blue Jackets or the Armada for Dubois.
In your mind for upcoming season, Pierre-Luc Dubois will…#CBJ

— Mark Scheig (@markscheig) July 18, 2017
Where Does Dubois Slot In?
If he does make the team, where could he slot in? This is where I think Dubois has an advantage. When you're a good, two-way player who can excel at different phases of the game, he can fit in more places in the lineup. He can play both wing and center. He can be asked to score or shut you down. At his peak, he can impact the game in more ways than most players can.
Dubois could slot in as William Karlsson's replacement as third-line center. Dubois could also play the wing if asked to. If I had to guess what happens if he makes the team, I think he starts at bottom-six center. Then depending how he performs, he could move to other parts of the lineup as needed.
Regardless of what happens, the story of Dubois will be fascinating to watch unfold during training camp. He knows the pressure is on him to make this team. Now he must prove he belongs in the NHL. If you need a reason to watch the preseason games, this is the biggest one for me. Dubois will play and play a lot.
When you're the third-overall pick in a draft where you weren't expected to go third, many eyes will be on you. For Dubois, this is his chance to prove the Columbus Blue Jackets were right. Will he live up to expectations? We'll start finding out soon enough.