With a trade freeze in place, the OHL Priority Selection and the CHL Import Draft complete, and the Memorial Cup a distant memory, there's been little to talk about in OHL circles over the past few weeks. To stave off those July no-hockey doldrums, I decided to try my hand at making OHL anagrams.
An anagram is a word, phrase, or name formed by rearranging the letters in another. Most anagrams are simple rearrangements with no real relationship to the original word. For example, ICEMAN is an anagram of CINEMA. However, occasionally it's possible to create an anagram that has the same meaning as the original word or sheds further light on it in some way. MOON STARER is an anagram of ASTRONOMER. CASH LOST IN ME is an anagram of SLOT MACHINES.
With this in mind, I did my best to come up with an appropriate anagram for all 20 OHL teams. This article looks at the Eastern Conference teams; Western Conference anagrams are available here.
Serious fans, take note: it's all in fun!
East Division Anagrams
HAMILTON BULLDOGS – GOLD BULLISH ON MAT
That's Mat(thew) Strome, brother of the NHL's Ryan and 2016-17 OHL champion Dylan. Strome the Youngest led the Bulldogs in scoring with 34 goals and 62 points in 66 games in his sophomore campaign after Hamilton made him their first-ever draft pick, 8th overall in 2015. With his play continuing to evolve ("bullish" means confident or optimistic), Strome will be key to the Bulldogs' next two seasons as the franchise attempts to win its first playoff series since moving to the Steel City.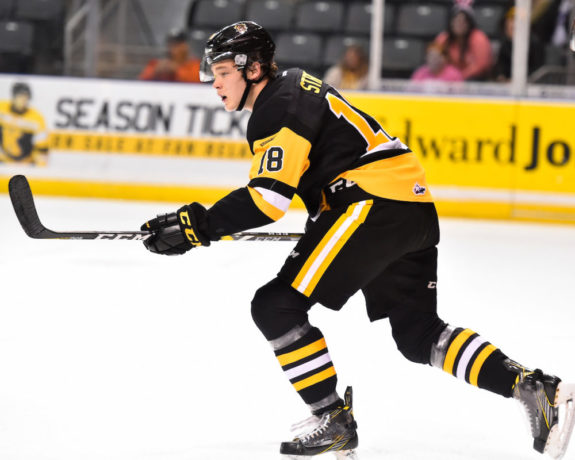 KINGSTON FRONTENACS – ENFORCING STANK TONS
Kingston was dead last in the league in penalty minutes in 2016-17, more than 350 PIM behind the league-leading Sudbury Wolves. Did staying out of the box help them tally more scores? Sadly, no. The Fronts scored the fewest goals in the league and, despite having the league's fifth-stingiest defence, they were actually outscored on the season. Expect them to look to add grit this offseason.
OSHAWA GENERALS – WHOSE ARENA LAGS?
The 5,180-seat Tribute Communities Centre, built in 2006, remains one of the OHL's best venues – particularly with the addition of a new $860,000 video board last offseason, secured after 3,000-plus fans signed a petition demanding the team improve the technology. The new video board was a requirement for the arena to meet Memorial Cup hosting standards, and while Oshawa lost their bid to host next year's Cup to the WHL's Regina Pats, expect the Generals to submit a bid again in 2021.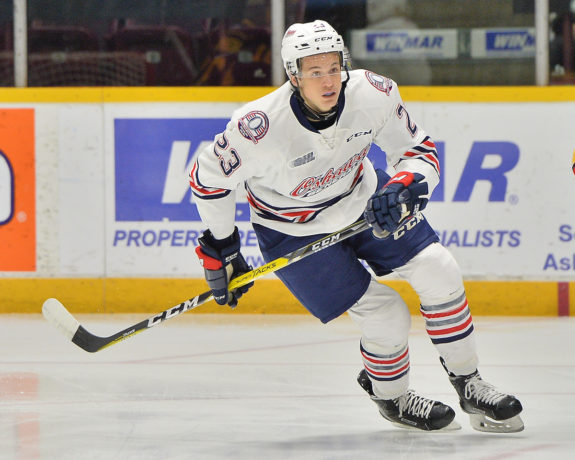 OTTAWA SIXTY-SEVENS – EAST TOWN, SEXY VISTA
The OHL's easternmost team hails from one gorgeous city. From outdoor skating on the Rideau Canal in winter to the capital's annual Canada Day celebration on Parliament Hill on July 1st—not to mention a host of museums and historic buildings to visit year-round—there's a lot for folks in Ottawa to appreciate. This despite the franchise's recent OHL performance not quite living up to their period of late 90s/early 2000s success.
PETERBOROUGH PETES – PURPOSE: BE TOGETHER
The upstart Petes, who secured the East's number one seed last season after a series of aggressive moves at the trade deadline, rode a well-balanced roster and steady goaltender Dylan Wells to the Eastern Conference Final. Wells is the closest thing the Petes have to a bonafide star, but they'll return much of their core for 2017-18. Getting another complete team effort will be key to their chances at replicating last season's success in what projects to be a much tougher Eastern Conference.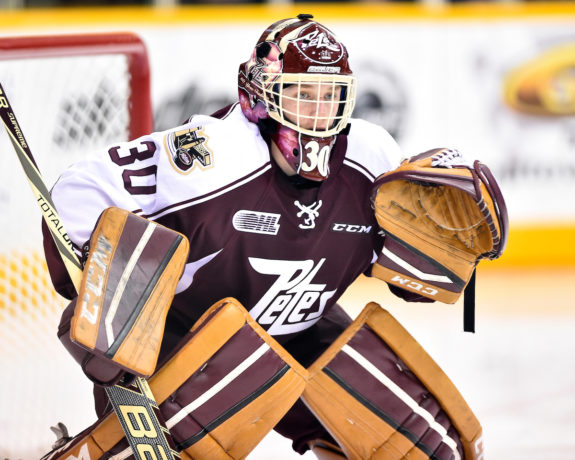 Central Division Anagrams
BARRIE COLTS – LOST CRIB ERA
After five straight trips to the second round of the playoffs and numerous seasons adding aggressively at the trade deadline, the Colts finally found themselves on the downswing last season, missing the playoffs for just the second time in their 22-year history. The end result was an OHL-worst 41 points in a historically weak Eastern Conference as the Colts iced the league's second-youngest team. Expect that group of youngsters to experience more growing pains next season as Barrie works toward contention in 2018-19.
MISSISSAUGA STEELHEADS – I ASSESS: ASSUME A DELIGHT!
Barring underage NHL promotions for captain Michael McLeod or sniper Owen Tippett, the Steelheads project to be the class of the Eastern Conference again next season. And with McLeod's brother Ryan filling out the rest of the first line, Mississauga may have the league's most potent top group—at least outside of Owen Sound. Mississauga fans can expect a dynamic offence and another exciting season in 2017-18 after last year's run to the OHL Final.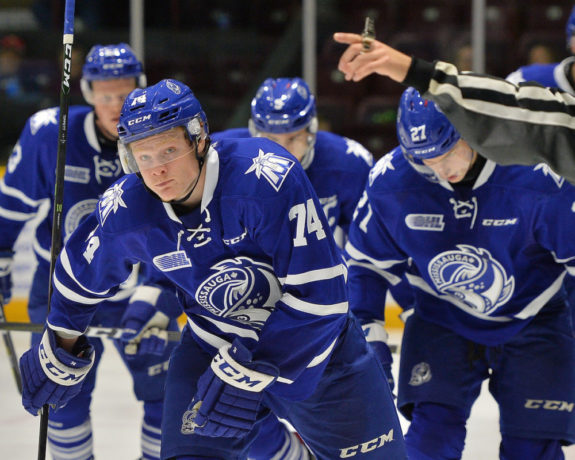 NIAGARA ICEDOGS – A SCORING, AGE AID?
Like the Colts, the IceDogs were one of the league's youngest teams last year, with just one 1997-born player (winger Johnny Corneil) on their playoff roster. That young lineup notched just 207 goals in the regular season. With surprise import pick Timothy Liljegren declining to join the team, the IceDogs will likely have to look outside their organization for help—including a pair of impact overagers—to supplement the development of some of those young players if they hope to make noise in 2017-18.
NORTH BAY BATTALION – A NTH ROBOT BANALITY
Stick with me on this one. Battalion head coach Stan Butler has been the organization's bench boss since its inception in Brampton in 1998. Over that time, Butler has become infamous for his smothering defensive systems that often produce low scoring affairs. The word "nth" describes the last or latest in a long series of things, while a "banality" is something that is boring and unoriginal—two words many would use to describe Butler's enduring brand of trap hockey. Thus, "a nth robot banality" means yet another so-called "boring" season of Butler hockey (Hey, I tried). Of course, Battalion fans won't complain much if Butler's system brings on-ice success, as it has at points in his 19-year OHL coaching career.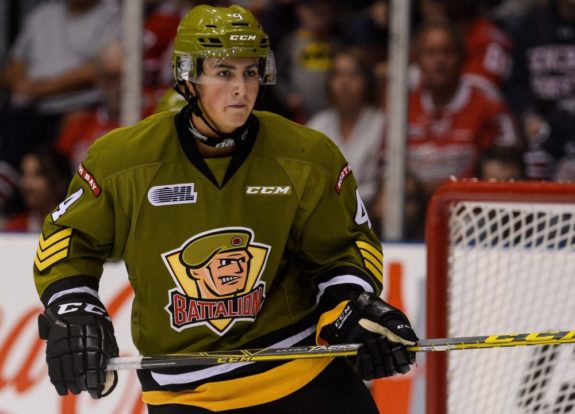 SUDBURY WOLVES – SUD BUS VERY LOW
It's been a rough decade for the Sudbury Wolves franchise. How rough? Consider this: the Wolves haven't had home ice advantage in a first-round playoff series since 2001. While the Wolves have shown a knack for the playoff upset, including a miracle run to the OHL Final in 2006-07 in which they knocked off the East's top three seeds, Sudbury have yet to put together a truly dominant team in the modern OHL. While the current edition of the Wolves is on the upswing, it'll take a few lengthy winning streaks before those long bus rides south get any sweeter.
Think you can devise better OHL anagrams than I can? Give it a try with an online anagram generator, and post your best anagrams in the comments!