This is the second in a two-part series of articles in which I've attempted to devise an appropriate anagram—a word, phrase, or name formed by rearranging the letters in another, such as DIRTY ROOM from DORMITORY—for each team in the OHL. Yesterday's article looked at the Eastern Conference teams; today I'll tackle the historically dominant West.
Serious fans, take note: it's all in fun!
Midwest Division Anagrams
ERIE OTTERS – ERE, I TO REST
The reigning OHL Champions look to finally take a step back in 2017-18 after notching four straight 50-win seasons. They'll lose a minimum of seven key pieces from last year's team, including captain Dylan Strome, sniper extraordinaire Alex DeBrincat and top defenceman Darren Raddysh. And with the Otters' draft pick cupboard barren—Erie is short 20 total picks through 2024, including seven second- and five third-rounders—GM Dave Brown will likely be forced to rebuild by trading away veterans such as star winger Taylor Raddysh and defenceman Jordan Sambrook.
The Otters have enough young talent to remain afloat in their ultra-competitive conference, but they've certainly earned a break from title contention.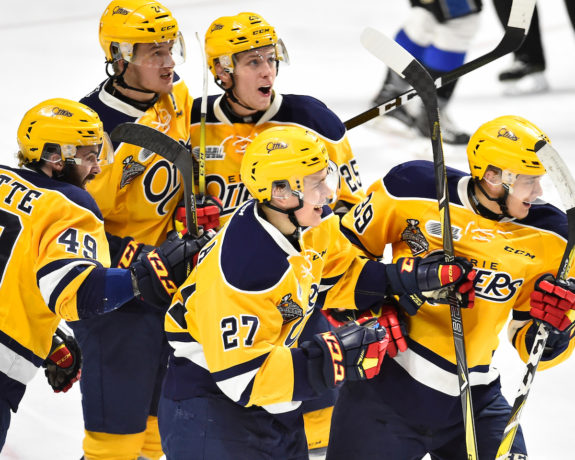 GUELPH STORM – GLUM SPORT, EH?
If the Otters surprised everyone the last two seasons by being title contenders, the Storm surprised no one by bringing up the West's rear over the same time frame. Failing to unload stars such as Jason Dickinson and Tyler Bertuzzi during the 2014-15 season following their 2014 OHL Championship certainly hurt. The Storm were good for just 81 total points over the past two seasons, and while a future led by former OHL first-round picks Isaac Ratcliffe, Givani Smith and Ryan Merkley looks brighter, it's certainly been a rough couple of seasons for Storm fans.
KITCHENER RANGERS – RINK RETCH ENRAGES
When then-coach and GM Peter DeBoer departed Kitchener in the 2008 offseason, he left behind a legacy that included a pair of OHL titles and a Memorial Cup championship. The Rangers recorded five top-three regular season finishes in six seasons under DeBoer. Since then, they haven't done better than fourth. The past five seasons have been particularly grim: three losses in the first two rounds of the playoffs to archrival London along with a playoff miss in 2014 and a first-round drubbing last year.
While the Rangers' performance has been more unpleasant than putrid, fans are understandably frustrated that their team, which boasts top-two attendance and revenue numbers and has a rich history in the league, has failed to snag a piece of the championship pie that so many of their Midwest Division rivals have shared over the past few seasons.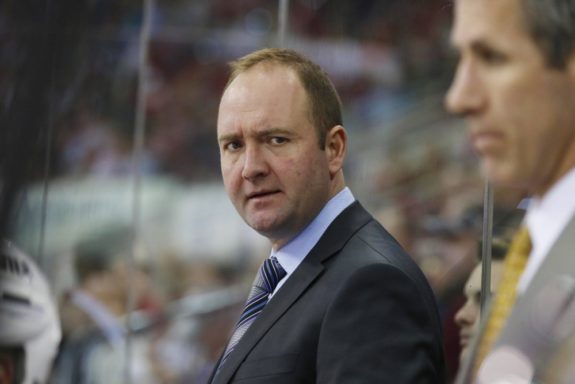 LONDON KNIGHTS – NOD TO NHL KINGS
Though they came up short in their Memorial Cup title defence this past season, the Knights had four players—forwards Robert Thomas and Alex Formenton as well as defencemen Brandon Crawley and Jacob Golden—get drafted in the 2017 NHL Entry Draft. This tied for the second-most draftees in the league and marked a record 49th straight year in which the organization had at least one player drafted.
Over the past five years, an impressive 21 Knights have been picked—four more than the next-best OHL team, the Sault Ste. Marie Greyhounds. In short, the Knights aren't just the class of the OHL when it comes to winning titles; they outpace the rest of the league in getting players into the pro ranks as well.
OWEN SOUND ATTACK – OCTANE, WANT KUDOS
The Attack are the early favourites to take home the J. Ross Robertson Cup as league champions next season. They'll return most of the core of a team that notched a franchise-record 102 points last season and finished two games short of the OHL Final. That said, new coach Todd Gill will have big shoes to fill following the departure of CHL Coach of the Year Ryan McGill to the pro ranks.
With their top line of Nick Suzuki, Kevin Hancock, and Jonah Gadjovich all returning, the Attack will run a high-octane offence again next season after slamming home 297 goals in 2016-17. But the team will be hungry for a championship, too, after falling to the Otters last year despite demolishing the league from mid-December on.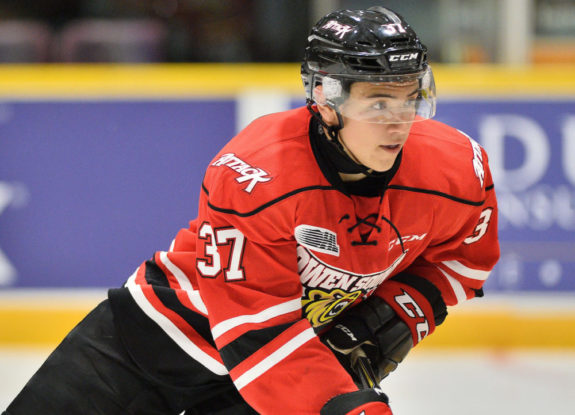 West Division Anagrams
FLINT FIREBIRDS – FINER BIRDS FLIT
The 2015-16 tumultuous first season in Flint saw the team's players stage a walk-out against owner Rolf Nilsen following Nilsen's surprise firing of then-coach John Gruden. After Nilsen was slapped with a five-year ban on involvement with hockey operations, things quieted down in Flint last season. The new franchise reached the playoffs for the first time and put up a respectable showing against a powerhouse Sault Ste. Marie Greyhounds squad in the first round. The Firebirds will continue to have their work cut out for them in the brutal Western Conference, but things are certainly looking up for the Michigan-based squad.
SAGINAW SPIRIT – WAITS, ASPIRING
Last season's trade deadline unloading of captain Mitchell Stephens to London for seven draft picks must have felt like déjà vu for Spirit fans. At the previous year's deadline, the team traded sniper Dylan Sadowy and defenceman Greg DiTomaso for a haul that included defenceman Rocky Kaura (since retired from hockey) and another 11 draft picks in a move GM Dave Drinkell claimed marked "the last time" the Spirit would be rebuilding (The team shipped out stars Jimmy Lodge and Nick Moutrey the year before that). Needless to say, the Spirit are now loaded with draft capital, including nine second-rounders in the next four drafts, but their ascension to contender status looks to be at least two years out.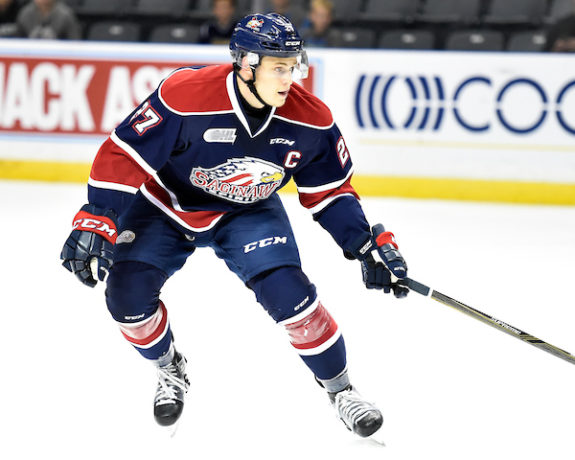 SARNIA STING – STRAIN, GAINS
When stars Jakob Chychrun and Travis Konecny stuck in the NHL as under-agers, what looked like a bright 2016-17 season for the Sting quickly turned dim. The team then decided to retool, shipping 1997-born players Nikita Korostelev and Alex Black to Peterborough for 1999-born defenceman Nick Grima and adding 1998-born forward Drake Rymsha in a trade with the Ottawa 67's. By targeting 17 and 18-year-old players in those trades, the Sting indicated they see themselves having a short contention horizon. Like the Firebirds, they'll be in tough in a take-no-prisoners West, but key pieces (like Rymsha and star winger Jordan Kyrou) are in place.
SAULT STE. MARIE GREYHOUNDS – SEE GRIM LAUNDRY EAST, SOUTH
This anagram might be my favourite of the bunch. From their perch on the St. Mary's River between Lakes Superior and Huron, Sault Ste. Marie is comfortably the league's most westerly city, and almost its most northerly as well (Sudbury is at a slightly higher latitude, but who's counting?). Gazing eastward and southward reveals all the colours of the Greyhounds' foes in a reference that calls to mind Jerry Seinfeld's memorable line that sports fans are only really ever "cheering for clothes."
WINDSOR SPITFIRES – WINS, RIDES PROFITS
In case you didn't hear, the Spitfires won the Memorial Cup this year, and in their own barn, no less. That win—a third CHL championship in nine years—should buy the Spits a period of goodwill with their fanbase, which had been frustrated by six straight seasons without a playoff series victory. Like their fellow champions in Erie, Windsor is low on draft picks (21 short, including no second-round picks until 2027), and they may be stuck riding that Memorial Cup high through a few lean years.
There you have it! Twenty OHL teams, 20 anagrams that (mostly) describe their current situations. Think you can out-anagram me? Give it a try with an online anagram generator, and post your best anagrams in the comments!
Oh, one more thing. OHL Fans might be advised to be on their best behaviour for this coming season. After all:
ONTARIO HOCKEY LEAGUE – I GO TO ARENA, HECKLE YOU!
Matt Wilson covers the OHL for The Hockey Writers and has been following the league for 15-plus years. He holds a dual degree in English and mathematics and endeavours to take a stats-based, data-driven approach to hockey analysis.