Even though we all knew it was coming, midnight this past Saturday night was sad. The NHL owners locked their players out for the second time in ten years and the future of the 2012-2013 hockey season is now in doubt. Ryan Murray, the second overall pick in last June's draft sat quietly in the Comcast Arena in Everett as the clock struck midnight.
Instead of getting ready to suit up for the Columbus Blue Jackets Murray was watching the Everett Silvertips take on the Seattle Thunderbirds in their WHL preseason finale. For now, they are his Everett Silvertips.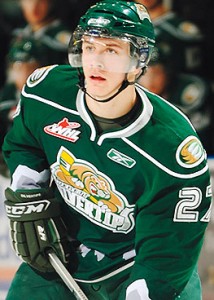 The lockout has had a trickle down effect on young hockey players throughout the league. Saturday afternoon several NHL teams sent as many young players as they could down to their AHL farm teams. For some players, like Murray, the AHL is not an option. He is not old enough to play in the AHL and since there is no NHL to play in right now Murray has returned to his junior team in Everett and will play for the Silvertips until the lockout ends.
"It's a little weird, a little bit of a change of plans but that's the way it goes I guess, it's something that I don't have any control over," Murray said about being back in junior. "I'm taking it a day at a time, just play here and see what happens. It's too bad I don't get the opportunity to try out, it's a little bit disappointing but I'm glad to be here with the guys in Everett."
Murray is a very poised and mature player which is one of the reasons he has been able to play defense at such a high level. It's one of the reasons that Columbus drafted his second overall and it's the main reason that he is handling this situation with the class those that have watched him have come to know.
"You play here to make it to the next level so it's a little disappointing that I haven't got the chance to do that but I'm just going to work as hard as I can to help the Silvertips," Murray said.
Working hard and helping Everett win is something nobody doubts Murray will do as long as he's there. Last season Murray was head and shoulders better than the majority of the players he faced night in and night out. Now that he's back, one has to wonder if playing junior hockey will benefit his game. Are there still things he can work on and develop?
"I think so, just going on the ice every day to work hard, obviously it's not the same level as what I could be practicing at but at the same time I'm going to go out there and make the most of my opportunity here," said Murray about junior hockey.
Those opportunities should be plentiful.
The Silvertips have a young lineup, especially on the back end and because of that Murray most likely will be asked to log some pretty heavy minutes. Murray is the kind of player who will do that , no questions asked. One of the worries NHL general managers must have about this situation is their star prospects getting hurt playing in the minors or junior leagues. Murray has already had one scare in practice since he's been back in Everett.
"Yeah, I got an elbow right in the face by a rookie," he said with a laugh. "He came up and said sorry but it was pretty funny."
Is he worried about getting hurt playing in junior?
"It's the same game, whether I'm here or there. Can't really think about it, doesn't matter where I am," he said about the injury worry.
Despite the disappointment of having to delay his pro career Ryan Murray has had a pretty eventful summer. Not only was he the second pick in the draft but he was the only junior player to suit up for Team Canada in the World Championship.
"It was a great summer, not a whole lot of time off or time to relax, It was a good experience with the draft stuff and I got to do a lot of traveling and had a great experience with the World Championship. It was really busy but also a lot of fun," the defenseman says of his whirlwind summer.
Murray's draft stock rose with his work and play at the world championships as many scouts were impressed with how he stacked up with the pro players.
"It was pretty unbelievable to be in the room with those guys," Murray said of Team Canada. "When I first got there I was pretty star struck, it was great being around those guys and seeing how you match up against them, it's tough to see where you're at with them by watching on TV."
So how did he think he matched up? Was the game faster for him?
"I think it would be different on the North American ice, it's a bigger ice over there so there was not a lot of contact, but it was fast, they get the puck moving around so it was always special to be out there."
Murray did not play in any of Everett's preseason games as he's only been practicing a week. He says that he will be in the lineup this coming Saturday when the Silvertips host the Prince George Cougars to start the season.  When asked if he planned on playing every night as any other player Murray smiles and says "That's the plan".
Let's all hope that the NHL and the players resolve this labor dispute soon so we can all see how Ryan Murray matches up with the pros.