If the Tampa Bay Lightning are able to earn their fourth straight playoff berth, you'd be hard pressed not to look back on Monday night's 5-4 overtime victory against the Chicago Blackhawks as the defining moment of the final games of the regular season.
Regardless of how the season ends, it's a game that will play a major role in the development of Andrei Vasilevskiy.
After yielding three goals on eight shots, the 22-year-old netminder was pulled for Peter Budaj with just 6:19 left in the first period. But after Budaj stopped the three shots he faced in a period that ended 3-1, head coach Jon Cooper made a bold decision.
He went back to Vasilevskiy.
"The faith we have in Vasilevskiy is unwavering," Cooper said during his post-game press conference. "At the time of the game, for me it was, 'Let's slow this game down. I know we're down 3-1 but there's still a lot of time left. I don't want this one to get out of hand.'"
At the time Vasilevskiy was pulled, there was still more than two periods left to play and despite giving up three goals, they couldn't all be pinned on him. Sure, Artemi Panarin's goal to open the scoring early in the first period was a puck that Vasilevskiy should have had. He stopped the shot but allowed it to squeeze through his pads and over the goal line.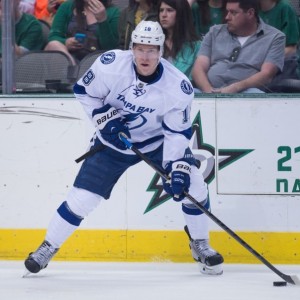 After Ondrej Palat scored to knot the game at one on the man advantage, the Blackhawks commanded the play. Just 48 seconds later, Patrick Kane was left alone near the top of the left circle and capitalized on the opportunity. Then nearly three and a half minutes later, Blackhawks forward Tomas Jurco was also untouched out front as he deposited his first goal of the year.
The Blackhawks had all the momentum and the Lightning, who entered the contest three points behind the Boston Bruins for the second wild card playoff spot in the East, weren't playing the way they had to in order to earn points.
The Lightning were in a 3-1 hole that looked to be one that was going to be deeper if something didn't change quickly for the club.
"Not that we are sitting here saying it's Vasilevskiy's doing," Cooper said, of being down by two goals at the time. "But let's get him out. Let's take a breath. Buds (Budaj) came in and shut the door the rest of the way."
Receiving the Call
Cooper turned to his young goaltender before the second period, despite Budaj's performance in relief.
"The whole time at the end of the first period, in my head I was thinking, 'I'm going to put that kid back in,'" Cooper said. "At some point as a coach, you are going with your gut and the feeling I have that, 'We're going to win this game. Vasilevskiy's going to win this game for us.' He just had to have a six-minute break. He was outstanding after that."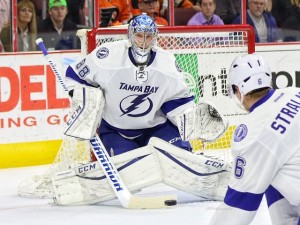 Vasilevskiy stopped 20-of-21 shots he faced when he returned between the pipes, including a handful of big saves to keep the game tied in the third period.
But his biggest save of the game came with just 12:38 left in the third period.
After Duncan Keith fed a pass from his own end to Patrick Kane, who was breaking into the offensive zone, Kane slipped between Victor Hedman and Jake Dotchin for a breakaway. He skated in on Vasilevskiy, who stretched post-to-post as Kane deked him, before making a pad save to keep the game tied.
It's the sort of stop that helped send the Lightning to overtime with an opportunity to earn two important points.
It's a save that stood out to Cooper too.
"We've been getting goaltending," Cooper said, of what's behind the Lightning's recent success. "When we need the big save, we've got the big save and the big save tonight came when Patrick Kane pretty much clawed his way to a breakaway and Vasy made that back door save that you know, in my head I'm thinking, 'remember that one' and ultimately we needed (it) because that game went to overtime."
What It Means
The importance of the message Cooper's decision sent to his team and to his goaltender in putting Vasilevskiy back in net cannot be understated.
For a netminder who took over the number one role less than a month ago and who was starting his 75th career game (seeing action in just his 84th), having your coach turn to you again in a must-win situation won't be forgotten by him anytime soon.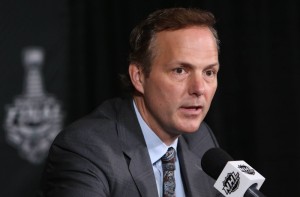 Vasilevskiy's teammates certainly knew they hadn't given him some of the support he needed. The first goal was one he should have held onto, but the next two were ones where the team's defensive effort lacked in their own zone and a result of the dominant play of the Blackhawks at the time.
Putting Vasilevskiy back in net put Cooper's team in an interesting position.
If they didn't pick up their play, they risked hanging their young netminder out to dry on the scoreboard and there wasn't a single player on the Lightning roster who wanted that.
It also put Vasilevskiy in a position where he too had to raise his game to another level to help his team stay competitive.
In short, it was huge decision in a true gut-check moment for a Lightning team playing with their back against the wall as they continue to chase a playoff spot.
In the end, Cooper's plan worked to perfection.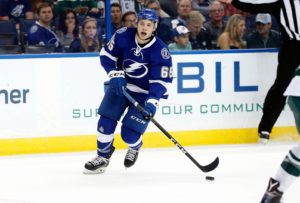 Vasilevskiy helped backstop the team to two points and the Lightning banded together to complete a comeback from a three-goal deficit. It all culminated with Yanni Gourde's dramatic overtime winner.
After the game, Vasilevskiy was asked about whether he requested to return to the Lightning net.
"Well I wanted to (go back in the net), but I didn't ask," Vasilevskiy said, with a big smile on his face and a brief laugh with the media in the locker room.
But Cooper's call before the second period made an impact on him.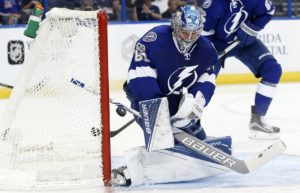 "It's a confidence booster," Vasilevskiy said. "And even after three goals against in the first … coach said, 'Hey, I'll give you a second chance. Go get 'em.' Go make some saves for us.'"
It's moments like those that define the relationship between a player and coach. For a young player at the goaltending position who is taking over for a two-time Vezina Trophy finalist in Ben Bishop and who will be experiencing some level of growing pains along the way, it won't be forgotten.
While the Lightning's playoff push is one that has an impact on this season, Cooper's decision to turn to Vasilevskiy in that game will be one that has a major impact on him far into his future with the franchise.