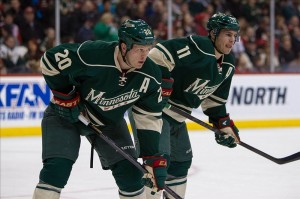 Zach Parise and his Minnesota Wild teammates won Game 6, sending this electric and emotional filled series to a Game 7 at the Pepsi Center in Denver on Wednesday night.
If you're like me you get extremely nervous and stressed when your team is in a playoff series. Not only am I stressed I go absolutely berserk when my team does well and wins or. I also go crazy when they lose. The lows can be as intense as the highs as I experienced after game five between my Minnesota Wild and the Colorado Avalanche.
Now the stress, intensity and nail biting has been cranked up. Game seven will be a winner takes all contest and it's anyone's game at this point.
I'm sure that game seven will be an exciting game to watch but my stress levels will be through the roof as well.
We've Seen it All in this Series
This series has showcased just about everything. We've had the comebacks (by Colorado), the overtimes, the controversies (Matte Cooke butchering Tyson Barrie and questionable officiating. Through it all, both Colorado Avalanche and Minnesota Wild fans have been treated to the best first round series in the 2014 Stanley Cup Playoffs.
Colorado came from behind in dramatic fashion in games one and five. Down by two goals late in game one, Minnesota coughed up the puck twice in their defensive zone and the opportunistic Avalanche pounced on those mistakes to tie the game and send them into OT.
Then it was Minnesota's turn in game four to win a game in overtime. It was the Wild's Granlund who would score a beautiful goal in OT to tie the series at two.
Then came game five, a game that Minnesota Wild players and fans want to forget. Minnesota was ahead with over a minute to play, Charlie Coyle was about to score an empty net goal, he was mugged, no penalty was called, that gave Colorado an odd man rush. Colorado went offside, no call was made. Colorado scored the equalizer and then the eventual OT winner.
This series has been stressful to say the least. There have been ups and downs, joy and sadness for both team's fans. Through it all both teams have waded through the chaos and remained composed. I think that is especially true for the Wild, who've had their fair share of bad luck as they've seen their leads evaporate in the waning moments of three games.
Empty Net Thrillers
A lot of credit has to be given to the heartbreak kid, head coach Patrick Roy. On a number of occasions as mentioned above his Colorado Avalanche had come from behind to send games into OT. On their home ice they have prevailed to win those games.
Roy has pulled his goalie with three minutes left when his team was down. Each time (until Game 6) his team hasn't let him down. No matter what you say about the Wild making critical errors or bad officiating hurting the Wild, the Avalanche have made the most of their opportunities. That's playoff hockey.
When all is said and done, Colorado will be remembered for making the most out of nothing. It's not always about out-shooting, out-chancing and out-hitting an opponent. Sometimes it's about great goaltending (Semyon Varlamov) and capitalizing on a few chances. That's what the Colorado Avalanche have done.
As I've said before, it's made for some stressful moments, heartbreaking moments and moments of extreme anguish. Last night something changed and it was a joy to watch.
The Wild went up two in the first period, only to see that lead disappear. I'm sure most Wild fans were saying to themselves; here we go again.
But the third period was Minnesota's. Zach Parise scored the game winner with 6:29 minutes to play when he tipped a Mikko Koivu shot behind Varlamov. Then the nail biting really began.
I thought that another Avalanche victory was inevitable. Patrick Roy pulled his netminder again, around the three minute mark and Colroado put on the pressure right off the bat. This time, however, Jason Pomminville and Marco Scandella got empty net goals and won the game 5-2.
Parise netted two goals in game six and he was clearly the best player on the ice. He was also the leader of the Wild. Mikko Koivu might wear the 'C' on his jersey but it's Zach Parise who leads his teammates and he does it with his play on the ice. The guy never gives up and puts himself in position to get game changing goals.
Home Ice Advantage
Hopefully winning game six and scoring two empty net goals will provide the Wild with confidence heading into game seven. The home teams have won all their games on home ice. It's a clear advantage. The fans provide their team with a boost and energy.
Minnesota will be looking to create 2003 Game 7 heroics. Minnesota Wild fans remember that series and how exciting it was to see their team come from a 3-2 game deficit to win in Colorado. At this point in the series anything is possible. I'm sure hockey fans are in for an exciting game. It's a certainty that my heart will be pounding until the last second of the game.
This has been a crazy fun series. The Minnesota Wild have provided their fans with something their other major professional teams haven't done in a few years. That's making the playoffs and winning some games in the playoffs.
Hopefully the Wild will do something it hasn't done in a decade. That's winning a playoff series.