The season has come to a disappointing end for the Tampa Bay Lightning. After a frustrating first round series against the Canadiens, one which, on several occasions, could have gone in their favor, the Bolts are left with plenty to talk about during this long off-season. There's no doubt the lightning made their fair share of mistakes – whether it be constant turnovers of the puck during genuine scoring chances or poorly timed penalties – but one cannot deny the poor hand dealt to the Lightning this season.
If karma exists, then the Lightning are sure in for a thrill ride next season. After finishing 26th in the NHL Team Standings the previous years, the Bolts placed 2nd in the Atlantic Division this year, and they did so without their main goal scorer for most of the season. With the injury of Steven Stamkos, one would expect the team to crumble under his absence. But, not only did they maintain a steady level of play, the Lightning excelled.
That void of Stamkos was filled by the team's impressive rookie squad. Ondrej Palat and Tyler Johnson played together on the Syracuse Crunch while under current Lightning Coach Jon Cooper. These two alone stepped up their game to an unexpected level. With Johnson's keen vision and fluid puck control as well as Palat's near immaculate positions and two-way play, the Lightning were given the push forward they needed to obtain a winning record.
But, alas, there are even more rookies.
The Year of the Rookie
With eleven players suiting up for their first ever Stanley Cup playoff game, the fact that the Lightning made it this far, while spending a good chunk of the season without their best scorer then losing their Captain to the Rangers in a trade, is a truly amazing accomplishment and should not be understated.
Other than Palat and Johnson, Radko Gudas and Nikita Kucherov played incredible hockey for their first year in the NHL. Gudas has emerged as the perfect complement to Victor Hedman. He plays with a toughness and fearlessness that Lightning defense lacked. Kucherov, like fellow rookie J.T. Brown, skates with fierce speed. When watching him play, jaws drop as he intercepts pucks, dekes around veteran defensemen, and treats the puck like it's some magical object.
This is a team which exemplified a growing chemistry as the season went on. Ondrej Palat and Tyler Johnson enjoyed great play with Martin St. Louis for much of the season. With a somewhat extended off-season and increased play together, these rookies will only improve.
A Season of Adversary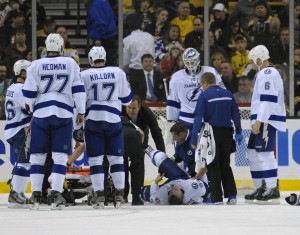 This season seemed to be against the Lightning in every possible way. They were on a good, even a great path, until November, when Seven Stamkos slid into the goal post and broke his leg. In the four months which followed, the team's youngsters defied all expectations. Before Stammer left, Johnson and Palat were only on the ice for an average of twelve or thirteen minutes. By December, they were skating an average ice time between eighteen and nineteen minutes. Even Stamkos returned, their ice time only increased. In fact, during the playoffs Tyler Johnson led all rookies in ice time.
Then, when the storm seemed over following Sochi, another hiccup shook the Tampa Bay Lightning at its heart: the team's captain, Martin St. Louis, after being cut from the Canadien Olympic Team by Steven Yzerman, GM of both Team Canada and Tampa Bay, requested a trade. Willing to waive the no-trade trade clause in his contract, St. Louis wanted to be sent only to the New York Rangers.
Yzerman handled the tough situation extraordinarily well. And what resulted was the first captain-for-captain trade in the history of the NHL. The Lightning rid themselves of St. Louis and received Ryan Callahan.
Callahan's first game with his new team was also Stamkos's first game back from injury. Once again, the Lightning were forced to readjust their play, to fill a gap which was perhaps even larger than the void left by Stamkos. St. Louis established the tone and style of his team, and, with him gone, a team largely consisting of rookies, found themselves forced to be reborn in a new way.
But, luckily, being a team of rookies means that everything is new. The team is a base shape of clay which needs to be molded into something new. Yzerman had rid much of the rose of old franchise players and brought in fresh faces with unforeseen potential that just needed the chance to triumph.
Callahan: the Missing Piece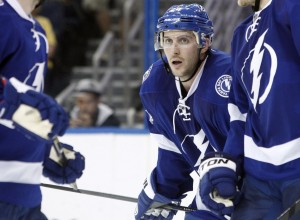 The Lightning were left without a captain and in need of a new style. Previously, St. Louis established an overall tone of finesse, played a game where smart hockey trumped grit and rough play. Then, with the introduction of Callahan, a new team emerged from the dust.
Stamkos took it hardest of all in response to the absence of St. Louis. He remained scoreless throughout four games following his return. But, when Cooper placed him in the right wing position in order to relieve some of the pressure off his leg, Stamkos seemed to fall right back into old ways. In his first nine games back, Stamkos scored nine points – technically that's nine points in five games. During of those games, Stammer scored on three consecutive shots in his hometown of Toronto.
Towards the end of the season, where the Lightning went 12-6-1, a new tone in team play emerged. This tone was one of grit – an aspect previously lacking in the Lightning's game. The source of this grit was none other than Ryan Callahan.
Significantly younger than St. Louis, Callahan provided exactly the kind of leadership needed both on and off the ice. When on the ice, he hits with the viciousness of a defenseman. Offensively, Callahan has made a habit of planting himself directly in front of the opposing goaltender, obstructing their vision. As Callahan firmly holds his place against the goalie, Hedman and Gudas force the remaining players to be drawn outwardly, allowing for Palat, Johnson, or Stamkos to come down the ice with a speed and coordination almost impossible to stop at times.
Callahan's contract is up during the off-season, leaving him with the status of an unrestitricted free agent. If he chooses not to renew his contract, the Lightning would be in a good deal of trouble. However, from observing Callahan and his play on Tampa Bay, especially when compared to his play at the beginning of the season as captain of the New York Rangers, one would hope this possibility to be an unlikely one.
The Goalie Problem Solved
Lastly, for all that went wrong this season, nothing was perhaps more devastating in terms of Tampa Bay's post-season success than the injury of Ben Bishop. Though its mere speculation, there's a reason to believe that, along with different officials the Montreal-Tampa series, if Bishop had been there to face Bourque and Gallagher, then the outcome would have been entirely different.
But, alas, there's no room in the Stanley Cup playoffs for wishful thinking. One can only find comfort in the knowledge that Bishop will be relieves of his wrist injury by next season – an ailment he bravely suffered during the second half of the season. Recently, after announcing his surgery, Bishop also revealed that he'd played while wearing a cast the entire second half of the season, forcing him to learn how to play in an entirely different way.
Now that Bishop has established himself as not only the top Lightning goalie but a top goaltender in the league, the Lightning have found themselves relieved. For several season past, the Bolts have lacked a solid, dependable goaltender behind the crease. That is, until the brick wall that stands 6'7 made his name behind the crease this year.
Bishop's play this season was perhaps the greatest accomplishment for the Lightning. Expected to battle Anders Lindback for the primary goaltending position, Bishop quickly established himself as a force to be reckoned with between the pipes. He went on to set a franchise record for wins and remained throughout the season in the top five goalies in Goals Against Average, Save Percentage, and came in fourth in Wins. Only the Bruins Tukka Rask and Colorado's Semyon Varlamov had a better season in the NHL when it comes to goaltender performance.
A Bright Future Ahead
With the season over, there's a great deal of fun that comes with the sadness of a long off-season. There are several things to watch and monitor closely: if Callahan re-signs, if Yzerman will keep Gudlevskis around or send him back to Syracuse, and if any trades will be made this summer.
Hope also comes for Bolts' fans – hope in the increased chemistry and skill of the team's rookies. Hope in Stamkos' leadership and Bishop's dependability behind the crease.
Though the season was cut short, one finds hope in the knowledge that, for the Lightning, its only up from here.
And we'll be going up for a very long time indeed.