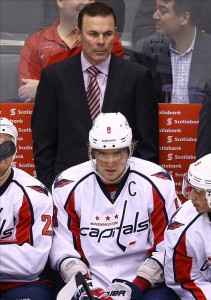 The 'Great Eight' strikes again – at least that's what headlines should've read after Washington's firing of head coach Adam Oates this past Saturday. Surely, we've all noticed the Capitals have had their disappointments over the past nine seasons – all of which saw Alexander Ovechkin don the team's crest.
Since he came into the league in 2005-06, Ovechkin and his Capitals have only missed the playoffs three times (2005-06, 2006-07, and 2013-14). Only twice, they made it to the conference semi-finals and the team has never won the Stanley Cup.
But on Saturday, team owner Ted Leonsis made the decision that something needed to be changed after his team missed the playoffs for the first time in six years. That change came in the form of Oates – after only two seasons behind the bench.
Along with Oates, the team decided not to renew the contract of long-time general manager George McPhee, who had been with the Capitals since 1997.
The McPhee move, I understand. He's been with the franchise for so long and it seems that the team is never built quite right for the NHL playoffs. That was McPhee's responsibility – to find a core and build around it. But firing Adam Oates is something I simply don't agree with. A coach's system can only work as well as the players executing it – if they are indeed executing properly.
Enter Alexander Ovechkin. The 28-year-old Russian has been a lethal sniper throughout his NHL career. In fact, he has 814 points (422g-392a) in just 679 games. He ranks 142nd on the all-time points list and 17th on the active list.
However, what many don't consider with this sort of offensive output is how Ovechkin has obtained the label of coach killer. At some point, with every coach, his play has suffered. Whether it's lack of motivation or, in the case of his defensive play this season, compete lack of ability, Ovechkin has been the constant on that team while coaches have been picked through like apples in a grocery store.
In nine seasons, Ovechkin's played for four coaches: Glen Hanlon, Bruce Boudreau, Dale Hunter, and Adam Oates. Of those four, there were issues between Ovechkin and three of them near the end of their tenure.
Boudreau began holding the superstar accountable. Ovechkin saw his ice-time dwindle and therefore saw a decrease in his point totals. Ovi won multiple awards under Boudreau, while the coach himself won the Jack Adams Award in 2007-08 as coach of the year. That, however, didn't work out.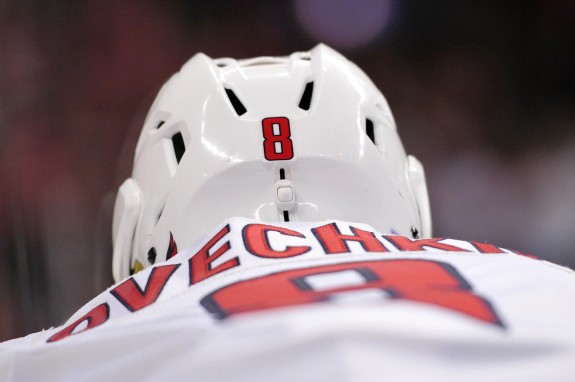 Dale Hunter came in. Former team captain and a big part of the OHL's London Knights, many thought Hunter was a good change for a struggling Ovechkin. Hunter lasted 60 games, before he decided to step down and head back to London and his Knights. During that time, Ovechkin had a hard time adjusting to Hunter's system.
"It doesn't matter if I like it or not, because he's my coach and I have to listen," said Ovi in an article by Katie Carrera, regarding his diminishing ice-time.
Now, Adam Oates is the latest victim of a team that simply seems to fall apart when it matters most. Sure, Ovi scored 51 goals this season in 78 games. But his minus-35 was a league worst and Oates' wasn't afraid to voice his frustrations in the sniper's defensive play – and rightfully so.
CSN Washington reported Oates' comments following that play: "Ovi quit on the play, coming back. It just goes to show you gotta hustle the whole time. The whole, entire time."
Now, Oates is gone. The truth is, Leonsis can bring in coach after coach. Heck, he line them up and give each of them a trial season wit the the team they have – they won't hoist Lord Stanley's Cup. As the saying goes, defence wins championships. Well, let me add to that – 50-goal scorers with minus-35 ratings don't win Cups.
Until the Capitals can figure out a way to make Ovechkin a complete player, it doesn't matter who's behind the bench or even who's in the front office. You can't have a core that won't work with the system that's presented to them. Good luck to the next coach of the Washington Captials, and the one after that. Until changes are made on the ice, don't expect the Cup to travel to D.C.
Thoughts and Shots
Cook-e Cutter
It's a cookie cutter statement – a sentence that simply rolls off the tongue now. Matt Cooke was suspended for a reckless play. This past week, that was case once again. Cooke went knee-on-knee with Colorado defenceman Tyson Barrie. While Barrie will be out for the next four to six weeks, Cooke received a seven-game suspension from the NHL's Department of Player Safety.
Cooke apologized (another familiarity) but I'll leave it to you to decide if you'll accept the public address. Forget the league's definition of a repeat offender, because Cooke has been brought 'to the office' more times than any player should be.
He worked hard to change his ways, but no Matt Cooke suspension ever feels like it's enough.

— Bruce Arthur (@bruce_arthur) April 24, 2014
I am, however, curious about the length. His last suspension in 2011 was 17 games, but the way punishments have been handed down this postseason, I was actually expecting less than seven games. Either way, changed or not, these sorts of plays have to stop. It's a matter of respect – something players need to learn to have for one another.
The Philly Stare Down
Well, he one of those guys that you love to have on your team, but hate to play against. He's pesky. He's gritty. And he's well above arrogant. But when Dan Carcillo scores to the raining boos in Philadelphia, nothing beats a staring contest with local fans.
Who said tough guys couldn't score? Well Dan, that's one way to get fans to dislike you. But hey, it only happens a couple times a year.
Top Young Gun
Is there any question that Nathan MacKinnon is the NHL's Calder trophy winner? In my mind, he's already won. I mean it's great for Tampa Bay to have both Tyler Johnson and Ondrej Palat in the running for the top rookie award, but MacKinnon helped the Avalanche win the Central Division.
He also played in all 82 of his team's games and finished the season with an impressive 63 points (24g-39a) and a plus-20 rating. The other two put up similar numbers – and were impressive – but not as outstanding as The Great Nate. Palat played in 81 of Tampa's 82 games recording 59 points (23g-36a) while Johnson put up 50 points (24g-26a) in 82 games for the Lightning.
| Player | Goals | Assists | Points | Plus/Minus |
| --- | --- | --- | --- | --- |
| N. MacKinnon, COL | 24 | 39 | 63 | +20 |
| T. Johnson, TB | 24 | 26 | 50 | +23 |
| O. Palat, TB | 23 | 36 | 59 | +32 |
The Best Between the Bars
I'd love to say that Colorado will go two-for-two and Semyon Varlamov would take the Vezina trophy for the league's top tender, but I'd be wrong. He was good. So was Tampa's Ben Bishop. But Tuukka Rask just seemed to better both of them in two of the major goaltending categories (goals-against average and save percentage).
The Bruins won the Atlantic Division and the Presidents' trophy this season for recording the highest point total in the NHL. They allowed the second fewest goals against (177) – only Los Angeles allowed fewer.
| Player | Wins | GAA | SV% |
| --- | --- | --- | --- |
| T. Rask, BOS | 36 | 2.04 | 0.930 |
| B. Bishop, TB | 37 | 2.23 | 0.924 |
| S. Varlamov, COL | 41 | 2.41 | 0.927 |
Among the Classy
Staying along the lines of the NHL player awards, the candidates for the Lady Byng trophy were announced this week as well. Folks, there's no competition here. Sure Patrick Marleau and Martin St. Louis had remarkable seasons and rarely found themselves in the sin bin. But, Colorado's Ryan O'Reilly received one – yes, I said it – one penalty this season.
What makes it better, is that it was such a stingy penalty, and he was so close to setting an NHL record for most points without a penalty. So long as your fantasy pool doesn't count penalty minutes, he was an owner's dream pick and an easy choice to win the Lady Byng trophy.
| Player | Goals | Assists | Points | PIM |
| --- | --- | --- | --- | --- |
| R. O'Reilly, COL | 28 | 36 | 64 | 2 |
| P. Marleau, SJS | 33 | 37 | 70 | 18 |
| M. St. Louis, NYR | 30 | 39 | 69 | 10 |
Best Blueliner
What makes a good defenceman? An even bigger question – what makes someone the best NHL defenceman? Just ask Zdeno Chara – the man that should win this year's James Norris trophy for the league's top blueliner. He's certainly up against some stiff competition this year with the position's goal leader Shea Weber and two-time Cup champion Duncan Keith.
But Chara deserves it – in my mind – much more than the other two. For starters, the big man is fighting Father Time. At 37, he played in 77 of the team's 82 games and recorded 40 points (17g-23a) while posting a plus-25 rating.
Not only that, but Chara also played in the Sochi Winter Olympics for Slovakia – more ice-time than any regular season for the Bruins defenceman. Chara recorded 10 powerplay goals and three game winners and helped his Bruins win the Presidents' trophy. Let's not forget, Keith and Weber did record more points than Chara this season, but the award is for the best defenceman, not the best offensive blueliner (flashback to P.K. Subban beating the clear favourite Ryan Suter). But hey, people enjoy the offence more than they like defensive play – maybe that's why the judging is so subjective.
| Player | Goals | Assists | Points | Plus/Minus |
| --- | --- | --- | --- | --- |
| Z. Chara, BOS | 17 | 23 | 40 | +25 |
| D. Keith, CHI | 6 | 55 | 61 | +22 |
| S. Weber, NSH | 23 | 33 | 56 | -2 |
An All-Around Star
The Selke trophy – for those that don't know – recognizes the league's best two-way forward. While Pavel Datsyuk won the award three straight years (from 2007-08 to 2009-10), Chicago's captain Jonathan Toews is the current holder of the Selke and nominated again this season. Along with Toews, Bruins' Patrice Bergeron and Kings' Anze Kopitar are also nominated for the award.
Kopitar would seem like the sure favourite having recorded 70 points (29g-41a) in 82 games this season with a plus-34 rating. However, it's Bergeron – in my mind – that will come out on top of this year's award voting. The Bruins' centre posted a plus-38 rating this season with 62 points (30g-32a) over an 80-game span. It's the third time the 28-year-old has been a finalist for the award and if he indeed wins, it will be his second Selke.
| Player | Goals | Assists | Points | Plus/Minus |
| --- | --- | --- | --- | --- |
| P. Bergeron, BOS | 30 | 32 | 62 | +38 |
| J. Toews, CHI | 28 | 40 | 68 | +26 |
| A. Kopitar, LAK | 29 | 41 | 70 | +34 |
Following Front Office Trends
It seems the Carolina Hurricanes have bought into the trend of hiring and promoting former players. On Monday, the team announced that former captain and long-time Hurricane Ron Francis would take over as the team's executive vice president and succeed Jim Rutherford as the franchise's next general manager.
As a player, Francis recorded 1,798 points in 1,731 career regular season games with four franchises including six with the Hurricanes. A good move by the team who are looking for answers after two straight disappointing seasons. Francis always saw the game well and was a leader on and off the ice.
Fleury: Not The Finest
All I can say when I think about Marc-Andre Fleury and the playoffs is: Yikes! Certainly the entire Pittsburgh Penguins team should be disappointed after their ups and downs in their first-round playoff series with Columbus, but when they needed a big stop from their tender, Fleury was behind the net trying to play the puck.
His shaky performance throughout the series brings back memories of past playoff meltdowns, including being replaced by Tomas Vokoun who stole the job away from Fleury. Even with the series win, Pens' fans should be eerily awaiting this pending breakdown of what some once considered to be an elite NHL goalie. All I know is that no matter who they play in the second round, both the New York Rangers and Philadelphia Flyers have the same approach as the Blue Jackets while packing a much bigger offensive punch.
Post-Season Obituaries
Goodbye St. Louis. After what seemed to be an outstanding start to the playoffs, a Backes injury and some inconsistent play by your star tender, Ryan Miller, has left you with an early exit and on the outside looking in.
There, there Dallas. You snuck your way into the playoffs and intrigued your fans by almost pushing it to seven games against a tough Anaheim Ducks team. But anytime you give up a 4-2 lead with less than six minutes to go, you deserve to call in a tee time.
Experience is everything. While the young Detroit Red Wings were able to extend their consecutive playoff streak, a tougher, older, and more experienced Boston Bruins were an unfortunate first round draw. Better luck next year.
What in the world went wrong in Tampa? I mean besides a late season injury to their Vezina candidate, Ben Bishop, and a few questionable calls in their first-round series. How about a four-game sweep at the hands of the pesky little Canadiens? At least you have two Calder candidates.
Finally, the Blue Jackets. Holy cow you put on a show. The standing ovation at the end of Game 6 alone should tell you just how important this playoffs were to the fan base in Columbus. Todd Richards has them on the right track and we should see them back again next season.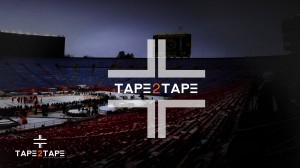 Have some thoughts about this week's column, let me know on Twitter @AndrewGForbes or on Google+.
Tape2Tape is a bi-weekly column looking at some of the biggest story lines from around the world of hockey. It will discuss a few topics in short, but detailed, snippets and focus in on one larger story from the past few days. Agree or disagree, writer – Andrew Forbes – would love to hear what you have to say.