George McPhee and Adam Oates Relieved of Their Duties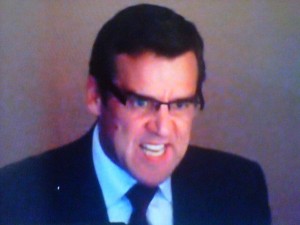 It was a somber Saturday afternoon in Washington D.C. as the Washington Capitals made a major regime change.  Majority owner Ted Leonsis and Capitals President Dick Patrick relieved General Manager George McPhee and Head Coach Adam Oates of their duties.
Here is the announcement from Leonsis and Patrick:
This comes as shocking news to the Capitals fan base.  There was lots of uncertainty after the season abruptly ended as the Capitals missed the playoffs for the first time since 2007.
Memorable Quotes from the Press Conference:
#Caps Leonsis "we need to get back at being totally focused on one goal and that's winning a Stanley Cup"

— Sky Kerstein (@SkyKerstein) April 26, 2014
#Caps Patrick says it would be nice to have a GM in place by the draft, but not a necessity. — Sky Kerstein (@SkyKerstein) April 26, 2014
#Caps Leonsis "it concerns me greatly" on players going from system to system

— Sky Kerstein (@SkyKerstein) April 26, 2014
#Caps Leonsis "At some point you get to we have to try something different"

— Sky Kerstein (@SkyKerstein) April 26, 2014
Courtesy: Sky Kerstein (@SkyKerstein)
Press Conference Notes:
-Ted Leonsis and Dick Patrick seemed very disappointed with the results of the past season.  They were in somber tone for most of the presser, but also showed signs of irritability.
-It was interesting to hear Leonsis discuss the exit interviews with everyone.  There seemed to be some tension and it did not seem like he was too happy about the report he got from the players.
-Leonsis and Patrick both stressed and emphasized that the Washington Capitals are still trying to win a Stanley Cup.  They both felt it was the right decision relieving McPhee and Oates and they stated it was the best way to move the organization forward.
-Alex Ovechkin became part of the discussion during the interview.  Patrick stated that Alex is "here to win" and that he is unfairly criticized when the Capitals are losing games.
-Leonsis stated that he respects both Adam Oates and George McPhee.  He stated that they will both find jobs elsewhere doing their respective work.
George McPhee
After 17 years in the Capitals front office, George McPhee will no longer manage the Washington Capitals.  During his 17-year tenure, he helped the Capitals reach the postseason ten times.
McPhee has been under a lot of heat over the past few seasons.  Like most NHL general managers, he has had his fair share of brilliant maneuvers and fair share of flubs.
Some of McPhee's most memorable draft selections include Alex Ovechkin, Nicklas Backstrom, Mike Green, Alexander Semin, Semyon Varlamov, Karl Alzner, and John Carlson.
This writer feels that it was time for McPhee and the Capitals to part ways.  In the last couple of seasons, the Capitals have lost their identity and have taken a few steps backward.
McPhee was a respectable general manager because he always kept his cards close and he did not reveal his deck.  McPhee has done a pretty good job assembling a capable Capitals core.
Where McPhee's downfall came is being able to find the quality supporting cast for his core.  The Capitals have been missing a top four stay-at-home defenseman for several seasons.  The defensive core has been sub-par at best and it has been neglected for a long time.  Defensemen have come and gone throughout the season (at and before the trade deadline) and during the summer and nothing has been done to address the defensive core.
To be able to compete with teams like Boston, Pittsburgh, and New York, any NHL club must have a quality defensive core who can clear the puck out of their defensive zone and can play physical hockey.  The Capitals defensive core is a ways away from being elite and has become an ultimate mess under George McPhee.
Adam Oates
After spending two short seasons with the Washington Capitals, Adam Oates was relieved of his head coaching duties.  In his 130 games behind the Capitals bench, he posted a 65-48-17 record.
It was a troublesome year for Adam Oates behind the bench for his first full NHL season.  It seemed like he could not get anything right.  On a nightly basis, he could not find the right line combinations and he would sometimes throw his players under the bus.
Oates helped the Capitals orchestrate the top ranked powerplay unit in the NHL.  The Capitals had the most powerplay goals in the regular season with 68.
Oates was well respected by the players and by the media.  Where his downfall lies is his ability to be a motivator and his ability to evaluate his roster.
A couple of his most memorable mishaps during the season was putting Jay Beagle on the second line and keeping Dustin Penner on the fourth line.  These players do not need to be put in the slots that Oates put them in.  Beagle is best suited to be a fourth line grinding center, while Penner is best suited to play in the top-six forward group to be a grinding agitating winger.
There were several games in the season where the Capitals lacked interest in the game being played.  This became a bad habit for the club and it became a big problem.  If the Capitals were motivated as a group in several of those contests, they would be in the playoff picture.
What's Next for the Washington Capitals?
It is time the Washington Capitals to buckle down and get serious about winning a Stanley Cup.  The Capitals core of Alex Ovechkin, Nicklas Backstrom, and Mike Green are about to enter the primes of their career.
The Washington Capitals are still centered around Alex Ovechkin.  Ovechkin is still one of the NHL's elite players, but he needs help.
Ovechkin needs a new aggressive general manager who will make some bold moves and take some chances on some free agents or big trades.  Ovechkin needs a head coach who can play an up-tempo attacking style of hockey.  Ovechkin needs some defensive minded players on the blueline that can clear the puck out of the defensive zone.
The Washington Capitals are a few pieces away from being in contention again.  With the right tweaks, this club could return to the postseason as quickly as next year.  The time is now to start being aggressive at the Stanley Cup.  Chances at the Stanley Cup do not last a lifetime.