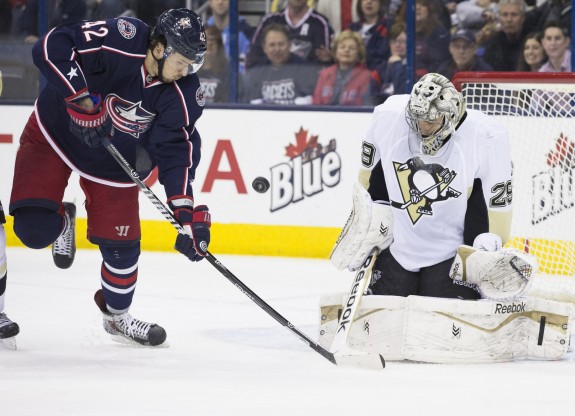 Marc-Andre Fleury was playing great. He was proving he could rise to the occasion. Fleury and the Pittsburgh Penguins were about to hold the Columbus Blue Jackets under three goals for the first time in this series. The Penguins were showing the capability to protect a one-goal third period lead. They were clogging the neutral zone, and preventing the Blue Jackets from establishing any offensive zone pressure late in the contest. Then the unthinkable took place.
"The guy just dumped it in. It was not hard so I went to stop it for our D and I don't know it just bounced over my stick and right to the guy, and he put it in front," Fleury said.
Jack Johnson threw an innocent backhand down the left boards dumping the puck behind Fleury's net. Fleury skated out of his crease and behind his cage to stop the puck. The puck took a strange bounce off of the dasher and bounced over Fleury's goalie stick. The puck was retrieved by Ryan Johansen. He threw a no-look pass into the slot. Brandon Dubinsky found the pass and fired the puck home to tie the contest at three.
This play might destroy Fleury's career if the Penguins don't win this series. He deserves better, but Fleury's mental health will be put to the test. If the Penguins lose this series and Fleury doesn't possess the mental toughness to recover, he may be gone before next season. This stain will be too strong to wash away from Fleury's legacy in a Penguins' uniform.
The Penguins held a 3-0 first period lead.  They had a stranglehold on the Columbus Blue Jackets. But after Nick Foligno scored the fourth unanswered goal allowed by Fleury, this series completely shifted in the Blue Jackets' favor.
To make matters worse, the Foligno over-time goal surrendered by Fleury appeared weak. Foligno took a wrist shot from one foot inside the blue-line and the puck found a hole under Fleury's left arm. Many fans will question the validity of this series-altering goal and whether it should've found the back of the net.
"It just shot through our D's legs. It just seemed like it dropped and it knuckled and went down. I just know it went down," Fleury said.
Fleury owed his teammates a few big saves after his late blunder allowed the Blue Jackets to tie the game. Instead, he appeared shaken. Fleury was looking behind himself in his own net after Johnson almost scored off of a face-off earlier in over-time. This is never a good sign for any net-minder.
The events that transpired in Game 4 have everyone wondering whether Fleury has matured from his underachieving playoff performances of the past few seasons. The sports psychology sessions will show their true value. Fleury is saying all of the right things for someone who experienced a heartbreaking defeat, but does he truly believe what he's saying?
"It's 2-2 were not in trouble here. We're alright. Just go home, get some good meals, relax, and have a good practice.," Fleury said. "A loss is a loss. It's a 2-2 series. [I have to] put it behind [me] and move on."
Fleury's Game 5 performance will be the only way we'll know whether he's able to put this tough loss behind him. He's acting as if the Penguins have nothing to worry about. But the pressure will only intensify if the Penguins lose Game 5.
Does Marc-Andre Fleury possess mental toughness to play well in the rest of this series?
Justin Glock has covered the Pittsburgh Penguins for The Hockey Writers since 2011. As a lead writer, his Penguins knowledge traces back over two decades. For any requests, please feel free to contact Justin via email: JGlock10@gmail.com.