Just two months ago, T.J. Oshie was the toast of the country after he duked it out with Team Russia in an Olympics preliminary qualifying match. The Everett, Wash. native delivered four shootout goals on six attempts, thrusting the American roster to a big 3-2 victory against Sergei Bobrovsky and Team Russia.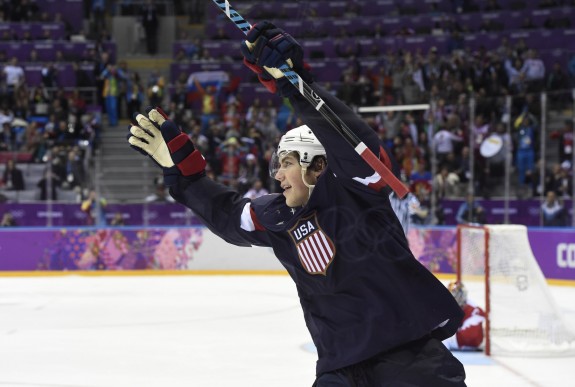 It was a shining moment for Oshie, who continued his torrid pace with two more shootout goals in as many attempts through the remainder of the NHL regular season, bringing his totals for the 2013-14 campaign to nine goals on 12 shots — an astonishing 75 percent conversion rate. He ranked first among shooters that had more than seven attempts.
It's an amazing skill that very few players around the world possess. However, it means diddly squat in the postseason.
The NHL, thankfully, does away with the skills competition in the playoffs. The league wants clubs to rely on team play and the ability to capitalize on minimal opportunities in lieu of handing offensive phenoms the puck for an uncontested breakaway chance.
A team that went 9-3 in the shootout in 2013-14, the St. Louis Blues find themselves deadlocked in a 2-2 quarterfinal-round series with the rival Chicago Blackhawks. After winning the first two contests at Scottrade Center in dramatic fashion, the team was stymied in Chicago during Game 3 and was defeated in overtime on Wednesday night. The last two games were played without captain David Backes, who is currently out with what the team calls an "upper-body injury," and with the team's other supposed star players being left off the scoresheet (with a few obvious exceptions). Victories have come simply because the bottom-two lines have filled in the gaps offensively.
[See related: Blues Unlikely Heroes Taking Control of Series]
Oshie, who returned from an injury in Game 2, is yet to register a point in this year's playoffs. Why is that not a surprise?
The Blues' most recognizable face on offense has recorded a measly two goals and five points in 22 career postseason games. He adds a dismal minus-9 to his stats sheet. His three games in this playoff round include just three shots, which all took place in Game 4.
This comes after a season that saw Oshie finish second on the roster with 60 points (21-39) and was even among the NHL's most Googled players.
For comparison reasons, let's take a look at the current playoff-scoring leaders: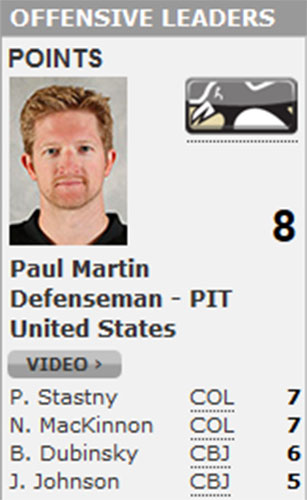 Now, we'll peek at where each player ranked among his team's scoring leaders during the regular season:

As you can see, some players belong where they are (Stastny, MacKinnon, Dubinsky), while others are playing above their heads (Martin, Johnson). With the exception of Vladimir Tarasenko, the Blues are receiving the latter… that's it.
Looking at a more local scale, Oshie is being passed up by teammates with similar career games in terms of playoff success. Some of the names may astonish — and possibly even disturb — you as a hockey fan.

As you can see, even the two most scrutinized players on the roster — Berglund and Jackman — are contributing more points to the Blues' totals than Oshie.
Success is driven by its leaders. The last two games have seen the Blues lineup fall in line with the guy who is pointed to for the big goal when it's so desperately needed.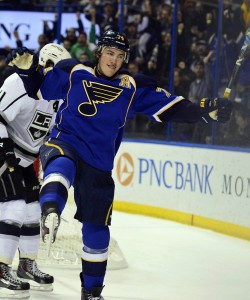 Perhaps playing injured
There is a chance that Oshie was rushed back from the possible concussion he suffered on April 10. In that case, his timing would be off and his scoring prowess would take a hit. He would be playing it safe in the corners to avoid another big hit that might keep him off the rink for an extended period of time.
Why play then? If Oshie is not playing at 100 percent capacity, coach Ken Hitchcock must get someone in there who can. Magnus Paajarvi has not played since the regular season and proved multiple times to possess soft hands and game-breaking abilities. His abilities with the puck and scorching shot would provide more to the Blues offense than a hurt Oshie ever could.
What Oshie has to do
Forget the hype. Say no to the commercial spots. Focus on the game and make your team's offense the No. 1 priority.
Oshie's overall game is not bad, per se. In the defensive zone, he has helped the Blues kill nine of 10 Blackhawk power plays in the past three games. It's encouraging that Oshie's game does not completely deteriorate come playoff time. It's easier to bounce back if only one aspect of his game is suffering.
That aspect is production. If this trend continues, he'll be leading his team on the losing end of the handshake line in a few short days.
I am a former NHL media member and reporter for the St. Louis Blues, working for various media outlets. Currently, I am an NHL News Writer and Editor for The Hockey Writers. I live in St. Louis and work as a freelance copywriter in numerous industries.