A few weeks back, when the Florida Panthers announced that Dale Tallon would be promoted to president of hockey operations, and Tom Rowe was named the team's new general manager, I wrote an article on Tallon's five best moves as GM of the Cats.
But, as we all know, for every good move a general manager makes there's a stinker or two mixed in as well. Here's Tallon's three worst moves from his five years as the Panthers' GM.
1) Signing Dave Bolland
There should be no surprises with this one.
Tallon inked Bolland to a five-year $27.5-million deal on July 1st of 2014, and it almost instantly became the worst transaction of his career.
The signing was so bad that people had hardly any time to actually question the move, everyone just knew that this one was really bad.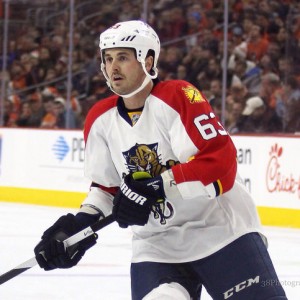 The former Stanley Cup champion has produced just seven goals and 28 points in 78 games with the Cats. He posted a plus-two rating and 64 penalty minutes over the two-year span.
Bolland also added one assist in two games for the Portland Pirates this year while on an AHL conditioning stint.
After the Panthers were elimtated by the Islanders in the first round of the playoffs this year, reports began to circulate that the Panthers would be looking to, cut ties with the veteran.
This is likely the move that is best for both parties in the long-run.
Bolland will get his money, and possibly another chance to play in the NHL again, and the Panthers will get more cap space to sign their long list of RFAs over the next two seasons.
At the end of the day, this is likely the second worst contract in the entire NHL, next only to David Clarkson, who is now with Columbus.
Here's Bolland's one and only goal from this past season.

2) The 2010 Draft
The next two items on this list are a lot less extreme than the Bolland contract, and really, that should show you how great of a job he did with the Panthers.
The 2010 draft was Tallon's first with Florida, and he had three first-rounders to work with. The Panthers held the 3rd, 15th and 25th overall picks that year, and before I say anymore, I will say that Tallon did do a good job this draft, he just didn't hit as big of a home run as he could have at the time.
With the 3rd pick, the Panthers drafted defenseman Erik Gudbranson. This is often the pick that Tallon gets the bulk of flack for from this draft, but he took a safe-bet pick, who was also the consensus 3rd overall pick by most scouts. Although the offense isn't there, Gudbranson will easily play over 1000 games in his career, and has become a very good defensive D-man.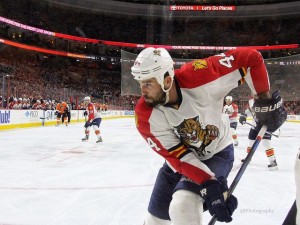 Tallon then traded the 15th pick to the Kings. In return, he got the 19th pick and a second rounder, which turned out to be Jason Zucker, but the Panthers traded that second rounder for a 3rd and 4th pick that year.
At 19, the Panthers took center Nick Bjugstad, who has turned into a very good NHLer with room to grow.
Thing is, at 16th overall, the Blues took a big gamble in selecting Valdimir Tarasenko, and it paid off big time.
With their last pick in the first round, the Cats got another NHL caliber player in Quinton Howden.
The catch this time is that the pick directly after Howden turned into Evgeny Kuznetsov, another high-risk, high-reward pick.
Since Tallon's first draft with the Panthers, he has yet to draft a pure goal-scoring winger, and with the Panthers' rebuild all but complete, it's one of the few pieces missing from the puzzle. In 2010, Tallon had two chances to grab two players capable of putting up 70-80 points-per-season, but did not pull the trigger.
3) Losing Michael Grabner on Waivers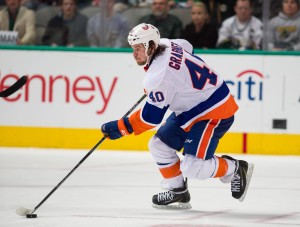 This is the only other noteworthy bad move that Tallon made as GM of Florida that I can think of. (Here's a link to his trading history with Florida).
Grabner, a first round pick by the Canucks in 2006, was traded to Florida with the 25th-overall pick in 2010.
In October of 2010, Tallon placed the winger, who seemed to have a very high ceiling at the time, on waivers. He was then picked up by the Islanders.
He actually had a couple of good years with New York, and signed a five-year, $15-million deal with Long Island.
His two good years were all he really had in New York, but Tallon still lost an effective NHLer on waivers, which is never a good thing.
Here are Grabner's career stats.
I have now graduated the Trent-Loyalist journalism program, as well as an eight-week internship at the Hockey News. I'll be covering the Panthers for THW while continuing to look for full time work somewhere in Canada.