With news breaking this week that Dale Tallon would be moving to a more executive role with the Florida Panthers, and Tom Rowe being named the new general manager, I think it is now a fitting time to look back at Tallon's time as GM of the Panthers and analyze his five best moves as Florida's GM.
I'll be doing a longer write up of Tallon's time in Florida in the coming week-or-so but for now let's leave it to this list.
5) Bringing Playoff Hockey Back to Florida in 2011-12
After finishing in the basement in his first year with the Panthers, Tallon continued with his roster overhaul that he had begun the year before. He traded away Cory Stillman, Radek Dvorak, Chris Higgins and the team's captain, Bryan McCabe. The players Tallon brought in were all key pieces during the Panthers' trip to the playoffs in 2011-12. He traded for Kris Versteeg, Tomas Kopecky and Brian Campbell (who we'll see more of later on in the list). Tallon also signed Tomas Fleischmann and Ed Jovanovski, two more players that would play big roles that season.
Although the Panthers finished with a mediocre record of 38-26-18, they still claimed the first Southeast Division Championship in the team's history. The playoff berth was also the Panthers first since being swept in 2000 by the New Jersey Devils.
To most teams, one simple seven-game-series and a first-round exit doesn't seem like much to be thankful for, but this series, which happened thanks to Tallon, showed the hockey world that if the Panthers are winning, their fans will support the team. The Panthers also saw the plastic rat tradition brought back, here's a look at the Panthers' Game Two win at home from the series,
4) Bringing "Lu" Back for a Second Tour of Duty
This is one of those moves that, in two or three years could very well place higher up on the list, but for now number four seems like a good spot for Florida's franchise goalie.
Luongo's first tenure with the Panthers was a pretty interesting one. Everyone knew that he liked playing in Florida, but when it was game time, you couldn't help but think to yourself that he just deserved better.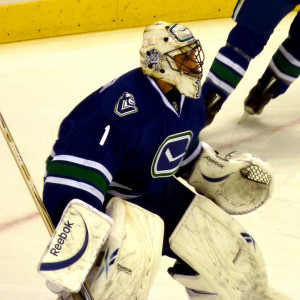 For five years straight Luongo faced over 2000 shots-per-season and in 2005-06 he faced a career high of 2488 shots against. He also played in 75 of the 82 games played that season.
Whether Luongo wanted out of Florida or not, he was dealt to the Vancouver Canucks in 2006 for the brutal return of, Todd Bertuzzi, Bryan Allen and Alex Auld.
A lot of people thought this trade would end Luongo's time in Florida for good, but apparently Tallon had other ideas.
In March of 2014, Tallon sent Jacob Markstrom and Shawn Matthias to the Canucks for Luongo, with part of his salary being retained by Vancouver.
Since arriving back in South Florida, Luongo has been stellar, in fact, he's actually posted better numbers than had in his later years with the Canucks.
The move also showcased that Florida was committed to winning, and spending the money that they needed to spend.
Luongo admitted himself that his contract "sucks," so you can understand why the Panthers would have been weary of paying a goaltender $4.3 million (Vancouver is retaining 15 per cent of $5.6 million) until Luongo is in his mid-40's.
But any doubts of Luongo's ability to stop pucks have been silenced. He will look to lead the Panthers to their first back-to-back playoff berths in almost 20 years next season.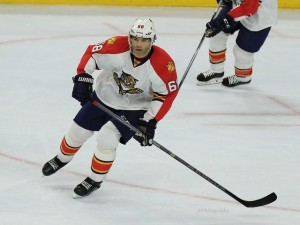 3) Trading for Jaromir Jagr
Heading into last year's trade deadline, there probably wasn't many people betting on the Panthers to trade for a 43-year-old winger, especially for a 2nd and 3rd pick.
But Tallon did, and as he usually does, he proved his doubters wrong.
Jagr slotted onto the Cats' top line with Jonathan Huberdeau and Aleksander Barkov, and for whatever reason, the trio had instant chemistry.
Jagr played 20 games with the Panthers after he joined the team in February of 2015 and posted six goals and 18 points.
What is more important, is that Jagr has helped his two young linemates reach their offensive potentials.
After acquiring Jagr, both Barkov and Huberdeau scored near the point-per-game clip in the 20 games they played with the veteran winger.
In their first full season with Jagr this year, the line exploded.
Barkov and Huberdeau both posted career-highs in points, with 59 apiece. What's even more impressive is that Jagr got more points than he had in any year since he was with the Rangers in 2007-08, with 66 points in 79 games played.
Trading for Jagr was another gutsy move from Tallon that paid off in both the short and long term for the Panthers.
2) Bringing Brian Campbell Along for the Ride
The Brian Campbell to Florida trade was only able to happen because the  stars aligned perfectly.
Chicago needed to get rid of his $7.1 million salary and Florida needed to get to the salary floor, but it's more than just that.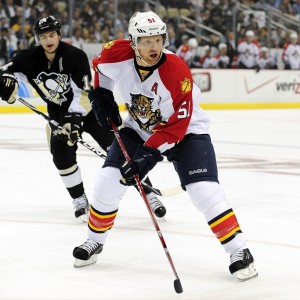 Tallon then somehow convinced Campbell to waive his no-trade clause. Campbell chose to leave a cup-contender in Chicago, where he was no longer wanted, to go to the last-place Panthers.
On top of all of that, Tallon traded a salary dump for Campbell. Rostislav Olesz, who was making over $3 million with the Panthers on a long-term deal, was the man headed to Chicago. He played six games for the Blackhawks before getting injured and eventually bought out.
The great thing about Campbell is that he is consistent.
He has played 389 straight games with the Panthers, that's both regular season and playoffs, and mentored Panthers superstar Aaron Ekblad into the top-pairing D-man he is today.
Campbell has also produced for the Panthers. He has posted 181 points in those 389 games and took home the Lady Byng Trophy in 2011-12, being the first defenseman since 1954 to win the award.
Now a UFA, Campbell is reportedly looking to re-sign with the Panthers, and it would be smart for Tallon to give him a deal if Campbell is willing to take a significant pay-cut this time around.
Campbell has done everything that that Panthers could have hoped him to do and it would be fitting for him to end his career in South Florida and possibly making a deep run in the playoffs too.
1) Drafting Barkov Second-Overall
Tallon has hit on every single one of his first round selections with the Panthers, but when he took Aleksander Barkov with the second pick in 2013, he made the move that would put the Panthers over the top.
After losing the draft lottery to the Colorado Avalanche, the Panthers had to choose between Barkov, Seth Jones and Jonathan Drouin, with most experts pegging them to select Jones and the rest saying Drouin had to be their guy.
Here's Pierre Mcguire's reaction to the Barkov selection,
At just 20, Barkov is a home run player.
He plays a 200-foot game, kills penalties, plays powerplay time and will always be on the ice in the final minute of any game.
He also produced as a first-line centerman this year with 28 goals and 59 points in 66 games, all while celebrating just his 20th birthday.
If Tallon had not gone against the grain, the Panthers would not have a top-line center. They would have either a speedy winger in Drouin that made trade requests before playing 80-career NHL games or a solid defenseman in Jones that is still looking to take the next step to becoming a top-pairing guy.
This, in my eyes, is the best move Tallon made as the Panthers' GM and will stay that way for good because Barkov is just that good.
With a Lady Byng nomination this year, and being one of eight players selected to compete for the cover of NHL 17, Barkov still has to room to grow as a player, both in his own zone and on the offensive zone, which is a great thought for fans of the Panthers.
I have now graduated the Trent-Loyalist journalism program, as well as an eight-week internship at the Hockey News. I'll be covering the Panthers for THW while continuing to look for full time work somewhere in Canada.