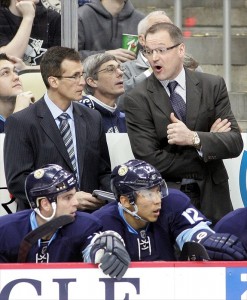 Not unlike life, playoff hockey is full of important decisions. Both on the ice and off.
Now that the Pittsburgh Penguins have wrapped up the top seed in the Eastern Conference Playoffs, head coach Dan Bylsma can shift his focus to preparing his team for the grueling 2-month run to the Stanley Cup Final.
This is easier said than done, though, as Bylsma and the rest of the coaching staff will have some big roster decisions to make in the upcoming days and weeks.
With superstars Sidney Crosby and Evgeni Malkin due back sooner rather than later, and James Neal seemingly closing in on a return to the lineup of his own, it poses a significant log jam among the Penguins' forwards. Now, don't misunderstand me. It's not a matter of whether or not Crosby and Malkin play, but rather a matter of who sits in their stead? Crosby will resume his rightful spot centering the "top" line, and Malkin will do the same on the 2nd unit. Brandon Sutter will continue to fill 3rd-line centerman duties, and Jussi Jokinen will attempt to spark some offense as the 4th line center.
Let's take a look at this from a chronological standpoint: Evgeni Malkin should be the first to return from injury. I would imagine that if he's healthy enough to play in one of the Pens' final three regular season games (as of this article being written, Bylsma has ruled him out of Monday night's game in Ottawa), that he would go just to make sure he's healthy enough for the start of the playoffs. This may mean that Malkin sits out all but the final game against Carolina next Saturday night, and to that end he may not even see all that much ice time period. That said, with Malkin's return it would seem to knock face-off whiz and spark plug Joe Vitale off the ice and into a suit, watching from the press box. It is possible, under this scenario, that Pascal Dupuis continues to see time as a centerman, potentially knocking Jussi Jokinen to his playoff place as 4th-line center a bit early. Malkin would most likely play between Chris Kunitz and Jarome Iginla in this case, with Dupuis filling space between Brenden Morrow and Beau Bennett (although Bennett could be the odd man out, being a rookie).
The next to return is most likely Sidney Crosby, and this is where it'll get interesting for Byslma & Co. Once Crosby hits the ice, the centers are now set, as I listed above (Crosby, Malkin, Sutter, Jokinen). So that means that a winger is next on the chopping block. If Bennett isn't the guy sitting in the wake of Malkin's return, then he most certainly sits once Crosby is back healthy. Bennett can still be sent back to Wilkes Barre without having to clear waivers, and he would be able to play down there as well (as opposed to, yes, sitting in the press box in a suit with Vitale). Mind you, this is not, I repeat NOT what I would do (I'll explain later) but it seems to be common NHL coaching sense to sit the rookie, or just send him back to the minors altogether. So now you'd have line combinations looking something like this (this is how I would do it):
Kennedy – Crosby – Dupuis
Kunitz – Malkin – Iginla
Cooke – Sutter – Morrow
Glass – Jokinen – Adams
This is obviously a rough sketch of the combinations, and I'm basing this off of the chemistry that I've seen develop with certain guys over the past week.
The final forward to return to lineup presumably would be James Neal. The question to be answered by Bylsma here, is what type of unit does he want his 4th line to be, scoring or checking? If it's the former, then Kennedy gets shipped to the 4th line and Tanner Glass is the odd guy out (which I suspect will be the case). But if he wants grit and toughness, and a bit of defense (don't forget that Glass kills penalties), then Tyler Kennedy will find himself watching from the box as well.
As I stated before, the questions will loom large for Dan Bylsma and the rest of the Penguins' coaching staff once all of these bodies are back and healthy (assuming that they're all back and healthy together, of course). And to be honest…
It's not a bad problem to have.