After seeing many of their best players leave via free agency over the years (Zach Parise, Scott Gomez, Brian Gionta, Brian Rafalski, Scott Niedermayer) the New Jersey Devils ensured that Travis Zajac won't be going anywhere for a while. The 27-year-old center and the team that drafted him in 2004 agreed to what is believed to be an 8-year contract extension, but the Devils have yet to officially release the details.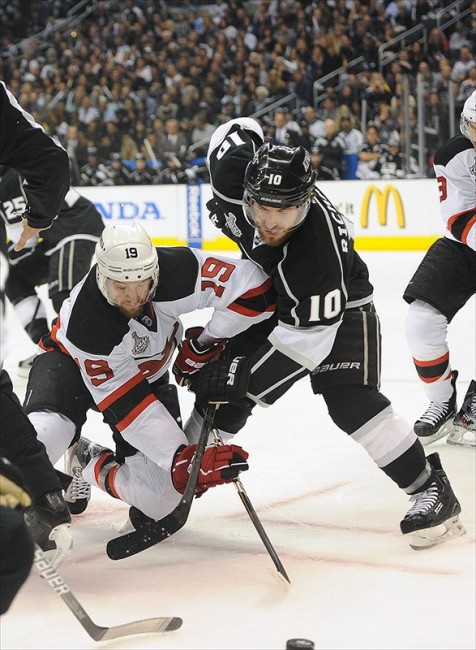 Zajac was due to become an unrestricted free agent after this season, and now is one of the pillars that New Jersey will build their team around in the coming years. Last season for the first time in his career, he missed regular season games with an Achilles injury suffered during off-season training, but he was a major cog (7g-7a) in the team's run to the Stanley Cup Finals last spring. As I pointed out in one of my first articles for THW, it was my belief that he was going to be the "X-Factor" in whether or not the Devils were to have a chance at winning the Cup.
GM Lou Lamoriello had told the attending media that this deal had been worked on before the lockout, and completed once the lockout ended. "During his time in New Jersey, Travis Zajac has become a solid, all-situation player and one of the core leaders of our hockey club," Lamoriello said after announcing the deal. Under the new CBA, eight seasons is the longest a player can re-sign with his own club; seven is the max for another club.
He's been their no. 1 center since 2007-08, he's their face-off ace, plays power play, penalty kill, end of game situations and the team has signed both of his younger brothers Darcy and Kelly to play in their minor league system. He also is the franchise's iron-man, appearing in 401 consecutive games from Oct. 2006-April 2011. Why wouldn't he want to stay in New Jersey, right?
CAREER TOTALS:
423 regular season games, 255 points (91g-164a), +36, 25 power play goals, 11 game winning goals.
52 playoff games, 26 points (10g-16a), -1, 1 power play goal, 3 game winning goals (2 in OT)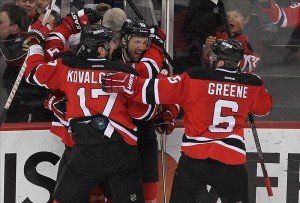 Unlike those before him, Zajac wanted to stay in New Jersey and perhaps even took less money than he could have made on the open market. Some might say the Devils overpaid to retain his services, and maybe that's true, but I guarantee that another team would have overpaid to pry him away from the Devils (see: Zach Parise, Scott Gomez). ""It's something I take pride in," Zajac told Tom Gulitti of the Bergen Record. "I love wearing this logo on my chest. It means a lot to me. The environment that Lou has created here, it's a winning culture and I want to continue to be part of that and continue to help out in any way possible."
Fans of the Devils will really latch onto Zajac now, and they should — he is a very likeable guy, very easy going and always willing to engage in conversations with the media, with a smile. How can anyone forget his OT goal in Game 6 of the ECQF to keep the season alive?
As of now, the depth chart at center for New Jersey is as follows: Zajac, Adam Henrique, Jacob Josefson and Stephen Gionta; also able to play the middle are wingers Patrik Elias and Dainius Zubrus and Blake Coleman is still in college at Miami (OH).
Likely next on the to-do list for Lamoriello is getting Elias and David Clarkson re-signed, and possibly trading one of his plethora of defensemen for another right winger — their weakest position throughout the franchise.
Dan Rice can be reached via Twitter: @DRdiabloTHW or via email: drdiablo321@yahoo.com
Dan Rice is in his 9th year of reporting for THW & has covered NJ Devils home games for 15+ years at various websites. He began his journey working for legendary broadcaster/writer Stan Fischler from 2002-04 & completed an internship at the ECHL; he also has been writing features for the NWHL (nwhl.zone) website since 2016.