After the Vancouver Canucks were shown the door by the Los Angeles Kings they held their end of the year media scrum, and since then have continued to make NHL news. At that media event goalie Roberto Luongo let it be known that he would be willing to waive his no trade clause if the Canucks wanted to go in that direction. It's not often that one of the biggest names in the NHL appears to be headed for the trading block, and the reaction was as to be expected.
Things escalated during the week as Nick Kypreos reported via his twitter account that Luongo had in fact asked for a trade, and that he had given the Canucks a list of teams. General Manager Mike Gillis denied that the next day. Despite that fact, fans in Vancouver, and places like Toronto, quickly started putting together trade ideas, and weighing the pros and cons of moving the goaltender.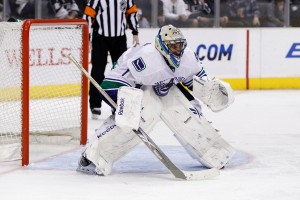 Whether you are a fan of the Canucks or not, you most likely have an opinion on Roberto Luongo. He is one of the most enigmatic players in the NHL, and along with that several narratives, or myths, have been hurled at us about him. These Luongo myths are sure to be discussed in every article about him, discussed on sports radio, message boards and water coolers around the league.
You know these myths. They say that Luongo is not elite, that he chokes at the biggest moments in the playoffs, that Canada won that gold medal in spite of him, and that he can't handle media pressure. Are these things actually true?
Let's try to wade through the rhetoric and find some truths. It could get messy so break out your favorite hip waders. You know, the ones you have to put on when Brad Marchand defends his diving.
Roberto Luongo is not an elite goaltender 
This one is a popular Luongo myth. The narrative is that Luongo plays for a good team and benefits from that, therefore making him overrated, or not among the elite goaltenders in the NHL. People will claim this despite his Vezina nominations, Hart nomination and regular season, Olympic, and playoff success.
Luongo's career numbers show him to have a .919 save percentage and a 2.52 goals against average. How does that compare?  Luongo has a better career save percentage than four-time Vezina winner Martin Brodeur (.913), and has not had the luxury of playing behind the Devils trap in the 90's. Luongo's career save percentage and goals against numbers are also better than three-time Vezina winner Patrick Roy (.910 and 2.54)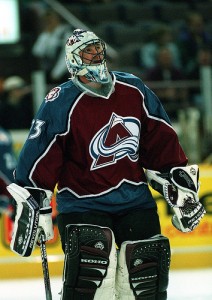 Brodeur and Roy are widely considered two of the greatest goaltenders ever to play, and Luongo's numbers are right in their wheel-houses. Despite this, people will still tell you he's not elite.
Is Roberto Luongo the greatest goaltender ever? No. Is he the best right now? Probably not, but to say he's not in the class that would be considered 'elite' seems hard to back up.
Roberto Luongo is a playoff choker 
This mantra surprisingly is the loudest in British Columbia, as Canucks fans have often laid every and any Vancouver defeat at the skates of Luongo. This is understandable to a degree. Fans are passionate and until they see their team on the bad end of a handshake line believe their team is unbeatable. When that dream is shattered they have to point a finger somewhere.
In hockey, that finger gets aimed at the goaltender. It's easier for some Canucks fans to blame Luongo than to admit that the team has not had the scoring or defensive depth they had believed. It's easy to point to Luongo because you see the puck go by him. If he only was better he'd stop those pucks right?
Is Luongo a playoff choker?
He has never lost a first round playoff series, and despite some blow ups in Boston last year, got his team to within one win of the Stanley Cup despite his team providing him with no scoring support.
Luongo's playoff numbers are almost identical to his regular season numbers. He has a career .916 playoff save percentage and 2.53 goals against average. If anything, Roberto Luongo is consistent so the idea he's only good in the regular season just does not have any facts to support it. This myth lives on because of a couple of high-profile flameouts against Boston and Chicago. Everyone saw those games and decided that, despite the small sample size, Luongo was no good when it mattered most.
Those games should not be totally discounted, but also do not tell the entire Luongo playoff story.
It hardly matters more than in a Game 7 during the playoffs, and Roberto Luongo has played in three of these high pressure games. He is 2-1 in those and has posted a save percentage of .931, which is above his career high. The one Game 7 he lost was a 4-0 loss to Boston where he gave up three goals and the Canucks could not score any. Hardly the profile of a big game choker right?
The Olympics 
It would be hard to find many bigger pressure situations than representing your home country at the Olympics being played in your home country, and in the arena you play your regular season home games in. Luongo led the Canadians to the gold medal in 2010, but many people will tell you that Canada won in spite of him.
After all, the Canadian roster was epic, and the way people talk about it, a bucket with a goal stick taped to it could have backstopped that team. Luongo posted a miniscule 1.76 goals against average in that tournament, but still is criticized for letting Zach Parise tie the gold medal game with 23 seconds left.
Never mind that Luongo stopped 34 of the 36 shots he faced that afternoon against a pretty stocked Team USA. If Team Canada's defense was so unbeatable how did they give up so many shots? Let's take a look at the Parise goal to see if Luongo choked that goal away.
The U.S. had the extra skater, and after making a pretty good save on a deflected shot, Luongo could not stop Parise's rebound shot and the game was tied. People who blame Luongo always fail to mention the first save and how good it was and they also fail to mention how Shea Weber and Scott Niedermayer ignored Parise and Jamie Langenbrunner all alone in front of the net.
So Luongo is a choker because he could not keep two guys, who were un-checked, from scoring off a rebound of a deflected shot. Seems like that is a pretty harsh standard. The same people who claim he should not get credit for the gold will quickly mention that American goalie Ryan Miller outplayed him. This despite the weak goal Miller allowed in overtime to Sidney Crosby that gave the Canadians the gold.
Roberto Luongo can't handle the media pressure in Vancouver
The media market in Vancouver is one of the toughest ones to play in front of in the NHL. There is a lot of it, and they will nit pick every move the team makes. There is constant criticism of the Canucks by their home scribes and fans. As the trade speculation for Luongo has heated up many have claimed that if he can't handle the Vancouver heat how will he fare in Toronto where it is even more intense.
This myth is a confusing one. Luongo is a pretty laid back guy, aloof at times, and has an often misunderstood sense of humor. Luongo has never shown that he can not handle the media scrutiny in Vancouver. After the Canucks were bounced out of the playoffs by the Chicago Blackhawks for the second straight year, Luongo took the lion share of the blame by both the media and a very vocal portion of the fan base. He crumbled to that pressure so much by having his best year he's ever had, garnering a Vezina nomination and leading the Canucks to their best season ever.
That pressure sure did get to him.
Take a look at this bit he did for TSN a couple of years ago where he poked fun at himself. Does this look like a guy who is fragile and crumbles under media scrutiny?
The tea leaves suggest that Roberto Luongo's time in Vancouver may be coming to an end as they look to get younger with Cory Schneider, but that does not mean that he has no trade value, or that nobody will want 'a fragile, over-rated, not elite' goaltender. There are teams that would love to have the 'problems' that the Canucks have had with Roberto Luongo in net.
As the summer heats up and these myths start popping up more and more, take a moment and really think about it. Just because perception becomes reality does not mean that it is accurate.