As the season enters February, teams are going to start inquiring about trade opportunities to get them over the hump and start contending. Buyers will be looking for the final piece of the puzzle while sellers will try to divest all contract-year talent for additional assets. The New Jersey Devils, as they have been for the last four years, are in unique territory. In the standings, they are a handful of points out of a playoff spot but also a few losses away from the bottom of the barrel. With such uncertainty, the way the Devils approach the trade deadline will signal their future plans.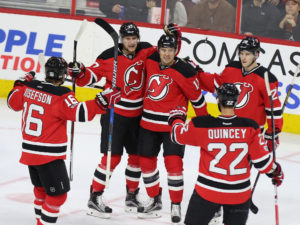 At the time of the trade freeze in late-December, the Devils were considered a long-shot for a playoff berth, with less than a 1% chance according to Sports Club Stats. Things then got worse, but the Devils are back to playing some of their most tenacious hockey of the season and are 4-4-2 in their last 10 games thanks in part to successful line combinations.
Nonetheless, the Devils should sell. There is plenty of talent chomping at the bit for playing time. Moreover, the trade market could be a favorable place for Ray Shero to unload some of the team's short-term pieces. Finally, and most significantly, the expansion draft and free agency could cause the Devils to lose someone without compensation.
Success in Albany
The Albany Devils are playing some of their best hockey in team history and are just a win away from taking over the North Division. Crucial to those efforts is the play of some of Albany's top stars, namely Blake Coleman, Joseph Blandisi and Steven Santini.
Taking all of them away from Albany would lead to a farm team implosion, but each of them deserves another shot at the big leagues. They aren't getting that chance, though, in part due to the many waiver-eligible players in New Jersey crowding them out. Heading into another crucial offseason in the rebuild, Shero must examine his Albany stars and decide where they fit in the lineup. Trades will free up full-time spots for players like Coleman, Blandisi, and Santini.
Blake Coleman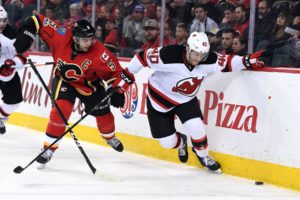 Coleman needs a second look in New Jersey. The 25-year old was drafted in 2011 and played four years of college hockey at Miami University of Ohio. He succeeded as a center and earned a two-year entry-level contract. His rookie season mostly went down the drain because of a season-ending shoulder injury. After attending development camp, Coleman has put together an impressive half season in Albany, tied for the team lead with 13 goals in 34 games.
A string of impressive performances resulted in a five-game stint in New Jersey. Coleman picked up just one assist but, as THW's Dan Rice explains, there was more to the center's play than the stat-line. He would be a welcome re-addition to the NHL Devils, a team in desperate need of center depth.
Joseph Blandisi
It's a shame that for all of Blandisi's great plays in the 2015-16 season, the one that most fans will remember is his terribly timed embellishment against the Philadelphia Flyers. That said, Blandisi was the team's most creative playmaker. His puck skills are second to none on a team in need of creativity. He's shown scoring prowess in Albany with 23 points in 28 games and is first on the team in points per game with .82 ppg. That doesn't seem to be a fluke given his performance in 2015-16 (23 points in 27 games).
As it stands, there are plenty of openings in the Devils' lineup for a creative winger, especially if some players leave at the trade deadline. Blandisi has been crowded out of an NHL spot as he looks to develop a more well-rounded style of play. That said, he appears ready to get a second chance after an impressive first stint.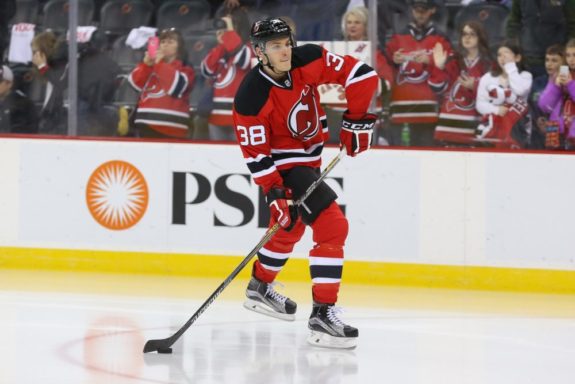 Steven Santini
The Devils have few blue-chip prospects, but one defenseman is waiting to get an extended look in the NHL. At 22-years old, Santini is ready for a full-time gig in New Jersey and has proven so in his first 13 games there (with two goals and five points). However, that opportunity arose only after injuries to Andy Greene and John Moore as well as an AHL reassignment for Yohann Auvitu.
There's a short leash for Santini when Greene and Moore return. The two of them, Damon Severson, Ben Lovejoy, Kyle Quincey and Jon Merrill make up the lineup. Typically, Santini has to compete with Auvitu and Karl Stollery for a roster spot. Freeing up space in a trade would ultimately create an opening for Santini to find his footing.
Trade Options
The Devils, like last year, have enticing veterans on their team who could fetch a draft pick in a trade. In 2016, Shero turned Lee Stempniak, Eric Gelinas and Stefan Matteau into a second round pick, two third rounders and Devante Smith-Pelly. Given that Stempniak was not re-signed by the Bruins, Gelinas has flopped with the Avalanche, and Matteau cleared waivers since then, Shero proved masterful with his bargaining clout.
The Devils would benefit from another successful trade deadline in 2017. They have plenty of names to offer up this year, including PA Parenteau, Kyle Quincey and Keith Kinkaid, in exchange for draft picks and young talent.
PA Parenteau
Much like last year's Stempniak signing, the acquisition of Parenteau was considered low-risk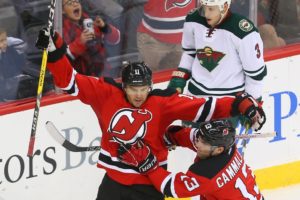 but has come with a fruitful return. Parenteau has become one of the Devils' steady scoring wingers and brings stability to the top-six. The Canadian forward had similar success in Toronto in 2016 and netted the return of a second round pick for Lou Lamoriello's Maple Leafs.
Parenteau is talented, but the Devils are still not ready to contend. Shero would be wise to turn Parenteau into assets before the winger leverages an impressive campaign into a multi-year contract in free agency. Teams constantly long for cost-controlled veteran scoring help heading into the playoffs and Parenteau is one of the best available.
Kyle Quincey
Quincey, by no coincidence, is also playing quality hockey in his contract year. The 31-year-old rearguard is on pace for a 20-point season in a second pairing role.
He was initially brought to New Jersey following a buyout from the Red Wings, meaning that any team that considers him must consider the following: has Quincey's play picked up solely because he hopes for a new contract? Or is the 31-year-old turning a corner?
#Devils leaders:
PTS: Taylor Hall 30
G: PJ Parenteau 12
A: Travis Zajac, Damon Severson, Taylor Hall 19
+/-: Kyle Quincey, Steven Santini +6

— Ray Moffo (@RayMoffo) January 21, 2017
At the very least, some team will buy into Quincey's success this season in an attempt to make a playoff push. There aren't great comparables, but two-way defensemen usually fetch anywhere from a third to fifth round pick.
Keith Kinkaid
Finally, Kinkaid could be an enticing option for teams looking for goalie help. After an impressive rookie season at age 25, the Farmingville, NY native has been up and down in his three-year
career.
This year has been an up one for the pending UFA. His .920 save percentage and .500 win percentage are more impressive when coupled with the Devils' lackluster performances.
There is no set market for backup goalies because they are copious and not a hot commodity at the deadline. After all, most starting goalies turn into workhorses when the playoffs come around. However, perhaps a team would consider Kinkaid part of a tandem and are willing to pay now for an extended tryout.
Expansion Draft
Ultimately, the Devils are unlikely to snag a playoff berth. For Devils fans, the next significant date on the calendar is the expansion draft, set to take place from June 18-20.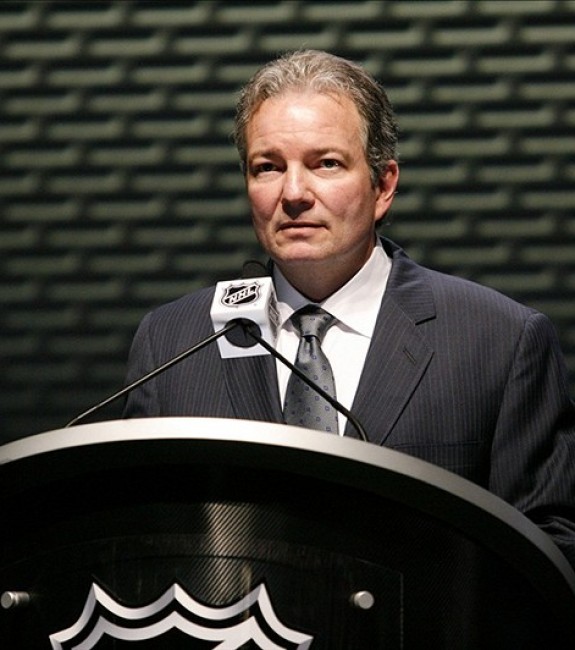 The Devils will not have to make many tough decisions, but they will be exposing several talents for the Vegas Golden Knights. For that reason, age- and experience-protected players are at a premium and fringe NHLers and mediocre veterans on long-term deals are not in demand.
Here's a proposed list of the Devils' protected players:
| | |
| --- | --- |
| Goalie 1 | Cory Schneider |
| Defense 1 | Andy Greene |
| Defense 2 | Damon Severson |
| Defense 3 | John Moore |
| Forward 1 | Taylor Hall |
| Forward 2 | Adam Henrique |
| Forward 3 | Kyle Palmieri |
| Forward 4 | Travis Zajac |
| Forward 5 | Michael Cammalleri |
| Forward 6 | Beau Bennett |
| Forward 7 | Stefan Noesen |
With this plan, the following Devils would be made available to the Golden Knights: Devante Smith-Pelly, PA Parenteau, Vern Fiddler, Jacob Josefson, Luke Gazdic, Petr Straka, Ben Thomson, Carter Camper, Ben Lovejoy, Kyle Quincey, Jon Merrill, Brandon Gormley, Reece Scarlett, Seth Helgeson, Karl Stollery, Andrew MacWilliam, Keith Kinkaid and Scott Wedgewood. As the rules go, the Devils will lose one of those players this summer.
Trying to predict which one gets selected would be overly speculative. But shipping all of these players in a flurry of trades would prevent the Devils from icing a competitive team in the near future. There is a middle ground. If Shero makes the more valuable veterans available – guys like Parenteau, Fiddler, Smith-Pelly, Lovejoy, Quincey – he may get another GM to bite in a trade.
That wouldn't put the Devils over the rebuilding hump, but it gives Shero more draft picks or young protected players to deploy in his future lineups. A fire sale would be aggressive, but there is a need to pick up more draft picks and young players in need of another shot. Shero has abided by that strategy in the past and will need to continue to do so if he wants to find his next bargain bin star.