The Ottawa 67's have 19 games remaining in the 2016-17 regular season and are in a tight playoff race in the Ontario Hockey League. The team sits in a playoff position with 45 points, but it shouldn't be taken for granted. With only five points separating the 67's and the ninth place Niagara Ice Dogs, the 67's need to string together some wins and put points in the bank to ensure they can earn a third consecutive playoff berth.
Trouble on Home Ice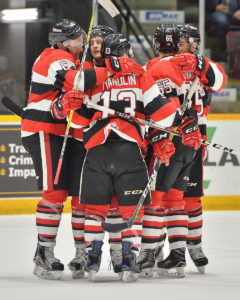 The 67's have had a difficult time winning at TD Place Arena. The team is below .500 at home, earning only 17 out of a possible 42 points. With 13 of the 19 remaining games to be played on home ice, they need to take advantage of the support of their fans and earn as many points as possible.
Speaking to the media after last Saturday's home game against the Niagara Ice Dogs, head coach and general manager Jeff Brown talked about the need to win at home:
"We still have a favourable schedule, we have some good teams coming in here (TD Place Arena), we just have to win at home, we win our home games and we'll be fine," Brown said.
The 67's face some stiff competition at home to end the season, in the remaining games they will face powerhouses from the Western and Eastern Conferences. Teams include the Erie Otters and London Knights from the west, and the Peterborough Petes and Oshawa Generals from the east. Without a doubt, the 67's will need to play a complete game if they hope to get points out of those games.
[irp]
Players Stepping Up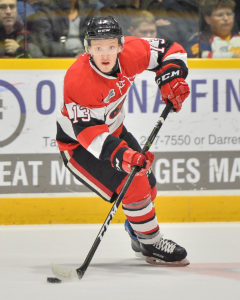 They will need to get more offence from their top players. The team only has one player above a point per game pace, and that is Russian Artur Tyanulin with 58 points in 48 games.
Sasha Chmelevski, who was the centerpiece in the trade for the Philadelphia Flyers' 2015 first-round selection Travis Konecny, is under a point-per-game pace with 31 points in 39 games. A top prospect in this year's NHL Draft, Chmelevski is ranked 38th among North American skaters in NHL Central Scouting midterm rankings.
He has shown in his young career that he is capable of putting up points, and yesterday he played well in the CHL Top Prospects Game with a goal for Team Orr. Perhaps Chmelevski can build off the momentum from that and generate more offense for the 67's.
That shot. #67s #SWTP@sashachmelevski pic.twitter.com/Wi82m03iYF

— Ottawa 67's (@Ottawa67sHockey) January 31, 2017
Austen Keating, selected in the first round of the 2015 OHL Priority Selection by the 67's is having a great sophomore season. Being a highly skilled player on a young team, there is pressure on Keating to repeat what he did in his OHL Draft year where he had over a point per game with 60 points in 36 games. Keating, who is now in his NHL Draft year, has 39 points in 48 games played. As the 67's enter the remaining games of the regular season, he will need to increase his offensive production even more.
The 67's will need to be at the top of their game as they enter the remaining 19 games of the regular season. The team doesn't have a lot of breathing room in the playoff race and the teams chasing them all have games in hand. If they want to clinch their third consecutive playoff berth, they will need to take advantage of playing the majority of their games at home and have their top players be their top players.