Eventually, the New Jersey Devils' overtime luck was going to run out. After having gone 4-0-0 in their last four overtime affairs, they fell to the Minnesota Wild 3-2 via the shootout last night in St. Paul, Minnesota. It was their first overtime loss since Jan. 19 to the Kraken in Seattle. But though the Devils didn't come away with the second point, they had some good moments at five-on-five, where they've struggled lately. Here are three takeaways and some quick hits. 
Devils Showed Signs of Life at 5-on-5
Though the Devils were sloppy with their puck management in the first period, especially with their breakouts, they still had the better chances at five-on-five. They finished the opening frame with a 75.41 expected goals percentage (xG%) and followed that up with a 57.42 xG% in the second period. They also held the Wild to just two high-danger chances combined over the first 40 minutes. 
Where the Devils struggled the most was in the third period. The Wild had been reeling as of late and desperately needed a positive result to help keep themselves afloat in the Western Conference playoff picture. It's not a surprise they came out of the second intermission with a strong push, and for the most part, they had the better of play in the third, finishing with a 67.71 xG%. They also totaled six high-danger chances, but Vitek Vanecek came up with some timely saves to help the Devils get a point.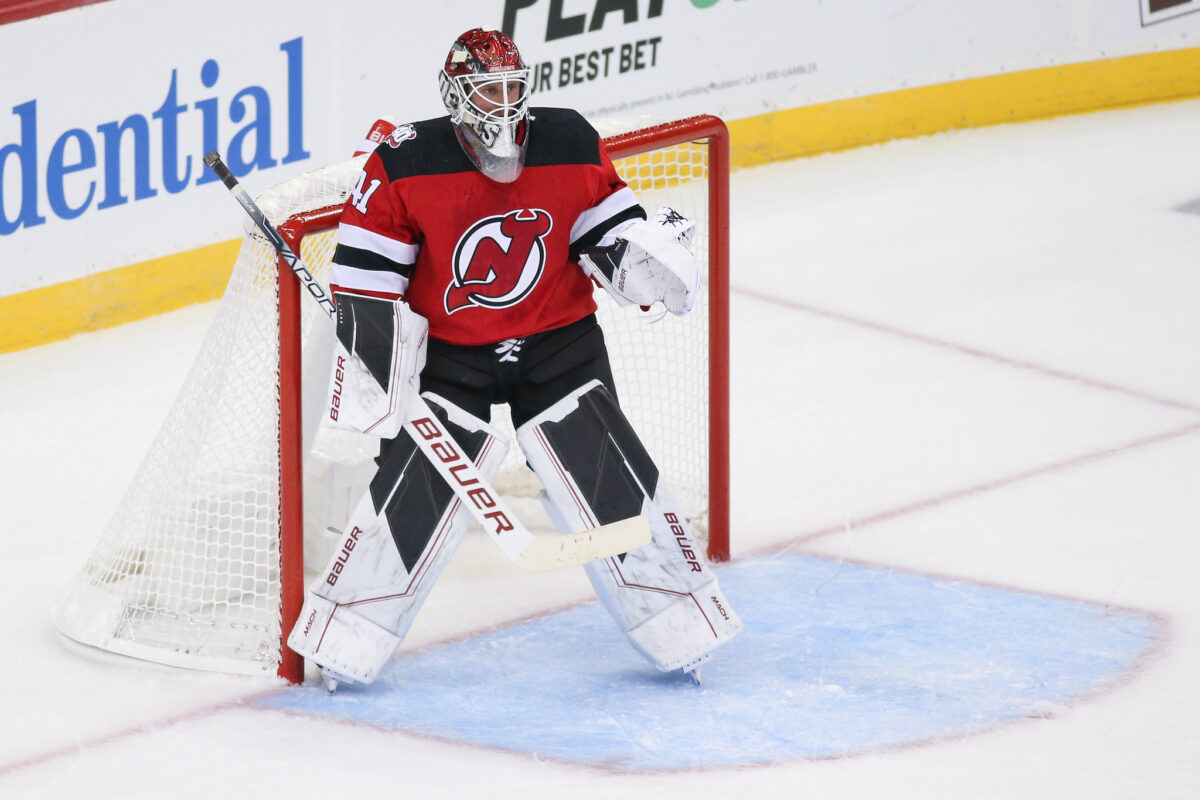 Though they were up and down at five-on-five, it was still one of the Devils' better efforts at that game state in recent contests. There's still work to do, like improving and becoming less predictable on their breakouts. But overall, it was a step in the right direction for a team that needs to up their five-on-five play. They'll have an ample opportunity to do so over their next two games, as the Columbus Blue Jackets and St. Louis Blues are two of the weaker teams in the NHL. 
Ruff Changes His Line Combos Once Again
After the inconsistent first period, head coach Lindy Ruff switched up his line combos to positive results. He broke up the first line of Ondrej Palát, Nico Hischier and Jesper Bratt, swapping Dawson Mercer in Bratt's spot. Splitting that version of the Hischier line was long overdue, though there's a bit of irony Ruff broke up that trio after they posted a 93.51 xG% in the first period. 
Regardless, the line changes worked. The Palát, Hischier and Mercer unit was the Devils' best over the final two periods, finishing with an 81.85 xG%. Tomáš Tatar scored two goals after the line changes, snapping a nearly month-long drought without finding the back of the net. He played well alongside Jesper Boqvist and Fabian Zetterlund, so look for them to stick together against the Blue Jackets Tuesday night. 
Related: Devils News & Rumors: Injury Report, Timo Meier & More
---
Latest News & Highlight
---
With Bratt moving down, he found himself with Yegor Sharangovich and Erik Haula. Those three had some of the Devils' best chances in the third period; they just couldn't find the back of the net. It's easy to see where Jack Hughes will slot in once he returns from his upper-body injury (hint: it's this line). 
Even the fourth line of Miles Wood, Michael McLeod and Nathan Bastian had a solid outing, posting a 63.66 xG%. They didn't generate much offensively, but they didn't give up much of anything to the Wild, either. If the Devils can find four lines that consistently contribute at five-on-five, it'll go a long way in helping them get into a groove at that game state. 
Tatar Breaks Through After Drought
Tatar's counting totals may be down from the prime of his career with the Montreal Canadiens, but he's having quite the bounceback season for the Devils. With the two tallies last night, he's up to 12 goals and 30 points in 52 games, tying his point total from a season ago in 24 fewer contests. At this current rate, he's on pace to finish with 47 points.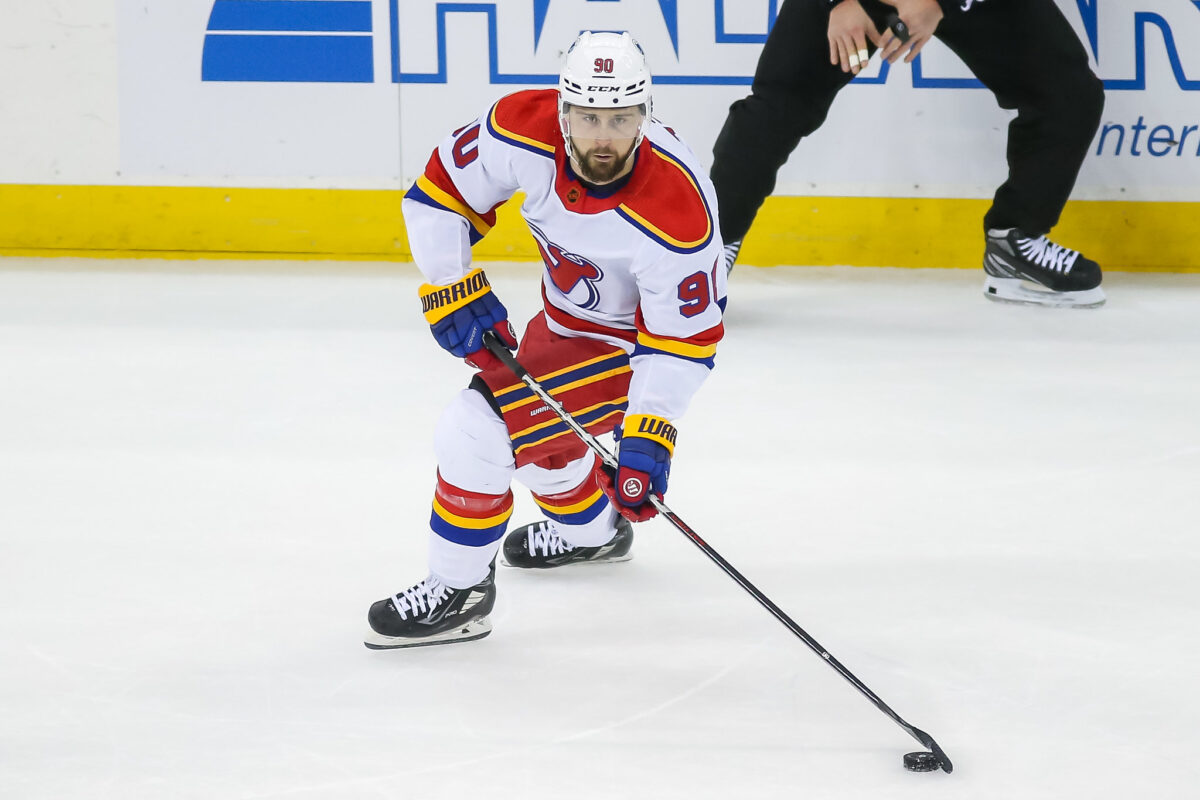 He was one of the Devils' better players yesterday evening, as his game score of 2.53 led all skaters from both teams. He also added three shots on goal and had three scoring chances to boot. He's been a valuable middle-six winger this season, and that depth will prove helpful as the team dukes it out with the Carolina Hurricanes and New York Rangers for top-three spots in the Metropolitan Division. 
Devils Quick Hits
While Sharangovich didn't tally a point, he played one of his best games in recent memory. He led Devils skaters with five shots on goal and had five scoring chances to go along with two high-danger chances. Filip Gustavsson robbed him of the game-winner in overtime, but Sharangovich needs to stick with it. He's played well the last two games, and he will break through if he continues to play as he has these last two outings. 
Hischier may be in a bit of a scoring slump (no goals and three assists in his last seven games). But even though he was held off the scoresheet last night, he led Devils skaters with an 80.39 xG%. Time will tell, but the new line changes should help him since the chemistry with Palát and Bratt wasn't there. I'd like to see him get another run alongside Tatar since they have an xG% just above 63 percent together this season. But that may have to wait for another day, given that he played well with Palát and Mercer. 
Related: Devils' 2022-23 Trade Targets: James van Riemsdyk
Kevin Bahl struggled quite a bit against the Kraken on Thursday, but he rebounded against the Wild. He finished with 62.7 xG% and did not have the glaring defensive miscues he had against the Kraken. The Devils' third defense pair has been an issue for a while, so hopefully he can provide some stability for the next game or two until Brendan Smith returns from an injury; the Devils are listing him as day-to-day. 
Since we're fast approaching the trade deadline and the stretch run of the 2022-23 season, let's look at the Metropolitan Division quickly. With the Hurricanes' 6-2 loss to the Rangers, the Devils gained a point on the Hurricanes and are three behind them for first place. However, the Rangers also gained a point on the Devils and are three behind them for second place. The Devils are 11 points up on the fourth-place Washington Capitals with two games in hand, so they're essentially in a three-way battle with the Hurricanes and Rangers for top-3 seeding in the Metro at this point in time. 
A look at the week ahead, the Blue Jackets are in the Connor Bedard sweepstakes, while the Blues have begun selling off after trading Vladimir Tarasenko to the Rangers on Feb. 9. These next two games present prime opportunities to pick up two points before the Devils wrap up their four-game road trip on Saturday against the Penguins in Pittsburgh and the week against the Winnipeg Jets on Sunday evening.
* * *
Advanced stats from Natural Stat Trick, Hockey Stat Cards