Comeback kids? Cardiac Devils? The New Jersey Devils have been living on the edge in some of their recent outings. But aside from an overtime loss to the Seattle Kraken on Jan. 19, they've come out with positive results in their recent overtime games. They did so against the Pittsburgh Penguins on Sunday afternoon and last night versus the Vegas Golden Knights. They did it in a similar fashion, with Dougie Hamilton scoring the game-winner in overtime via the power play. Here are four takeaways from the Devils' 3-2 overtime victory against the Golden Knights. 
Hamilton Was Cooking
When Dougie Hamilton has a dominant game at five-on-five, the Devils usually come out on top on the scoreboard. Last night was one of those contests, as the Devils had a 61.36 CF% with him on the ice and controlled 73.94 percent of the expected goals. For context's sake, the team generated 0.94 expected goals with him on the ice and allowed only 0.34. The Golden Knights couldn't create much of anything against him, nor could they contain him offensively. 
In all, Hamilton finished with 11 shot attempts, six shots on goal, and six scoring chances at all strengths. Just as he did on Sunday night, he fired a clapper on the power play for the game-winner thanks to a superstar play from Jack Hughes: 
Hamilton put himself in a prime shooting spot and launched a rocket. And not to mention, he had the game-tying goal with 1:10 remaining in regulation after he fired a shot that deflected off Golden Knights defenseman Brayden McNabb's leg. The two goals bring him up to 13 tallies and 42 points in 47 games — a 23-goal and 73-point pace in 82 games. He belongs in the Norris Trophy conversation with Cale Makar and Erik Karlsson.  
Devils Gave Their Best at 5-on-5
Coming into yesterday's game, the Devils ranked 25th in Corsi and expected goals percentage since Jan. 1. Fortunately, great goaltending from Vitek Vanecek and Mackenzie Blackwood and timely finishing helped the team put together a 7-1-2 record for the month. It also played a significant role in the Devils going 4-0-1 on their five-game road trip that included four games on the west coast. 
But even with that, head coach Lindy Ruff didn't like the direction the team was heading in; he stated so after the team's overtime loss to the Kraken. The Devils did play a better game at five-on-five against the Penguins on Sunday, but they still got outplayed and weren't quite up to par with where they were before the calendar flipped to 2023. 
That changed last night, as they played their best game of the month at five-on-five. The Devils finished with a 62-50 shot attempt advantage (55.36 Corsi for percentage) over the Golden Knights and controlled 55.3 percent of the expected goals. Aside from some shaky moments in the second half of the second period, the Devils were the better team. It didn't look like they'd get a result, but they deserved the two points when the final horn sounded. 
Vanecek Continues Quality Start Streak
Vanecek has helped the Devils steal some points as of late. He didn't need to last night, per se, but he did come up with some crucial saves in big moments. He robbed Michael Amadio of a goal with about 13 minutes left in the second period. But none were more significant than when Ryan Graves had a bad giveaway in the third period and Vanecek robbed Jonathan Marchessault of a sure goal that would've made it 3-1.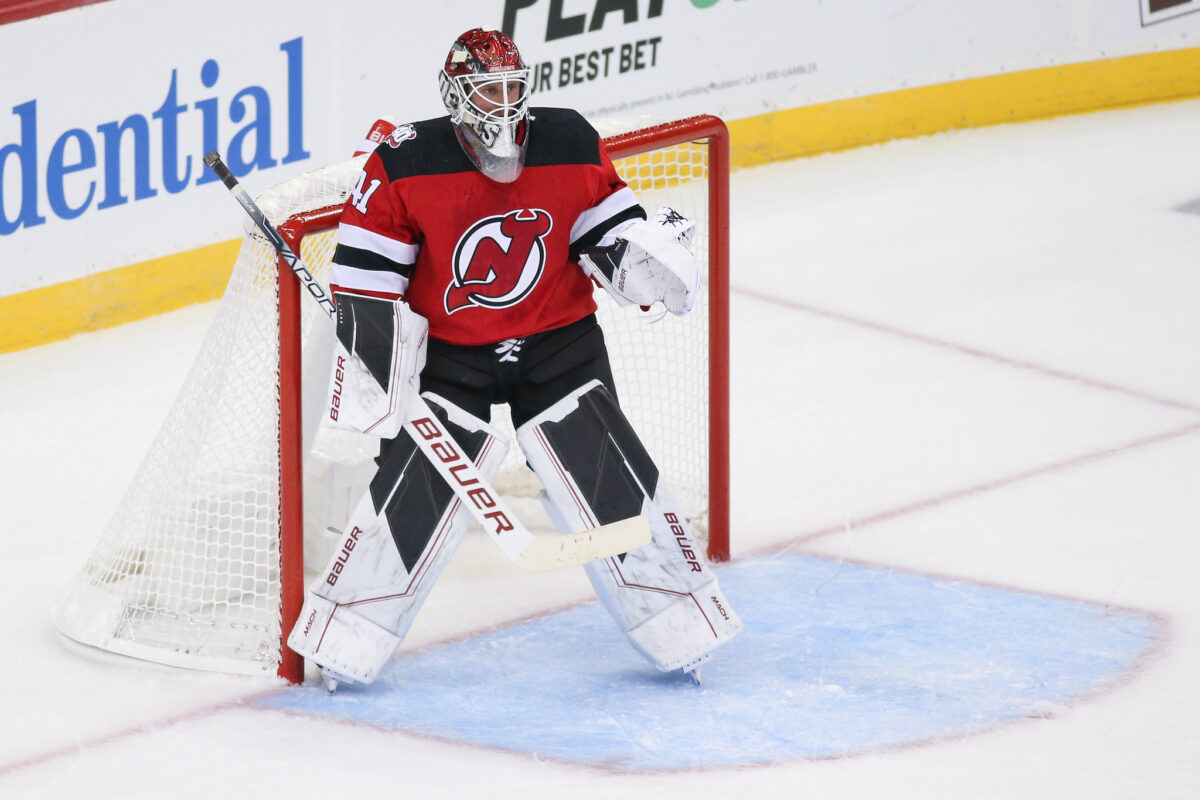 In all, Vanecek made 28 saves on 30 shots and stopped 0.47 goals above expected at all strengths. With the win, he moved to 20-5-2 on the season and had his save percentage hold steady at .916. He's also 8-0-0 in his last eight starts and has a .930 save percentage over that stretch. The Devils have needed a clear No. 1 goalie since Cory Schneider was in his prime, and it appears they have one in Vanecek. 
Devils' Bottom-6 Showed Up
The Devils' bottom-six has had a rough January, but they got strong outings from multiple bottom-six forwards against the Golden Knights. Nathan Bastian's 65.07 xG% ranked third among Devils skaters, while Miles Wood had one of his best games in recent memory, finishing with a 56.19 xG%. He's still shooting from long distance too often, but it was nice to see him play well. 
Related: Devils Need to Solve Bottom-6 Struggles
---
Latest News & Highlights
---
Aside from them, Jesper Boqvist was one of the Devils' best skaters. His 64 CF% was third on the team to Nico Hischier and Yegor Sharangovich, while his 77.56 xG% ranked first. He had a couple of quality scoring chances, and he set up Dawson Mercer for a grade-A opportunity in the third period that Mercer unfortunately fired high and wide. 
Speaking of Sharangovich, it was one of the best games he's played in a minute too. He drew the power play that led to Hamilton's overtime winner, but his performance in regulation was solid. He finished with a 58.86 xG% at five-on-five and three shots on goal at all strengths. It was good to see him get more pucks on net than he has lately. The Devils will need that from him and the rest of their bottom-six forwards consistently, especially when they return from a week-long layoff after the all-star break. 
Devils Quick Hits
Damon Severson quietly had another solid outing. He did struggle a bit defensively when against Jack Eichel's line, but his overall performance was what the Devils needed. Severson finished with a 58.3 xG% at five-on-five, with the Devils generating 1.41 expected goals in his minutes. He has stepped up offensively since John Marino went out with an injury about a month ago.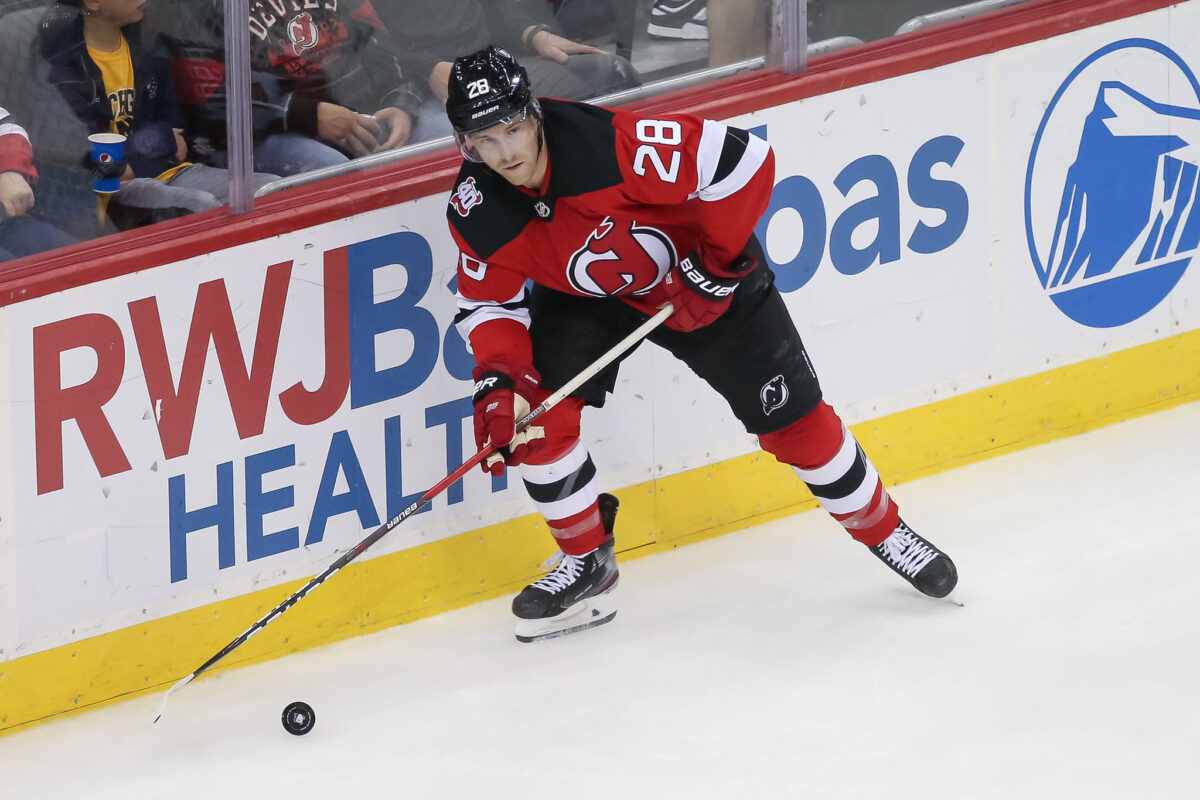 Ondrej Palát has fit in perfectly with Jesper Bratt and Nico Hischier on the first line. He scored his first goal since returning from surgery on Jan. 7 and had a solid outing at five-on-five, finishing with a 57.94 xG%. He probably should be on Hughes' wing instead of Erik Haula in the long run, but it'd be difficult for Ruff to break up this trio right now. 
The Devils have two games left before the all-star break: this Thursday against the Nashville Predators and Friday against perhaps the best team in the Western Conference — the Dallas Stars. After then, they don't hit the ice again until Feb. 6 against the Vancouver Canucks. The rest comes at a good time, as a week off ahead of the stretch run and the trade deadline should help the Devils in their fight to win the Metropolitan Division. 
* * *
Advanced stats from Natural Stat Trick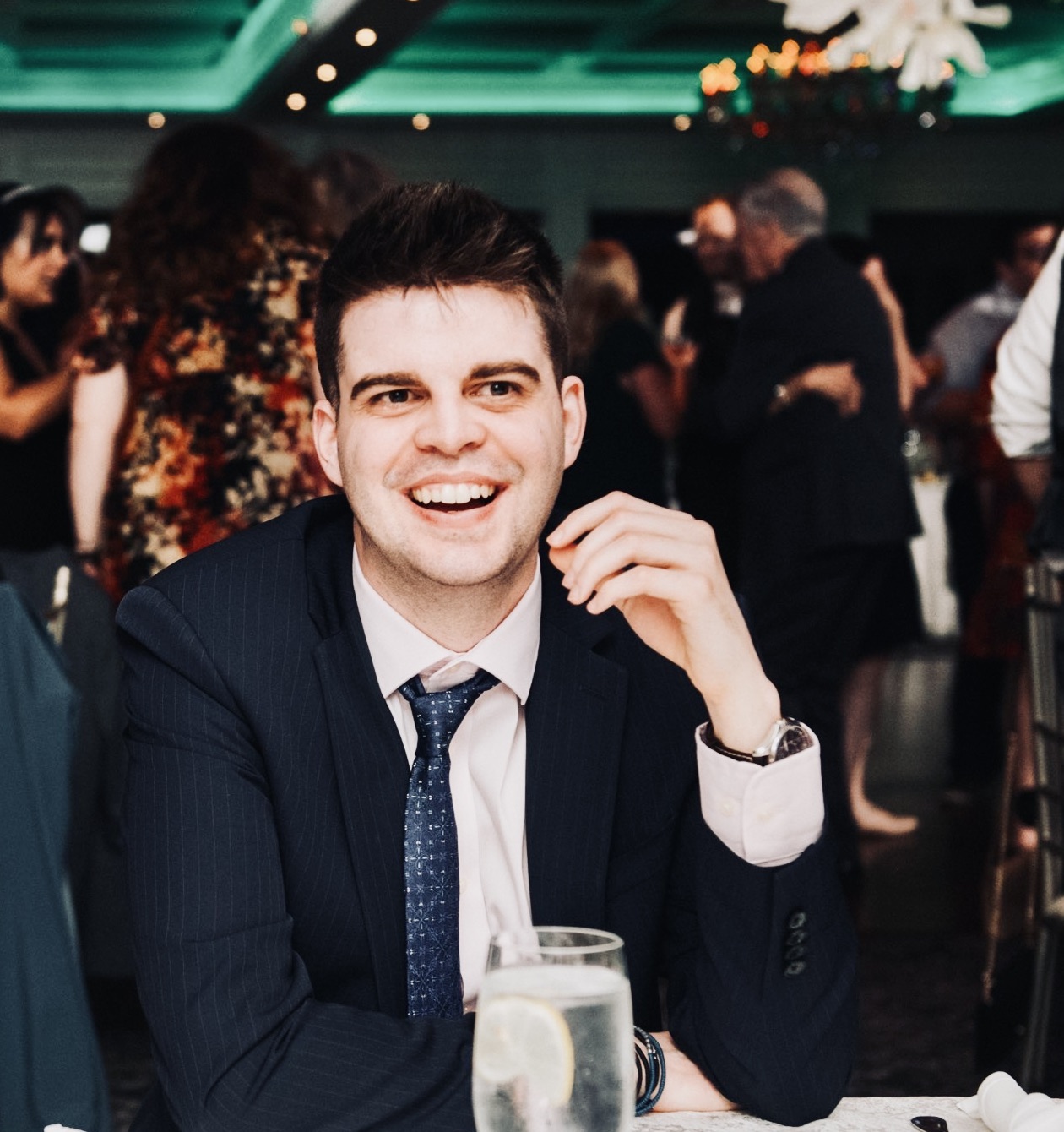 Alex Chauvancy is a New Jersey Devils writer for The Hockey Writers who has a penchant for advanced stats, prospects, signings and trades. He previously wrote for Devils Army Blog, a New Jersey Devils fan blog, from 2015-2017