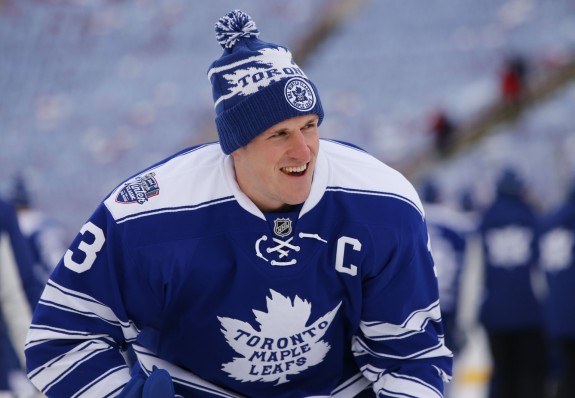 It's a question that didn't even exist when Dion Phaneuf was named captain of the Toronto Maple Leafs in 2010. No one had a single doubt in their mind — Phaneuf was the perfect choice to lead the team through good and bad, ups and downs, success and failure. Now with the team in the midst of an end-of-season collapse, people are left to wonder: Should Dion Phaneuf remain Maple Leafs captain?
The criticism of Phaneuf isn't the slightest bit surprising; he is the captain of the most watched NHL franchise playing in what is widely considered the Mecca of hockey. A captain in this situation blowing off the media when his team is in the middle of a losing streak that, at the time, had reached six games, will get people fired up.
The decision by Phaneuf to skip media availability following the Leafs' loss to the St. Louis Blues on March 25 is when the debate about Phaneuf retaining his captaincy really blew up, and understandably so. A captain is supposed to communicate and be an ambassador for the team no matter how things are going on or off the ice.
But should one slip up, some poor defensive decisions and a wild season-ending collapse mean a change of leadership is in order? Absolutely, but not necessarily the captain.
Are you in the dressing room?
No, you're not. No one other than the players and coaches are in the room when thing really matter. Media enter the room but only when the game is finished and players must answer to them. No one other than the coaching staff and those on the Maple Leafs roster know how Phaneuf approaches leadership or his tactics. Not even HBO 24/7 will do this for anyone.
Captains are often selected by on-ice leadership abilities. Alex Ovechkin and Sidney Crosby are perfect examples of this — both can light a flame under their team with a single shot. Dion Phaneuf is not this type of leader as clearly shown to the public eye in-game. Knowing that Phaneuf does not lead by example, how is anyone to judge his leadership abilities in the dressing room when they have never seen them?
The only thing the general public has to go off of is Phaneuf on-ice play and the team's overall success, neither of which are indicative of leadership a captain's leadership. Success often falls on the shoulders of either the coach, the team as a whole or both, while a player's play reflects exactly that — not how he provides direction to his team.
On-ice play
Unfortunately, too much of this argument comes back to how Dion Phaneuf has played this season. Never mind his approach to being team captain for a moment; Phaneuf is highly criticized for failing to make or stop a play all too often.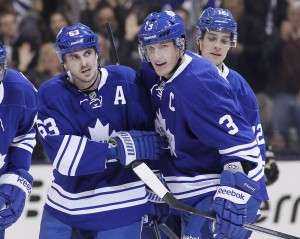 People fail to realize this: Dion Phaneuf is over-played, over-relied on, over-used and over-hyped, all of which contribute to his performance on the ice. People also fail to realize that millions of dollars don't make him immune to fatigue and failure. Phaneuf is a human being, just like everyone else.
As noted above, poor play is in no way related to leadership ability. A player can flat out suck, but as long as he is liked in the room and knows what to say at the right times, his teammates will listen. Playing in Toronto doesn't make it any different for a Maple Leafs captain than it would for a Penguins, Bruins or Blackhawks captain.
If you can lead, you can lead. And poor on-ice performance, whether you think Phaneuf has played well this season or not, has nothing to do with that. After all, he seems to have support to remain Maple Leafs captain.
It's one season
Panic — this seems to be one of the biggest issues in the hockey market of Toronto. Ex-Maple Leafs coach Ron Wilson said it best when speaking to ESPN's Pierre LeBrun last week.
"In Toronto, everything is always out of perspective. They're either winning games and they're planning the parade route, or you lose a couple of games and everything gets over-exaggerated."
Remember Leaf fans: it's one season. There's no need to pull the plug on every little facet.
Should Dion Phaneuf remain Maple Leafs captain? How can anyone know for sure when the only people who actually know how good of a leader he is are his teammates and bosses?
There is one thing we all know and that is there should be no rush to make every adjustment possible because of a season gone wrong. Dion Phaneuf is able to compete with a roster of players that have the same ability, as shown this season and last. Why does everyone dislike him all of a sudden?
Twitter: @LukasHardonk | Email: lukas.hardonk@gmail.com | Lukas' archive