Today, on the eve of the impending draft lottery, I'd like to take this moment to remember years past, when the Oilers, though not in last place, still became the recipients of the coveted first overall pick. It was 2012, the Oilers finished an improved 29th overall, giving them an 18.8% chance of winning the lottery. To the surprise of most, especially the Columbus Blue Jackets, Edmonton won, thus securing them first overall. They selected Russian winger Nail Yakupov, who was the consensus best player at the time. He hasn't panned out for the Oilers, and may be traded. But fear not! It gets better.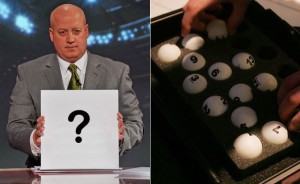 In 2015, the year of the franchise changer, the Oilers decided to play a little better, finishing 28th overall, and giving themselves a minuscule 11.5 % chance to win the lottery. But someone was smiling on them that day, as the Oilers won the draft lottery, and won Connor McDavid. Despite an injury that derailed his Calder Trophy hopes, McDavid is every bit as good as advertised. He is the quintessential player to build around, and his presence inspired hope going into the season. However, in typical Oiler fashion, it was another dismal year in which the Oilers finished in 29th place, giving them a 13.5% chance to win again.
The Toronto Maple Leafs have the best odds, and there isn't a team who needs this more than they do, so you know they probably won't win. The hockey world will be waiting with bated breath as the winner is revealed. It could be the Leafs, or the Canucks, or maybe the Blue Jackets (they'd love that). Or, it could very well could be the Oilers. Fair or not, they have a chance. But Oiler fans, I want to encourage you. A top-two finish (as the odds suggest it will be), is going to secure you either a really talented player, or a really great trade chip. (As you watch, just remember there are people involved, it's not just about managing assets).
"It's not fun. It's stressful. It's upsetting. When they open one of those envelopes, your fate is being decided for the next how many years. There's way more than hockey involved." – Connor McDavid on the lottery process. [Oil on Whyte]
Let's start by looking at who is available. American centerman Auston Matthews has been the consensus number one for a long time. He's a big, skilled guy, who has already been playing with men in Europe, and will be able to fit into the NHL right away. It would be crazy to suggest he wouldn't go first, but Finnish prospect Patrik Laine is really starting to make some noise. He is incredibly talented, he's got size, and though he isn't the most fleet of foot, his strength and finishing ability makes up for it. I don't know that a team would choose a winger over a centerman, especially with one of Matthews' caliber available, but stranger things have happened I guess.
Laine's countryman, winger Jesse Puljujarvi is slotted in at number three. The highest rated defenceman is Jacob Chychurn, followed by Olli Juolevi. Good players, but probably not the horse on the blueline that the Oilers are after. No, their pot of gold lies in securing one of the top two picks. Let's map out those scenarios, shall we?
If the Oilers win the lottery, they have a choice between drafting Auston Matthews, or trading the pick. They have three capable centerman, though Matthews size makes him very tempting. His acquisition could render a guy like Ryan Nugent-Hopkins expendable.
The Oilers could keep Matthews, and trade Nugent-Hopkins. Imagine a one-two punch of he and McDavid? I like the three-center model myself, but having two stars down the middle could possibly facilitate a trade of Leon Draisaitl as well (though I would like to see the Oilers hang onto him).
Many teams would love the idea of having that first pick, mainly the teams who wanted to win the draft lottery, but didn't. Is there a real blockbuster trade to be made? Can the Oilers swap that pick for a top defenceman? It's possible. Winning the lottery would give the Oilers plenty of options.
If they stay in the second overall position, however, all is not lost. Patrick Laine would be a fantastic player to have, and his presence may facilitate a trade involving current Oilers. (Before I proceed, let me make something abundantly clear. I'm not advocating for a Taylor Hall trade. I think he's a fantastic player. I think you want to have as many skilled players as you can. But the Oilers aren't good, their current makeup isn't working, and unfortunately, that might mean moving out good players to get good players back).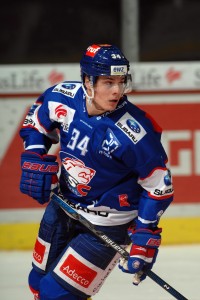 I don't know if I buy the Laine/Mario Lemieux comparisons, because Super Mario is one of, if not the best, players in NHL history. Those are massive shoes to fill. But if he is a Lemieux-type, that's one fantastic find. He has been playing so well, that he is threatening Matthews first overall position (it's unlikely, but people love to find controversy to talk about). Laine is a right-winger. He's listed at 6″4, and 206 pounds.
The Oilers depth on the right side is as follows: Jordan Eberle, Nail Yakupov, Zack Kassian, and Adam Cracknell. As currently constituted, you could argue that right-wing is the least of their needs. A Taylor Hall-less left side gives you Patrick Maroon, Lauri Korpikoski and Matt Hendricks. Yes, removing Hall from that group is a scary concept. But let's go through a few scenarios should the Oilers secure that second overall pick.
The Oilers keep the pick and draft Patrik Laine, giving them two really talented wingers on both sides.
The Oilers trade the pick, whether it be alone or in a package, preferably for help on the blue line.
The Oilers draft Laine, and trade one or both of Eberle and Yakupov. I already know that the Oilers aren't getting much back for Yak, and I don't know how much they'd get for Eberle. You don't want to make a trade just for the sake of making a trade. You have to get some kind of value back. Please understand that, Oiler fans.
The Oilers hang onto Laine, and use Taylor Hall as a trading chip, because at this point, he's their best asset.
As I pointed out earlier, the depth on the left side is severely lacking in the event they move Hall, which makes me very wary of such a trade. (A team is allowed to have more than one great winger, so I love the idea of having both Hall and Laine on the roster). "Wait, what about the defence?" Oh yeah, that. I'll say this. If you trade Taylor Hall for a defenceman, he better be a darn good one, because Hall is one of the best left wingers in the NHL.
Ryan McDonagh for Taylor Hall and a top-five pick this year? Good chuckle Brooksy. #NHLtradetalk

— Jason Gregor (@JasonGregor) April 26, 2016
That was actually a real trade proposal. No offence to Ryan McDonagh but he is not worth Hall and more. He's not even worth Hall alone. This is exactly the danger. Yes McDonagh is a good defenceman and he can help the Oilers, but they will lose the trade if Hall is involved. When I floated the idea of Hall for P.K Subban, Oiler nation was split. I don't know if either side would do that, but if you trade Hall, you have to get a star back, that's all there is to it. (Whether or not Subban is overrated, and/or overpaid, that's a matter for another day).
(By the way, there are a few solid left wingers available should the Oilers tumble a little in the lottery. Pierre-Luc Dubois, Matthew Tkachuk and Alex Nylander are all there, if you want to go that route). Drafting a stud like Laine might make decisions a little easier. Or it could complicate matters further. The Oilers have a lot of good players and nothing to show for it. They need better defenceman. Can they find it by committee, rather than just one big horse? I think so. But it's going to take work. I don't know if Taylor Hall will be Oiler next season. But I hope he will be. Patrik Laine too.
Marcy, a former hockey player, is a hockey correspondent on CTV News and TSN radio. She began her career as a Sports Journalist in 2009 and has been part of The Hockey Writers since 2010, where she is currently a senior writer and editor.