The 2016 NHL Entry Draft is quickly approaching, scheduled to be held June 24-25th, 2016 at the First Niagara Center in Buffalo.
As such, scouting and reporting have begun to ramp up in intensity, with each and every NHL team looking to attain as much information as possible in anticipation of drafting a potentially franchise altering player.
In 2016, the first three look to be virtually set in stone.
Auston Matthews, who chose to head across the pond to play in Europe, enjoyed an incredibly successful season with the ZSC Lions in the Swiss National League and is a virtual lock to go first overall. Patrik Laine, who played for Tappara of the Finnish SM-liiga, was recently named Playoff MVP and has been making a significant push to dethrone Matthews. Thirdly there is Jesse Puljujarvi, another Finnish talent who is a lock to go third overall.
While the top three are likely set, the fourth pick onwards remains a crap shoot, with a number of players of various skills, ability and position available to teams looking to address specific needs.
Of those outside of the top three, there will undoubtedly be incredible flexibility as the Draft progresses, with NHL clubs looking to select forgotten gems. In 2016, there appears to be no shortage of those with the ability to excel at the NHL level, despite their respective Draft rankings to date.
In particular, there are three players of exceptional, arguably elite skill who despite enjoying tremendous success in their junior careers, have to date failed to generate rankings complimentary of their proven abilities.
Below are three players who could be incredible steals at the 2016 Draft.
Adam Mascherin
Height/Weight: 5'10″/ 205 lbs
Position: C/LW
Shoots: Left
Junior Team: Kitchener Rangers
Draft Rankings:
NHL Central Scouting Final Ranking: 42nd

TSN's Bob McKenzie: 57th

TSN's Craig Button: 34th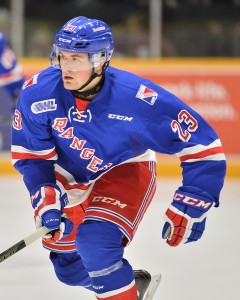 Projected to be a second round, possibly late first round pick at the upcoming 2016 Draft, Adam Mascherin of the Kitchener Rangers is one player whose Draft projection fails to live up to his play on the ice.
In his second season with the Rangers, Mascherin notched an impressive 35 goals and 81 points over 65 regular season games played, while he added another six goals and 12 points over nine playoff games.
The most tantalizing aspect of Mascherin's game is his shot, which has been regarded by many as NHL caliber. A quick release and shot speed allows Mascherin to beat opposing goaltenders with a wicked wrist shot, while his persistent work ethic allows him to generate offensive opportunities for both him and his teammates.
At just 5'10", Mascherin isn't of immense size, yet he makes up for this deficiency with incredible strength, weighing in at over 200 pounds. Strong, powerful legs allows Mascherin to protect the puck deep in the offensive zone, where he isn't afraid to battle with opposing players of larger stature.
In all, strong offensive abilities paired with strength and an insatiable work ethic make Mascherin a much more valuable prospect than assorted Draft rankings to date have shown. He has the potential to blossom into a quality top-six forward.
Sean Day
Height/Weight: 6'3″/ 230 lbs
Position: D
Shoots: Left
Junior Team: Mississauga Steelheads
Draft Rankings:
NHL Central Scouting Final Ranking: 59th

TSN's Bob McKenzie: 46th

TSN's Craig Button: NR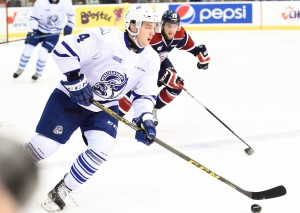 Granted exceptional status by Hockey Canada as a 15 year-old, Day's low rankings to date are largely due to the perceived inability by Scouts to live up to his lofty expectations. As such, Day is likely to go in the second to third round of the 2016 NHL Draft.
Having recently completed his third season with the OHL's Steelheads, Day's offensive totals slipped slightly, as he recorded six goals and 22 points over 57 games played. However, it came in order to allow for a significant improvement to his defensive game, an aspect which he specifically set out to improve in the 2015-16 season.
Using his massive frame and size, Day has become a quality defender at both ends of the ice. In his own end, Day outcompetes and out-battles opposing forwards, allowing him to make crisp outlet passes or simply skate the puck out of his own end using his incredible acceleration.
In the offensive zone, Day has a quick release which allows him to get the puck to the net on a consistent basis, in doing so creating scoring chances for his teammates.
[Related: 2016 NHL Draft – Don't Sleep on Sean Day]
While he has yet to develop into a franchise altering defender, Day retains an incredible amount of both skill and potential. Sure, he isn't going to go first overall like those granted exceptional status before him, but that doesn't mean that he won't blossom into an elite NHL defender in the near future.
At the end of the day, being granted exceptional status has impacted Day's pre-Draft rankings. As he will undoubtedly show in the near future, Day is a much more promising player than he has reportedly shown to date. Don't be surprised to see him taken late in the first round – he simply has too great of an upside.
Michael McLeod
Height/Weight: 6'2″/ 190 lbs
Position: C
Shoots: Right
Junior Team: Mississauga Steelheads
Draft Rankings:
NHL Central Scouting Final Ranking: 13th

TSN's Bob McKenzie: 9th

TSN's Craig Button: 15th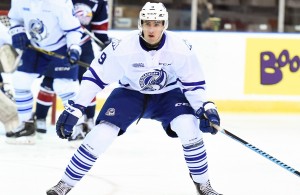 In the case of Michael McLeod, his potential to be a Draft steal doesn't lie with the fact that he is a potential late round pick who could develop into a quality player, but rather that despite his high ranking, he remains highly underrated.
In his second season with the Steelheads, McLeod scored 21 goals and 61 points in 57 games played, while he added another three goals and nine points in seven playoff games played. Despite returning from a late season knee injury, McLeod even went on to play in the recent U-18 World Championship, where he notched another four points over seven games.
Although these numbers aren't necessarily mind-blowing, it is McLeod's play on the ice which is simply tantalizing and provide valuable insight into the talent he will surely become.
The first aspect of his game which stands out his is pure skating abilities. He has the ability to reach full speed in three strides, where he can blow by opposing players and generate offense at will. His top speed rivals that of Connor McDavid, while his agility and movement at top speed are also very similar. He uses his skating to individually create scoring chances, where he often finishes what he starts,
Further, McLeod plays an incredibly complete game, as his defensive abilities are similarly impressive, while he also notched an amazing mark of 61.8% in the faceoff circle, a success rate similar to that of fellow OHL stars Christian Dvorak and Dylan Strome.
As a result, offense runs through McLeod while he is on the ice, something which teammate Alexander Nylander benefited greatly from in the 2015-16 OHL season. In fact, although Nylander could be a top-five selection, I would not hesitate to argue that McLeod is a much better player than his Swedish teammate with considerably greater upside, yet plays a less flashy, more direct style of game.
So, when discussing McLeod as a potential steal, it is the mere fact that he is a much better player than his high rankings have indicated which could make him a steal at the upcoming draft.
A center with great size, speed, offensive talents and great faceoff abilities, McLeod has all the tools of a future first or second line NHL center, so why he is slated to be drafted mid-way through the first round is, to be honest, inexplicable.
Whichever team selects McLeod will steal a great player, especially so if he somehow slips later into the first round, as this top-five talent has all the makings of a future NHL star.
Brett Slawson is a four-year veteran of The Hockey Writers who covers the Toronto Maple Leafs, NHL prospects, and the OHL's Mississauga Steelheads.
Contact Brett on Twitter @brettslawson92, or by email at brett_slawson@hotmail.com.