The Pittsburgh Penguins dropped a tough one last night, an overtime loss to the Washington Capitals in Game one of the Eastern Conference semi-finals. If last night's contest was a preview of things to come throughout this series, hockey fans in general are in for a treat.
Fans of these specific teams are in for a long, stressful series and particularly for Penguins fans right now, there's no need to panic yet.
The Capitals were without a doubt the best team in hockey throughout the regular season. They sputtered a bit down the stretch but their 120 points in the standings wasn't a fluke. They're a fast, deep and physical team that will punish you along the boards, create net-front traffic and pick you apart from the perimeter with shooters like Alexander Ovechkin.
And, I still like the Penguins in this series.
There were areas in last night's contest that stood out as game changers. Costly turnovers and a first period mental lapse was the biggest storyline. If the Penguins can correct those issues for game two, they'll be fine. If not, the Capitals are a team that will make you pay for those mistakes.
One player in particular needs to be much, much better or maybe even do some observing from the press box.
Is it Time to for Maatta to Sit?
Olli Maatta had a rough regular season and that play is bleeding into the postseason. Something doesn't seem right with the 21-year old blue-liner and whether or not it's injury related, head coach Mike Sullivan has to consider giving him some time off.
After Pittsburgh scored two goals in less than a minute's time, Maatta turned the puck over to T.J. Oshie at Washington's blue line and Oshie capitalized, just as we'd all expect him to do.
You can't give Oshie time and space and you definitely can't provide him with a clear breakaway. Remember the 2014 Olympics?
Maatta has looked slow, indecisive and unfortunately, he has been a liability in a lot of cases. Of course, he's only 21-years old and will have ups and downs like this as he develops. It's easy to forget that considering how stellar he was when first hitting the lineup at age 19. The biggest difference between then and now is his role, which has obviously increased dramatically.
The truth is, maybe he isn't quite ready for the minutes he's being asked to play. That isn't a knock on him, as I'm confident that he will be in the very near future but in the playoffs, the Penguins need better results.
Another example of his inability to make quick decisions is below.
This was a bad goal all around. Matt Murray should have had it but that doesn't take away from Maatta's inability to react accordingly. Below, at the beginning of this gif, you'll see where Maatta looks to the slot and identifies Oshie. He just never takes the man.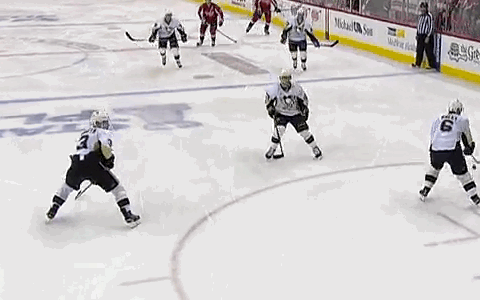 The Penguins like to keep their defensemen on their strong side. The only left-handed shooter available right now is Derrick Pouliot and he's someone Sullivan should consider for game two. Or, move Trevor Daley up to Letang's left and slot Justin Schultz into the second pairing with Brian Dumoulin.
This loss doesn't rest on Maatta's shoulders alone but he certainly isn't doing them any favors right now.
Plenty of Mistakes in a Very Short Period
I assumed Washington would come out of the gates with a ton of momentum. That ended up not being the case at all and the Penguins put together a solid start to the first period. Unfortunately, they lost their way and played some of the worst hockey we've seen from them for the remainder of that frame.
The chart below, which reflects Corsi totals will tell you all you need to know about how the first period played out.
(Courtesy of HockeyStats.Ca)
You can clearly see where the Capitals took over in the first, just before the halfway point of the period. That short period of time, along with a few costly turnovers ended up being the story of this game. And, it will be the story of this entire series if the Penguins have lapses like this again.
Encouraging Signs for the Pittsburgh Penguins
The Penguins, after a five-day layoff and starting the series in Washington in front of a rowdy crowd, played admirably for most of the game. In general, the teams traded chances and while things were fairly sloppy between both organizations, it made for extremely exciting hockey.
Pittsburgh showed Washington they're an equal and at times, they were the better team. They netted three against Braden Holtby and rung the post a few times, which could have easily resulted in more. They also mounted two comebacks, something Sullivan's Penguins have made a habit of over the last few months. They're never out of a game.
Also impressive, despite giving up two uncharacteristically bad goals, Matt Murray put together a solid performance. He faced Ovechkin on a breakaway very early in the game and shut him down, then did it again later in the contest. It was the first time he was truly tested in the playoffs and he passed. He'll need to be better on Saturday but he lived up to his mature persona in this one.
Strap in for a long series. I'll stick with my prediction of Penguins in six games but this one could easily go seven. Whoever escapes victorious, chalk them up as my Stanley Cup Champion pick.
Pittsburgh Penguins writer for TheHockeyWriters.Com and PittsburghHockeyNow.Com. Youth hockey coach, and student of the game.