With lines starting to click, and wins starting to come it seems as though the Ducks are getting used to Bruce Boudreau's system. Whether this is a good thing or not still remains to be seen.
It is always good to win, but can the Ducks win a championship under this system?
There have been six coaching changes in the NHL since the start of the 2011-12 season, including Boudreau to the Ducks. Out of the six, Ken Hitchcock replacing Davis Payne of the Blues is the only change that quickly made a difference for the better. In other words, conventional wisdom says that it is quite a rarity for a team to adopt a new system immediately.
Games have finally been going Boudreau's way as of late, but it is very unlikely that the boys will avoid an early summer this time around. They are 6 points back, and some other teams need to start losing quickly if the Ducks chances are to be increased at all. The Pacific Division has quite the race going on. The Kings have a game in hand over the Ducks, and are tied with the Sharks foreighth seed in the West. The Stars are sitting somewhat comfortably in the third seed, and the Coyotes are in seventh.
It would not be absurd to call a Ducks playoff berth a tiny miracle at this point.
If you ask around most people who say they know Boudreau's style will tell you that he is a run-and-gunner. Most say speed and offence, but other people will tell you that he is all about defence. I like a quote from the movie Moneyball in which Brad Pitt's character says, "If he's a good hitter, why doesn't he hit good?" It's simple, but it rings as true as anything when it comes to sports and evaluating the people in them. You are what you have shown, and with the Capitals, Boudreau displayed that speed and offence seem to be his forte.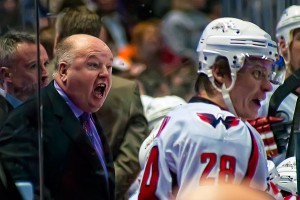 Rewind to the 2006-07 season, in which Randy Carlyle physically and defensively coached the Ducks through their first championship campaign. Offence was obviously important in winning so convincingly that year, but premier defence, and shutting down the opponent's top guys so well is what really made it happen. This isn't to say that Carlyle's eventual firing was a bad move, but it was his system that really won the Ducks the ultimate prize.
Granted, the staggeringly solid defensive tandem of Chris Pronger and Scott Niedermeyer were arguably the best that the league has seen in many years. They are obviously long gone, but it wasn't just them that made it all work. It was the hard-nosed, defensive mindset of the whole team that kept things consistent.
This year the Ducks are not without players who are good defensively but, ironically, their defence does seem to be their glaring weakness as of late. This connection has likely been made a hundred times since Bourdreau's hiring, but it does seem like a questionable move to hire a coach with a mantra that is more about quick offence than hard defence. It is not how this team has won in the past.
Every coach in every league preaches defence to a certain degree, but every system has a main ingredient. Boudreau's 5 year record  as coach of the Capitals (201-88-40) was incredible, and if you are firing your current head coach, you would have to feel insane not to grab him as a replacement. There is no denying these things. The problem is that this team may need a defensively-driven system to compete for another championship.
All in good time.
Maybe wins will eventually be a lot easier to come by, and Boudreau's style will mesh perfectly with the players. Maybe these Ducks will turn out to be the perfect team to make his system finally work in the playoffs, but there is no shortage of doubt in Ducks fandom.
–
Follow me on Twitter @AmosLegaultTHW