Despite feeling what could be record lows in temperature in Edmonton this week, one specific Oilers' forward, Jordan Eberle, is feeling the heat. Scoreless in his last 15 games, the $6 million dollar right-winger is having one of his worst seasons to date. From a lower shooting percentage to fewer goals and average defense, he's struggling, all while often playing with one of the best hockey players in the world.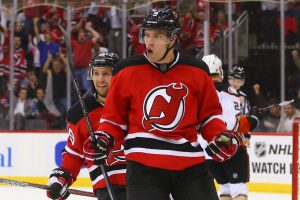 As former Oiler Taylor Hall rolls into Edmonton for the Oilers versus New Jersey Devils matchup on Thursday, Eberle's struggles have overshadowed Hall's return. While the Oilers maintain and spot in the playoff picture, Eberle has become the talk of the city and is steadily moving down the depth chart. Some are starting to wonder what the future holds for the skilled scoring veteran. It's discussion Eberle is well aware of.
"I'm a goal-scorer … that's what I get paid to do," said the Edmonton Oilers' winger. "I feel the pressure of not scoring," he added.  "I'm about 13 percent (shooting percentage) normally. I'm a strong believer in everything equals out. The positive thing is we're in a playoff spot and the team hasn't really needed my offense."
Trading Eberle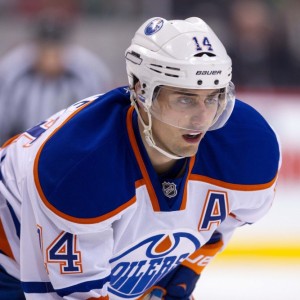 In a way, Eberle is right. The Oilers have maintained their position near the top of the Pacific Division and are currently in a playoff spot. So too, the likelihood that Eberle doesn't rebound from this is low.
As scorers often do, Eberle has gone into scoreless slumps before. He's not the only one. Players like Joe Thornton of the San Jose Sharks have two goals on the season, as does Patrick Sharp of the Dallas Stars. Anze Kopitar has four goals, Tomas Plekanec and Ryan Getzlaf have five. Sometimes goal-scorers like Eberle score and sometimes they go dry.
That said, he knows his role and that his performance is based mostly on the number of times he finds the twine. 15 games is a long time not to be helping his team gather momentum and he's being relied upon to ensure that Edmonton makes the playoffs, not just hopes to hold their spot. While the Oilers might be surviving without his goals, it's a matter of time before they look at other options if he can't turn things around. Patrick Maroon is evidence the Oilers have already begun to do so internally.
Said NHL Insider Darren Dreger during a Thursday morning segment on Edmonton's TSN 1260:
…this guy (Eberle) has been rumored in every trade rumor from corner to corner in the National Hockey League over the past what – two, three seasons anyway. … his play hasn't been good enough. And because of that, as you say, he's been demoted to the third line. What's next if things don't improve – does he become a fourth-line player for the Edmonton Oilers?
It's Not Too Late
Dreger believes the talk of trading Eberle is premature. TSN Analyst Ray Ferarro believes that Eberle's troubles are fixable, but also concerning. Elliotte Friedman doesn't believe there is much of a trade market for Eberle. None of that matters because Oilers' Coach Todd McLellan has gone on record saying that Eberle will have to work his way out of his funk.
McLellan on playing the struggling Eberle and Pouliot together "they're in it together, they can get out of it together"

— Ryan Rishaug (@TSNRyanRishaug) January 12, 2017
The problem facing Eberle — and potentially some of the other NHL stars that are shy on their goal totals this season — is his ability to get inside the defense. The urgency in which Eberle attacks, goes to the areas where the puck winds up and faces the battle in the inner slot isn't there. The longer Eberle goes, the more likely that drive will leave him and the willingness to try the outside or turn back will become the norm and not the exception.
Eberle and the Oilers need to recognize where scoring opportunities are presenting themselves. If he can find the places where the chances exist, force himself to go there and grab some greasy, dirty and less than exciting goals, the other "Eberle type goals" may come in time.
I have no doubt Eberle will work his way out of this slide. He's too skilled and been too consistently strong a scorer over his NHL career not to get back on track. But, it would be nice to see that slump end tonight against the New Jersey Devils and his former teammate Taylor Hall. Because Eberle isn't anywhere near the top line and Connor McDavid tonight, it will also be nice to see him earn his way out.