When it comes to the 2017 NHL Playoffs and the Edmonton Oilers, nothing appears as though it will be easy. Ten games into what has been the initial voyage into post-season hockey for much of this group and safe to say it has gone as expected. Rarely, if ever, do the playoffs follow a predictable path and this year has been no different. With that said, Todd McLellan's side is going to learn a ton about itself before their second-round series with the Anaheim Ducks comes to a close.
As disappointing and frustrating as last night's 4-3 overtime loss might be for the Oilers and their fan base to stomach, the fact this club is heading back to California with the series tied at two games apiece is a win in itself. After jumping out to a 2-0 lead, thanks to a pair of huge wins in Anaheim, expectations may have changed in the minds of many across Oil Country but in reality, there was never a need for said shift to have even taken place.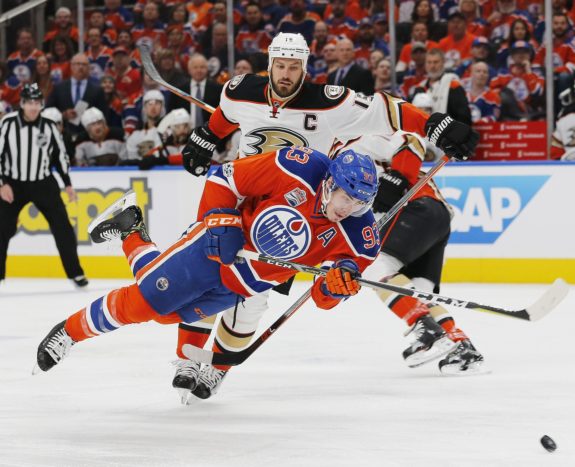 Ducks Have Been the Better Team
Four games into the series and there has been no question as to who has been the better team. The Ducks have shown time and time again just how important experience can be, whereas the Oilers are learning their lessons in the here and now. Despite putting themselves in a massive hole by not taking care of business on home-ice and watching Edmonton come back from the dead on multiple of occasions over the last couple of games, Anaheim never seemed to lose focus on the job at hand.
Yes, they have been riding the coattails of the red-hot Ryan Getzlaf but when you mix in some timely stops from John Gibson with the odd lucky bounce and occasional call go in their favour, the result of the last two games should surprise no one. Despite their seemingly annual struggles come playoff time, the Ducks are not a team that was ever going to go quietly into the night. To their credit, the Oilers have managed to stay right there with them and have put themselves in a real good spot.
Ryan Getzlaf is playing as well as anyone in the world right now.

— Jack Michaels (@EdmontonJack) May 4, 2017
No question, losing a pair at Rogers Place is a tough pill to swallow but how can anyone be overly disappointed with how this has played out? One can easily make the argument Anaheim could have won all four games but Edmonton could have just as easily done same…while playing nowhere near the level of their opponent. Add to that they are now back in the role of "underdog" and headed to the road, where they have enjoyed plenty of success during the post-season, and the situation may not be as bleak as it seems.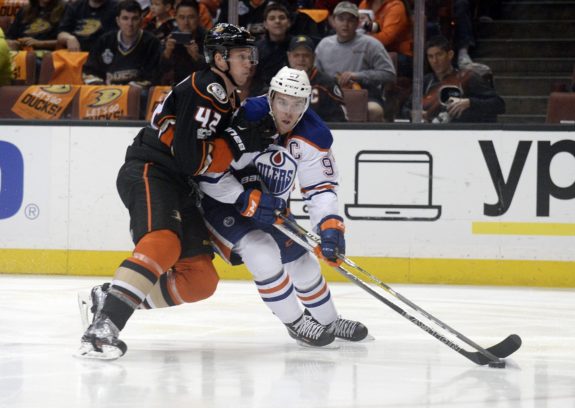 Oilers Remain In Good Spot
Cam Talbot gives the Oilers  the necessary stopper in goal to make life miserable on the Ducks in Game Five and a potential Game Seven setting in their own barn. Same goes for Connor McDavid, who has shown flashes of brilliance during the series and as we all know, possess the ability to take over a game at a moment's notice. While the trio of Jordan Eberle, Milan Lucic and Ryan Nugent-Hopkins haven't delivered much in the way of secondary scoring, others have picked up the slack along the way.
Believe it or not, Edmonton does have the pieces in place to take a serious run at winning this series over the next three games and that is all anyone can ask for. Again, this is a foreign situation for much of this roster and for the most part, they have done an admirable job of dealing with the curves that come every team's way during the post-season. Blowing a two-game advantage isn't ideal but on the job training almost never goes as smoothly as one hopes and this has been no different.
Best-of-three starts Friday. #LetsGoOilers

— Edmonton Oilers (@EdmontonOilers) May 4, 2017
With that said, it seems almost fitting the Edmonton Oilers season will come down to whether or not they can bounce back from a couple of tough outings. These players have been able to right the ship on multiple occasions throughout the 2016-17 NHL campaign and there is no reason to believe they can't do it one more time. If nothing else, seeing how they fare in a best-of-three winner take all scenario will be another learning moment that can only benefit this group moving forward.
Rob Soria is the Author of Connor McDavid: Hockey's Next Great One. He has chronicled the Orange and Blue since creating his Oil Drop blog in 2011 and has also had his writings featured over at HometownHockey.ca and Vavel USA, where he has covered the NHL, MLB and ATP Tour. Rob was born, raised and still resides in Edmonton, Alberta and can be reached via twitter @Oil_Drop.