With 21 games in the Edmonton Oilers 2018-19 NHL season in the rearview mirror, the team sits with a record of 10-10-1, good enough (or bad enough, depending on how you view things) for 21st in the standings. This after a wonderful start to the season on a tricky road trip through Europe and the Eastern Conference and then a disastrous run where the Oilers lost six of seven and head coach Todd McLellan became a casualty because of it.
A quarter of the way through the season, Ken Hitchcock is now the new head coach, general manager Peter Chiarelli's job is on the hot seat and there is likely to be some player movement as the Oilers figure out just how to get themselves into the postseason as a bubble team.
Handing out report cards as a journalist or follower of the team is nothing new. In fact, management is likely doing something similar internally, so it makes sense that we'd take a look at grading the performances of those involved with this 10-10-1 record. Our grading system won't be nearly as statistical as some report cards you might see on the Internet but since we've learned Chiarelli likes to use some of his own "internal" statistical measurements to evaluate his players, we figured that would be ok. We'll break things down into forwards, defenseman and goaltenders, then take a look at impactful names who aren't on the ice but contribute to the team in a major way.
In this article, we'll cover the forwards:
Connor McDavid, A+
Outside of some ugly grades we'll give out later, this grade was among the easiest to give. Second in the NHL in points, the Oilers offense flows through McDavid. If he's not on the ice, there's a huge difference in the success of this team and anyone can see it. It's the same reason Hitchcock double-shifted him in the third period of Tuesday's game and will continue to use his top weapon as long as McDavid can handle the ice time.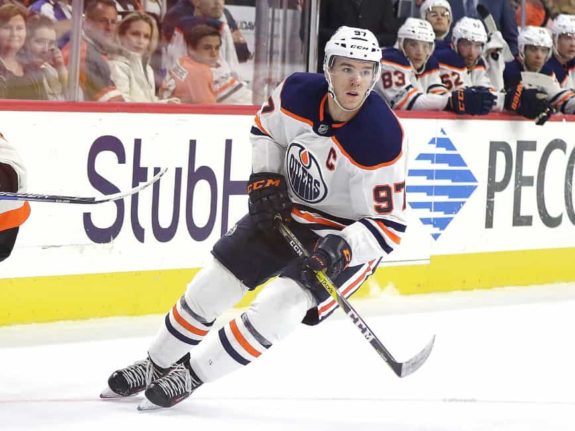 McDavid is tied for second in the NHL for points (31) but there's no doubt he'll likely win the Art Ross Trophy again and potentially the Hart Trophy, even if Edmonton misses the postseason. He's so instrumental to this team that it would be hard to overlook him.
To give you a sense of how important he is, Edmonton has 61 goals on the season. McDavid has 31 points. That's means for more than every second goal the Oilers get, McDavid gets a point. That's incredible.
Leon Draisaitl, B+
I considered giving Draisaitl an A here, but I'll tell you why I didn't. There is some debate about how effective he can be when he's not playing with McDavid. Clearly, when he and McDavid are on the ice, magic happens. The two make up one of the most dangerous one-two punches in the NHL and the opposition must hate lining up against them. The issue is his effectiveness when trying to push his own line.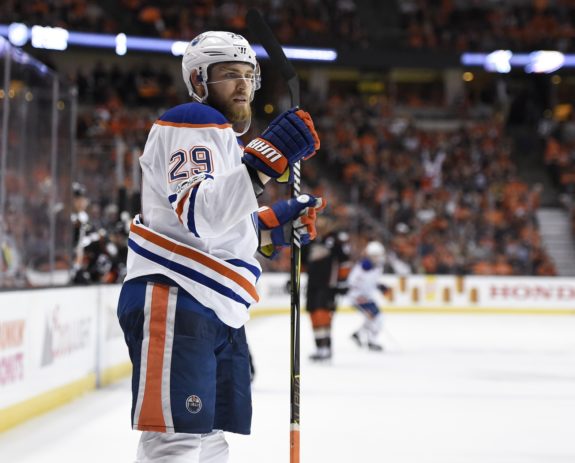 He started the season slowly when he wasn't with No. 97 and worse yet, there were some rumors he whined about it. Still, he's 11th in the NHL for points, is tied for the team-lead in goals (on pace for more than 50) and his numbers by himself aren't awful, they're just better-than-average.
Draisaitl is very good. The debate is still out about how good in certain situations.
Related: 6 Things: Ken Hitchcock's First Game as Oilers Coach
Ryan Nugent-Hopkins, A
Nugent-Hopkins was given the task of playing left wing on McDavid's line and the Oilers really needed that to work. So far, it has. He's got 20 points in 21 games and he's one of Edmonton's best two-way forwards, playing penalty kill minutes and now running the second line with Draisaitl back up on the top line with McDavid.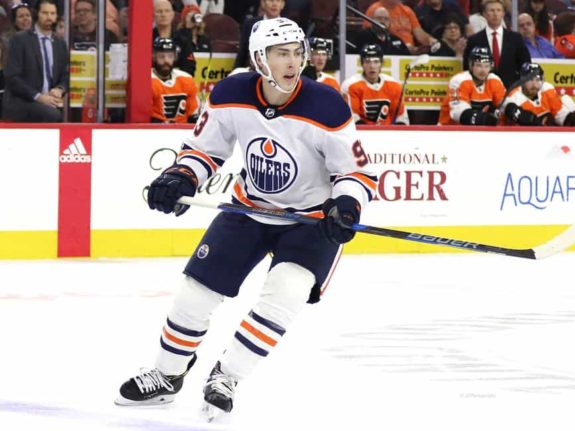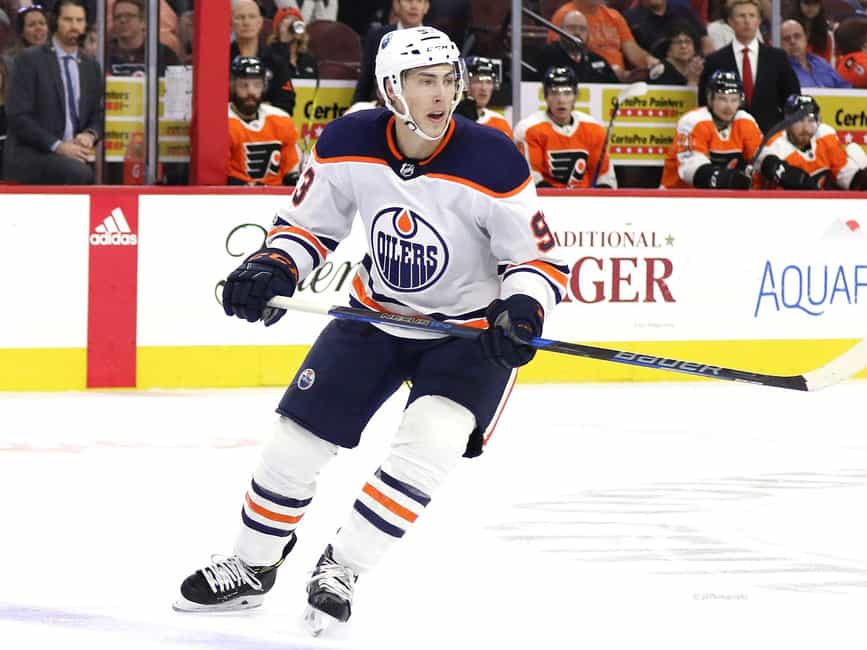 Nugent-Hopkins has been a bit hot and cold but he's on pace for 78 points and there's no way anyone would have complained about that if you'd told them that was where he'd end up at the end of this season. One of the bright spots for Nuge this season is how many penalties he's drawn. He's in the double digits now. If only the Oilers could get their power play to click on a regular basis, that stat would be even more critical.
There were rumors over the summer Edmonton might have moved him. Thank goodness they didn't.
Milan Lucic, D-
The only reason Lucic doesn't receive an F here is that you can see his skating and effort level have improved over last season. There's an argument that can be made he's a bit snake-bitten and some of it isn't his fault. That said, some of it is.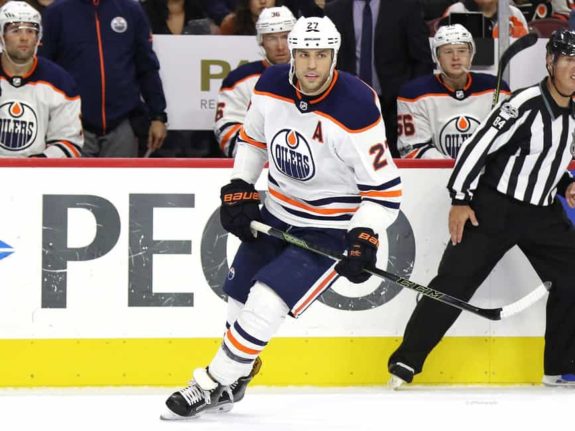 He's too quick to leave the front of the net, he's not shooting enough, he's cheating back on defense and he's been a boat anchor on whatever line he's placed on. Hitchcock put him on the fourth line on Tuesday and there seemed to be some early chemistry with Zack Kassian and Kyle Brodziak. That's all well and good but the Oilers need him to find his game and produce offense for the $6 million he's being paid. Can he do so from that line? Time will tell.
Many on this Oilers team have gone to bat for him saying he contributes in other ways and that's true, but he gets penalized on the grades because of his salary. Plus, Edmonton's going to need to make this work because moving him isn't an option.
Zack Kassian, D-
Some games Kassian looks good to go, others he doesn't look engaged. That's not good enough. With only one point on the season, that's not good enough either. He's being paid nearly $2 million dollars to have a positive impact in the bottom-six and while he has the ability to do so, he's often caught taking penalties, or being on the ice for goals against.
When you watch him, it appears like he's cycling and holding onto the puck in the opposition's zone, but little tends to come out of it when all is said and done.
Kyle Brodziak, C
Brodziak has not yet shown himself to be what the Oilers brought him in for. The idea was to add a veteran leader who can kill penalties, win faceoffs and help stabilize the bleeding while adding 10-plus goals to the lineup. He's won 53% of his faceoffs (which is good), but he's on pace for just under 8 goals, and the Oilers penalty kill is 24th in the NHL.
Alex Chiasson, A+
Chiasson has been nothing but a pleasant surprise in Edmonton. Picked up on a professional tryout and signed to a one-year deal, there was always a chance he could go on a streak and score a few goals in bunches, but few expected he'd have 8 goals in 15 games and be on pace for over 30 goals this season. If he'd not been scratched and contributed in those games he sat out…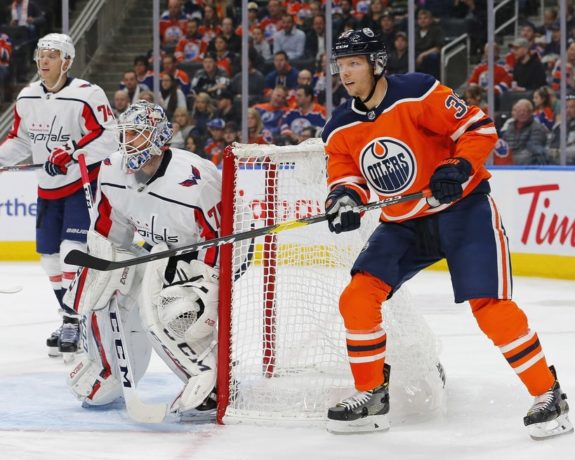 Will he hit that 30-goal mark? Probably not. His shooting percentage is ridiculously high at 42.1% (twice that of anyone else on the team) and it isn't sustainable. But if the Oilers can get 20 goals out of him, that's a huge win for a forward that wasn't necessarily going to be a regular player for them when the season began.
For Edmonton, keeping riding that horse until he bucks you. Chiasson is hot right now.
Related: NHL Rumors: Wild, Panthers and Nylander, Schmaltz, More
Drake Caggiula, B+
It wasn't looking great to start the season but Caggiula has really found a home on the top line with McDavid and Draisaitl and with a bit more responsibility with the top-end players, he seems to play better. He's now got 7 goals and 9 points in 17 games. The Oilers needed him to be one of their depth scorers. He may be the only player on the team doing what he was asked to in that capacity.
Ty Rattie, C
It's hard to judge Rattie because he's missed a good chunk of the season. From what we've witnessed though, it's been disappointing in the sense that he was so impressive in preseason with McDavid and that hasn't translated over to the regular season. He led the NHL in points before the regular season began and has just 2 goals in 11 games. Lately, he's not anywhere near McDavid is and if it stays that way, there's not much fans should expect out of him.
Jujhar Khaira, C+
Stuck almost exclusively on the fourth line, the Oilers haven't really given him a look anywhere else, but Khaira also hasn't deserved to get one. One thing he'll get credit for is some pretty good shots against and goal differential numbers.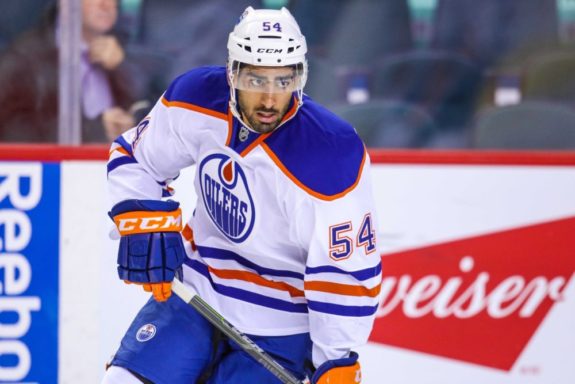 It appears with Hitch building a heavy line with Kassian, Lucic, and Brodziak that Khaira might get some time with Rattie and McDavid (when he's being double shifted) so hopefully, that gets his offense (Rattie's too) going. This is a guy who has the ability to score but has a big, fat goose egg on the board so far this season.
Related: NHL Rumors: Hitchcock, Duchene, Skinner, Panarin, More
Tobias Rieder, C
He was brought in to add depth, play special teams and inject speed into the lineup. He's got no goals on the season but did have seven assists before going down to an injury at the 18 game mark. It would have been nice to see him get a goal or two and he had some chances short-handed.
The Rest
We've left Jesse Puljujarvi and Kailer Yamamoto off this list because technically they aren't on the team right now. We've also not included Ryan Spooner because he's played all of three games with the team. Chances are, at least one of these names will be included on the grades we give out at the half-way mark of the season.
Up next… defense and goaltending.
Jim Parsons is a senior THW freelance writer, part-time journalist and audio/video host who lives, eats, sleeps and breathes NHL news and rumors, while also writing features on the Edmonton Oilers. He's been a trusted source for five-plus years at The Hockey Writers, but more than that, he's on a mission to keep readers up to date with the latest NHL rumors and trade talk. Jim is a daily must for readers who want to be "in the know."
Other content contributions include: NHLtradetalk.com, The Sportster and hosting weekly video casts, THW News and Rumors Rundown, plus Oilers Overtime.
For interview requests or to provide content info, follow Jim on Twitter or his social media accounts. They appear under his photo on articles like this one.