I was fortunate enough to have a long chat with former Oilers goaltender Grant Fuhr this week. A good guy whose documentary "Making Coco: The Grant Fuhr Story" had just been released in Canada on the Sportsnet Network, if you haven't seen the film, you should record it or watch it. It's definitely worth your time.
I watched the documentary and thought it was not only well done but an interesting look behind the player we all knew on the ice. The winner of five Stanley Cups, a player voted into the NHL Hall of Fame in 2003,  a goaltender who made six All-Star appearances and a star who was voted one of the 100 greatest players in NHL history, even Fuhr had his struggles in net.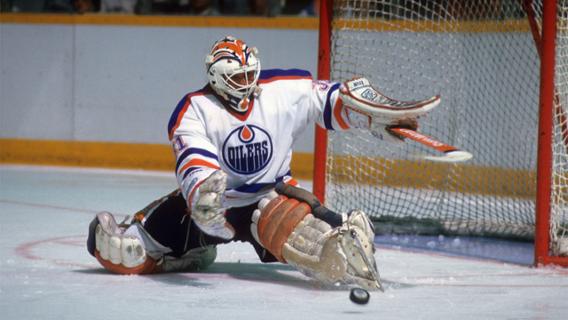 While you'll hear that conversation I had with Fuhr on our first episode of the Hockey Writers Podcast, one of the things that watching his film made me think about was the struggles in Edmonton where Cam Talbot and Mikko Koskinen are battling it out for the starting role. Like Fuhr and Andy Moog had during the magical Oilers run of the 80's, there's competition in Edmonton for that goaltending spot in 2018-19.
Neither Talbot nor Koskinen is anywhere near the level of netminder Fuhr and Moog was, but the question doesn't change. When you have two potential starting goalies, do you keep both? Do you trade one? Fuhr's answer was interesting.
Goaltending is Ebbs and Flows
Knowing he was still a huge Oilers fan, I asked Fuhr right off the bat what he thought about the situation in Edmonton. What was his take on the Oilers goaltending situation? Without hesitation, he said, "I think goaltending is just ebbs and flows and a lot of it depends on confidence and you need two big guys". Knowing that perhaps Talbot is the netminder in Edmonton who doesn't have that confidence, having Koskinen is imperative to riding out this less-than-stellar wave Talbot seems to be on.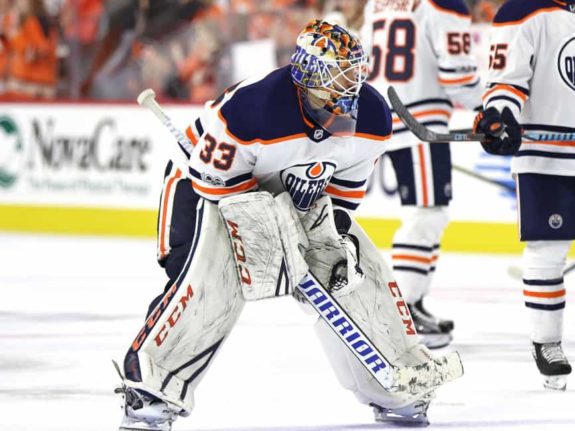 "I think the best teams we had in Edmonton, I had Andy as a partner where you're pushed all the time and you have to have that because one guy can't be great all the time," Fuhr said. He added, "There's going to be some ups and downs and in a perfect world, you get both guys playing great."
On Wednesday night, Talbot will get the chance to rebound as he gets the start in net versus the St. Louis Blues. Fuhr said who plays well may switch back and forth and at any time, this could be Talbot's chance to turn that switch back on.
Related: Oilers Claim Valentin Zykov: Now What?
Would You Trade Talbot?
Whether or not this was putting Fuhr in a figurative hot seat, I asked, knowing how important it might be to have two good goalies and the talk that's out there the Oilers might consider moving Talbot this season, 'would you trade him?'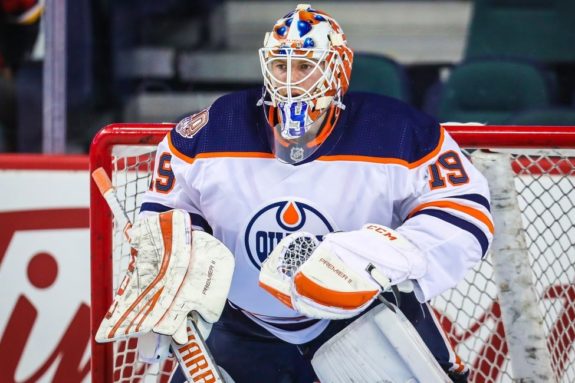 "I don't think it makes sense," he said. "You're going two need to guys over the course of 82 games and a playoff season. There's no sense in putting yourself in a position where one shot could ruin your year by getting a goalie hurt. It's better to have two, better to have insurance and better to have somebody to push each other."
While I didn't expect Fuhr to be anything but gracious, it was a telling inside perspective of what a goalie might be thinking or need, even when playing a ton of games. Fans of Fuhr may remember, he still holds the record for most games played in a single season when he played 79 in St. Louis. One year in Edmonton, he played 75 games with a budding Bill Ranford as his backup.
Related: 3 Names On the Oilers Christmas Wishlist
Don't Take Away That Push
Fuhr made it quite clear as former NHL netminder, competition is key inside an organization. "If you take away that push, sometimes you don't like the result you find."
And, the Oilers have that push. Talbot might not be playing as well as fans would hope but he's still got enough of a pedigree to ensure Koskinen knows his job as the starter in Edmonton (assuming he's won it at this point) is not secure. That push is critical and perhaps more interesting than anything, Fuhr thinks the Oilers need it for the playoffs, a place he believes the Oilers will be come the end of the season.