NHL color analyst and insider to the Edmonton Oilers, Bob Stauffer, posted a tweet after Saturday's game that couldn't be more accurate. Following a 4-2 Edmonton victory over the Florida Panthers, Stauffer pointed out that depth-forward Jujhar Khaira has taken some major steps forward for the team this season. In fact, some will argue, he's been one of the lone bright spots for an organization that has significantly underachieved this year.
After giving Khaira props for standing up to Florida-tough guy Michael Haley, Stauffer added, "Real maturation this season from emerging character player with double-digit goals."
It was a bang-on observation. So, what makes Khaira so special?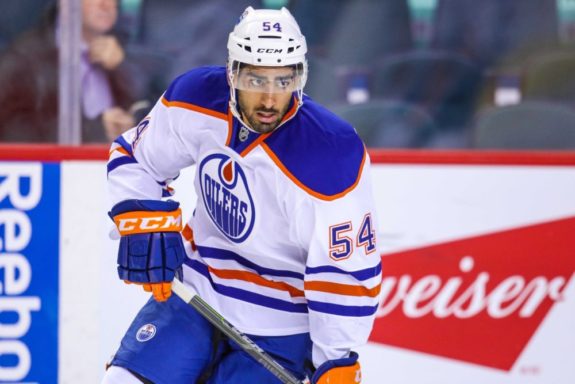 An NHL Draft Success Story
The Edmonton Oilers haven't had a ton of success drafting NHL players in the later rounds of the NHL Entry Draft. Khaira represents one of the few success stories. He was taken in the third round of the 2012 draft at No. 63 overall and while his entry into the NHL wasn't immediate, he'd shown steady progress each and every year, making a case for himself as a regular for NHL duty in each of the last three seasons.
Despite some knocks on his consistency and ability to bring the same level of fire each and every game, it was this season that he finally found a job and kept it. He's now got 11 goals, nine assists for 20 points in 57 games for the Oilers — mostly from a bottom-six roster position.
Related: Trading Milan Lucic Would Be a Mistake
A Multifaceted Team Player First
To say Khaira might be the all-around package is perhaps going too far at too early a stage in his NHL career. But, can one argue he's got more to his game than just a fourth-line plug who looks like he might be able to score 10-15 goals a season? Absolutely.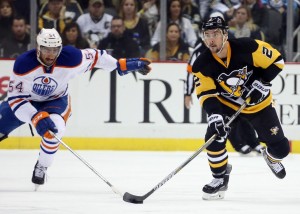 When Haley took a cheap shot at Zack Kassian on Saturday, Khaira didn't hesitate, taking on the much more veteran fighter. Just a couple games ago, Khaira did the same with hit-machine Cal Clutterbuck in a game versus the New York Islanders. It is this willingness to engage that fans, teammates, and coaches don't doubt he'll do again.
These opportunities to step up are the types of things teammates notice. "It fires the guys up for sure," said Oilers goalie Cam Talbot. "For Jujhar to step up like that says a lot about him as a teammate and as a person. We expect nothing less from him. He's a great guy and a great teammate." Oilers' defenseman Kris Russell added, "He's committed to helping this team in any regard. Especially, as a young guy doing that, it lifts the bench."
Khaira is aggressive on the forecheck, he's got the skill and speed to keep up on a higher line and he's earning the respect of his linemates.
Related – NHL Trade Rumors: Nugent-Hopkins, Kovalchuk, More
What's Khaira's Ceiling?
The Edmonton Oilers seem to have identified the fact they have something special in Jujhar Khaira. What else he can offer and how high he can go is yet to be determined but it appears when the club chose to hold onto him instead of sacrificing him during the NHL Expansion Draft, that decision to wait just a little longer has paid off nicely.
The Oilers look like they're also willing to find out what he can do when given more opportunity. They've opted to put him in multiple situations, playing the penalty kill, power play and even given him some time with dynamic superstar Connor McDavid.
With the Oilers clearly out of the postseason race for 2018, there's no better time than now to see what Khaira can do. The Oilers will have some decisions to make over the summer. If Khaira can keep things going, he'll be an absolute part of the future of the organization.