It seems to be a question asked every single year. What do the Oilers do with Sam Gagner?
Few Oilers have found their names churned in the rumour mill in their Edmonton careers as Gagner has.
This year is no different, however the circumstances have slightly changed. Already in his 7th season as a pro, Gagner still remains an enigma of sorts.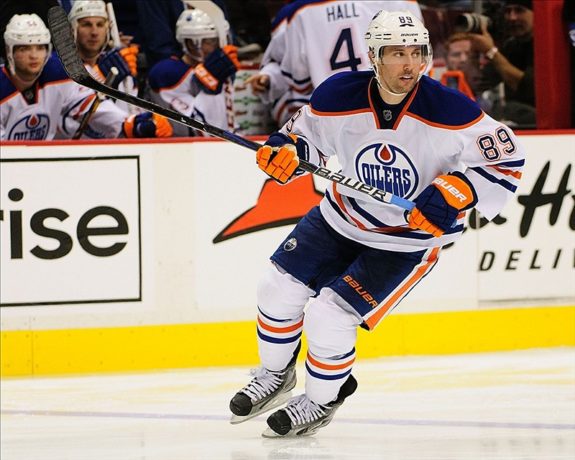 Last year he broke out and had 38 points in the lockout shortened 48 game season and was one of the Oilers top players, earning himself a new contract in the process.
It seemed as though his place with the Oilers had been cemented. Unfortunately this season he has failed to continue that progression and sits with just 23 points and has a -20 rating on the year.
Trade Him
In Edmonton's case, too much of a good thing is a bad thing. The Oilers top seven offensive forwards are all cut from a similar cloth. They're all supremely skilled, but lack size, strength and toughness. None of Taylor Hall, Ryan Nugent-Hopkins, Jordan Eberle, David Perron, Gagner, Nail Yakupov or Ales Hemsky are what you would call bruisers. No one questions the skill level, but if the last few seasons have proven anything, there needs to be some balance in the top six.
Hall and Nugent-Hopkins appear to be untouchables on the roster, and while Eberle's name has been floated, it would take something significant to pry him away. Hemsky is a UFA and won't bring much of a return and Yakupov is more of an enigma than Gagner.
Gagner's value is one that is potentially higher to another team than the Oilers. Somewhere that he can play with better two way players and isolate his defensive shortcomings and allow him more space with the puck. A team that needs power play help would also be a fit for Gagner.
The question is, would the return be worth it. There have been rumours of discussions with the Los Angeles Kings, as per CBC's Elliotte Friedman , and the Kings and Oilers have certainly been recent trade partners. Would a player with some size like Dwight King or Jordan Nolan coming back appease both teams? 
https://twitter.com/SportsnetSpec/status/430464988537307137
Keep Him
The motto "buy low, sell high" comes to mind here, and they would not be selling high on Gagner at this point. Hindsight being what it is, they made have gotten more value with a deal last season.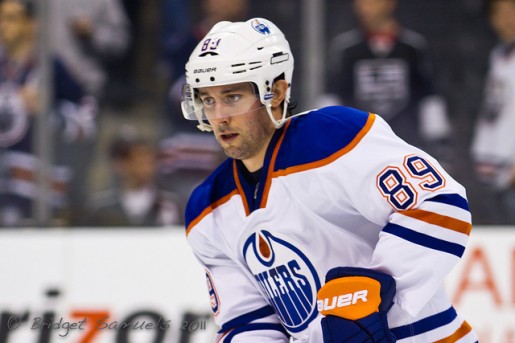 However, with the current state of affairs, are they better to hold on to Gagner and deal another piece like Eberle who would fetch a far higher return and hope that Gagner returns to form and can fill some of the void left by him.
Though he's in his 7th season he is just 24 years old and has most of his career ahead of him. Prior to this season he was talked about in the conversation for Oilers captaincy and there has been an agreement of sorts that MacTavish wouldn't trade him before the no-trade clause comes into effect in July when his new contract kicks in.
Not to say that would keep him from being dealt, but in the very least would warrant a sit down with MacT and Gagner.
Something has to Give
One things is for sure, the current roster is not good enough to get it done. A shakeup is needed, but that is easier said than done.
I believe Craig MacTavish has done a good job in his first year and that he has desperately been trying to make a blockbuster deal. Believe it or not he has been the most active NHL GM this season with respect to transactions, they just haven't been headliners.
He's added some good pieces that have brought character and toughness. Players like Andrew Ference, Boyd Gordon and Matt Hendricks are excellent additions. The problem is that they are depth players and the change that is needed is with the top tier talent, or lack thereof.
If MacT can work some magic and bring in a top pairing defenseman and some size in the top six, those player's value will become more apparent. They are the type that can protect leads and be a factor in playoff hockey. Unfortunately both of those scenarios seem to be a foreign concept to the current Oilers.
To accomplish this, he will have to give to get. I would start with Gagner and see where his trade value lies. Giving up Eberle should be a last resort or only if the return brings a top pairing defenseman, which very well may have to happen, but giving up one of the NHL's slickest set of hands is a risky venture.
The three names that should be on the trade block are Gagner, Hemsky and Yakupov. Hemksy will likely be dealt anyway, but the return will be minimal.  Yakupov is still barely more than a season removed from being a first overall pick and odds are he will score a lot of goals before his career is over. He's also a player you would be selling very low on.
Gagner has a top six skill set and could be valuable to a team in need of offensive help. He has seen a lot of losing since being drafted 6th overall by the Oilers in 2007, but at just 24 years old a change of scenery could give him a jumpstart. Just look what it did to Andrew Cogliano when the Oilers dealt him to Anaheim.
Sam Gagner is the first piece the Oilers should look to move in terms of a significant deal. The key will be hoping another team sees that potential and wants to pay MacTavish accordingly, rather than on his current numbers.