There's something brewing in the air in the St. Louis area, and it's not just more hype about the St. Louis Blues amazing season so far (which has been great for all of us fans).  It's a mystical feeling that usually only finds its way into people's hearts and minds around Christmas, but this time of year there is an exception.  The Frozen Cup combines St. Louisan's love of hockey with its passion for reaching out and helping others in need.
Currently in its 2nd year of operations, and its 2nd with a hockey tournament this amazing fundraising event is focused on getting the game of hockey back into its natural elements while raising money for Action for Autism, a St. Louis based assistance program for families with children on the autism spectrum.
In 16 days, history will be made. 02.16.14 #shutoutautism pic.twitter.com/71q8k9P1WE

— The Frozen Cup (@FrozenCupSTL) January 31, 2014

The Frozen Cup: A Brief History
The Frozen Cup was founded by Steve Albers and his wife to help raise awareness for Action for Autism after a family friend's boy named Chase was unexpectedly lost to an E-coli infection in November of 2011.  The infection caused kidney failure in the 4 year old, and though he battled the illness for months, he ultimately lost the war for his life, and was ushered into heaven well before his time.  The Alber's family decided that they were meant to help raise awareness about Autism disorders, and found a great outlet by combining their love for hockey with their compassion for Chase, his family, and all those differently abled people living with autism.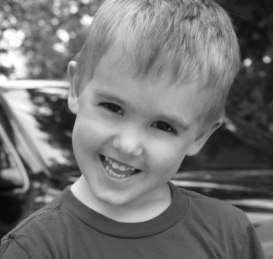 The Albers quickly decided that their lifelong love of the gritty sport would drive their efforts to help the Autistic community in the area, and they've never looked back.  Quickly adapting a "Winter Classic" theme for the event, a single elimination outdoor hockey tournament was formed to create a buzz for Action for Autism.  Tournament creator Steve Albers had this to say about founding the idea, and turning it into a reality:
"We believed we could create a special event that would help a local charity, Action for Autism, raise awareness and funds that in turn helps local families affected by autism in our community."
Steve's playing days stuck with him as he organized the first tournament held in December of 2012.  The weather didn't exactly cooperate in that December for the qualifying games, but come February when the championship were held, mother nature played nice and gave all who came an amazing, unforgettable experience.  Whith heavy snowfall blazing down, players and teams from around St. Louis battled at Shaw Park in downtown Clayton for the coveted prize, Chaser's Frozen Cup (a trophy the winning team gets to keep and enjoy year round just like it's famous big brother-in-law, Lord Stanley's Cup).  Players from that first tournament recalled feeling like kids back on the pond as snow rained down upon them in a blizzard during play that brought up tons of emotions.  Steve can't wait for that amazing moment to come again this year, and states: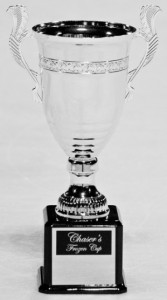 "It was one of those moments where we all had to take a step back and soak it all in.  During the trophy presentation we invite Chase's parents to present the winning captain with the Frozen Cup.  We also hold a moment of silence in honor of Chase and other children that have lost their lives to autism; it's a truly great and humbling experience for all."
Those first events were able to over double the amount Steve and his wife thought they would raise for the charity, Action for Autism, a site that humbles those involved and speaks volumes to the people of the greater St. Louis area.  This year the event is even bigger, and badder than last, and will be an extremely fast-paced run and gun environment that is sure to please all who play, and all who attend.  If you've never experienced an outdoor hockey game before, this is a must-see event, for a more than worthy cause.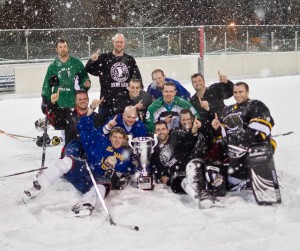 St. Louis' Very Own "Winter Classic"
I was able to sit down with the founder of the Frozen Cup, St. Louis' very own Winter Classic, and he was able to tell me a little bit more about what makes this event so great:
Q: What has been the most surprising aspect of the tournament thus far?
A: The most surprising aspect of the tournament has to be the support & generosity of this great St. Louis community, especially the hockey community.  We knew we would get some help, but were pleasantly surprised with the unexpected support from people we barely knew.  We've even had donations from all across the country, and as always 100% of the proceeds go straight to Action for Autism, we don't keep anything.  Since nearly 1 in every 88 children born today will be diagnosed with autism, we've met countless families affected by autism, something that fills my heart with joy every day.
Q: How many lives has Chase's story influenced since the tournament began?
A: We've had over 10,000 unique visitors visit our website and read his story in the past 12 months along with a few hundred people in St. Louis that we've directly spoken with.  Although Chase was a little too young to be involved in sports just yet, we know he is smiling down on us each year as this amazing event takes place.  We're just glad we can continue to help and support families with children with Autism.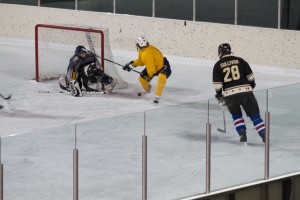 Q: All proceeds benefit Action for Autism here in St. Louis, how can people get involved and help?
A: Please just come down to the event on Sunday, February 16, 2014 and show your support.  We want to create an unforgettable experience for people.  Our schedule is as follows:
Qualifying games from 7a-11:30a
A public skate from 12p-4p
Final games from 4:15p-7:15p
Our goal is to draw more traffic to the rink this year.  We will be selling deli sandwiches, s'mores, hot chocolate and coffee with a bon-fire pit to help keep us warm.  The outdoor tournament should be fairly competitive and fun to watch.  We'd love to have people show up to the rink around 2-3pm, skate on the ice with their friends and families for a few hours, and stick around and watch the final games including the championship.
Q: Sounds like an awesome time, how quickly did spots fill up for this year's Cup?
A: This is going to be a great year for the Frozen Cup.  We've doubled our size from 4 teams to 8 teams and have pulled the event together to occur all in one day. When we started recruiting teams for the event we filled all 8 teams ahead of expectations.  We've actually had to turn away 3-4 teams that wanted to play.  We hope to get them involved next year.  We're expecting at least 80-90 hockey players this year along with their friends and families.  We hope to pack the rink with people supporting our cause.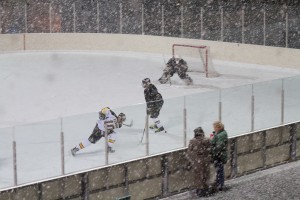 Enjoy Some Outdoor Hockey, Fund an Amazing Cause
That's what you get when you come out to the Frozen Cup, a great time with friends, some quality action on the ice, and support of an amazing organization that helps families around St. Louis live their lives the way they need to.  For all of you interested in learning more about this amazing event, please go to their website www.frozencupstl.com and browse around.  You can also find them on Facebook, or Twitter: @FrozenCupSTL.  Finally, be sure to check out the post tournament reception at nearby CJ Muggs, and as Steve says, "Keep your fingers crossed for cold weather, and dry snow on Sunday February 16, 2014."
Interested in helping Action for Autism but can't make it to Shaw Park for the tournament?  Check them out here: www.afastl.org
Like what you've just read?  Follow me on Twitter: @pep30