North Chelmsford, Massachusetts sits alongside the Merrimack River and Stony Brook, some 30 miles outside of Boston. Vinal Square, a small park, sits at the intersection of 3A and Route 40, which connect into the town, bringing you past the fire station, post office, library, and of course, the Eichel household. After all, it was these same streets that a young Jack Eichel traveled day after day, en route to the hype that he has created today.
It was here, in the normal white house on the cul-de-sac that Eichel fell in love with the game. From the earliest age, the sport consumed him.
Jack Eichel was born in North Chelmsford, grew up, and matured there, learning to become a man, and a hockey prodigy at the same time. From an early age, Jack had something special – something that was very easy to identify when the young child took the ice to play his favorite game.
"He was always shooting pucks," Anne Eichel, Jack's mother said, per Buffalo News.. "We could hear him. We had to have the door replaced outside on the screen house because he hit it so many times. It was all marked up. … He would get my mother-in-law to play rug hockey all the time. Anyone who walked in the house, he would get them to play rug hockey."
Sure, Eichel had god-given talent. It's undeniable. From an early age, Jack had tremendous hockey sense, and a natural ability to play. However, something else set him apart. Eichel had the will-power that you can't teach. He had the drive. He wanted to be the best, and he knew that his talent alone couldn't take him there.
"I think about everything I sacrificed, everything I gave up that the other kids didn't," Eichel said. "People I know ask themselves why they didn't have the same success that I did. I had God-given talent, but I worked harder than anyone. I wanted to be the best player in the world. It's why I had success."

"I didn't care what anyone else was doing, I was going to work out after school. I was working out every morning and skating in the summer. I never made an excuse not to do it. When I didn't do it, I felt terribly guilty."

"There aren't enough hours in the day for me," he said. "Seriously."
Jack's best friend, Danny Ferri, put it pretty well:
"If he had a bad game, and he didn't have many of them, he was at the rink the next day trying to get better. Not many people were all business 100 percent of the time. He was. He was the hardest-working kid I've ever seen."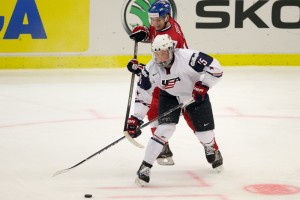 There's no exaggeration. Jack worked, and worked, and worked. He knew that he was gifted, but he knew, more importantly, that he needed to work his you-know-what off if his gifts were going to bring him anywhere. He knew what he had to do, and wasn't afraid to remind himself. In fact, one time, Jack taped up pictures of players who had earned scholarships on his concrete wall, so that he was constantly reminded of how hard he needed to work.
That idea hard work and dedication is certainly hard to teach, and one could argue that it can't be taught at all. However, if there was anyone who planted the seed, it was Jack's parents, Bob and Anne.
From an early age, Jack had been taught to be true to himself, and to his family. Family values were essential. Always be thankful for what you have, and who helped you get there, and never forget your upbringing. That was what Jack received from his parents. No pressures to be the best on the ice, and no encouragement to become a diva in the rising spotlight. The hockey would come on its own. Values first, hockey second.
"Bob and Anne never let him be bigger than he should be," said Mike Rogers, a friend of the Eichels. "There was always a spot to put him. I think that's why he's so well grounded. He's a better kid than he is a hockey player. That line is used by just about everybody that talks about him."

"His parents always kept him in line," said Peter Fish, Jack's agent. "They were always, 'Appreciate everything and anything that has been given to you and take nothing for granted.' He's been that way. When he meets people, they walk away saying, 'You would never know that kid is a potential all-star. He's so down to earth.' "
You see, Bob and Anne weren't worried about building a hockey player. They wanted to raise a strong-willed and respectful man. They are blue-collar individuals themselves; Bob works long shifts for FW Webb, and Anne is a nurse at Boston Medical Center. They had worked hard for their children, and continue to to this day. Upon returning home from the NHL Draft, for example, the two were headed into work for 6 and 7 a.m., respectively, – back to their normal, hard-working lives, because that's the way it ought to be. They were no different from their neighbors, and their daily lives proved that to be true.
Jack Eichel said he is giving his Sabres draft jersey to his mom because she deserves it pic.twitter.com/EkW1xSXQUF

— James P McCoy (@jmccoyphoto) June 27, 2015
Bob and Anne didn't want to be different because of Jack. They were diligent workers, and their lifestyle, and even their home, reflects that. In the Eichel household, there's no signs of a rising star in Jack. No big trophies. No crazy accomplishments flaunted across the walls. The Hobey Baker Trophy sits modestly in the corner of the living room. Their house is no different from their neighbors, with the exception of a couple extra black streaks from pucks bulleting into walls.
The fact of the matter is that Eichel grew up in a hardworking town, and has learned to respect and cherish the road that got him there. Now, having been drafted by the Buffalo Sabres, Jack is getting ready to move on to the next stage of his life. Of course, as Bob and Anne taught him, Jack will aspire to be the best, but will keep his heels dug into the dirt from which he came.
Playing in Buffalo may make that a whole lot easier. Buffalo, a working-class city in itself, parallels North Chelmsford pretty well. Buffalo, like North Chelmsford, is known as a hard-working town, where you have to earn everything It's blue-collar for sure, and it looks just like a larger version of home to Eichel.
"Fred Smerlas (former Bills nose tackle) is on our sports-talk radio, and he talks highly of Buffalo," said Mike Rogers, a family friend. "He always calls it a working-class city. People work every day. That's what's ingrained in the community out there. That's where Jack comes from.

"Buffalo and Jack's upbringing are almost mirrored except for the dot on the map. It could very well be a suburb of Buffalo. If it doesn't work out, it won't be for a lack of trying. He's one of the most determined people I've ever seen in my life."
On top of that, the Sabres are building up, and needed a young spark to help lift them out of the cellar, where they've been stuck for several years.
It's the perfect fit for Jack.
"Honestly, it couldn't be any more serendipity with everything synching up," said Blaise MacDonald. "Given the opportunity and environment and where Buffalo is at, the transformation that the city and the Sabres are going through, it's a perfect match. He will relate very, very well to the people of Buffalo."
Now that Jack is finally in Buffalo, and officially under contract, he can let out his true thoughts. Of course, he agrees.
"I agree," Eichel said "Everything happens for a reason. It really couldn't have worked out much better than it did. I really believe that. I think it's the right place. I'm excited to get started. I can't wait. I want to be a part of getting it turned around. And I think we will."
Buffalo has the blue-collar style. The Sabres, and even Terry Pegula, their owner, have the blue-collar style. It's something that Jack admires.
Congrats to Jack Eichel on signing with the @BuffaloSabres! Thanks for an incredible year! #ProudtoBU pic.twitter.com/34Qo61FGkE

— BU Men's Hockey (@TerrierHockey) July 1, 2015
Jack actually met Pegula before the draft, without realizing that he was speaking with the owner of the Sabres. In Jack's mind, he was speaking to their head scout. Pegula's modest style faked him out.
"What billionaire carries a flip phone?" Eichel said of Pegula. "It says something about him, I think. He's so down to earth. I love him. I think he's a great guy."
It's something that Jack has learned to appreciate from his upbringing, and you can be sure that it's something that he'll carry into the NHL.
"It's important, you know what I mean?" said Bob Eichel. "We work for a living. He's going to work for a living, but he's going to have a better living than we did. But it's important to remember where he came from."
Jack has always been willing to work hard, but he appreciates the life that he's lucky enough to live. To this day, he's not afraid to tell you that he's living his dream – playing hockey every day. Sure, the money and the fame is nice, but it's the hockey that Jack lives for.
"It's my dream to play in the NHL," he said. "That's what I want to do. All that other stuff is really good. But you think about the fact that you get to play hockey for a living. Every day, you wake up and go to the rink. Some people wake up and go to 9-to-5 jobs that they hate. I wake up and go play hockey."
It's the game that Jack loves. It's always been the game. The same one that he started in New Hampshire when he was four, because Chelmsford wouldn't allow anyone younger than five. The same one that forced him out of his high school team, since he had surpassed their level before it was even time to play for them. The same game that justified his trip to the U.S. National Development Program in Ann Arbor, Michigan after his freshman year.
Jack just had it, and his family-first style reflected in his game.
"You can just tell when a player has it," said former Niagara coach Blaise MacDonald, whose son was Eichel's buddy, as well as teammate. "You can look at all the intangibles, but between the boards and glass, he had it at a very young age. When you put it all together with the intangibles, this kid has taken a road many people thought he would take.

"It's a cliché, but he really was a team-first guy," MacDonald said. "His strength was almost his weakness. He always tried to please others. He would pass the puck and help everyone else out. Maybe he should have been more selfish at times. His self-awareness at a young age was off the charts.

"That's Bob and Anne right there."
As a result of his upbringing, his natural ability, and his pure motivation, Jack is the ultimate package, and the perfect fit for Buffalo.
Sabres GM Tim Murray has all of the confidence in Jack Eichel: 'He's legit.' http://t.co/poLQkHaBsF pic.twitter.com/V148ioL11P

— theScore (@theScore) July 2, 2015
"You live a lifetime to see a talent like that," said Kim Brandvold, a skills coach at Merrimack College, who has worked with Jack for four years. "The talent speaks for itself. It's how hard he works, how much he loves to play hockey and the effort he puts in. The best part is how well he treats everybody everywhere he goes. He's as good as they come."
Jack Eichel will earn a roster spot with the Buffalo Sabres, and will head to the NHL with the same mentality that brought him there. Of course, his father will always be there to remind him.
"He's always telling me, 'Remember the people who were here when you weren't Jack Eichel the superstar hockey player,' " Jack said. " 'Remember where you came from. This is the reason you are where you are.' He's always been on me about that and deservedly so. I am who I am because of where I'm from."
For more on Eichel's background, visit Bucky Gleason's fantastic article at The Buffalo News.