The Erie Otters held their annual Orientation Camp this past weekend at both Erie Insurance Arena and ErieBank Sports Park. In the process, their top-two picks from the 2023 OHL Draft each made their commitment to the team.
---
---
First-overall pick Matthew Schaefer as well as 24th overall pick Wesley Royston each agreed to a standard player agreement. Schaefer committed on Saturday while Royston was on Tuesday.
We got to catch up with both Schaefer and Royston at Erie Insurance Arena on Saturday before their weekend scrimmages. Each player expressed their excitement to take the ice for the first time with the Otters while being able to get together with fellow prospects.
Schaefer & Royston Commit to Otters
What was long expected became reality on Saturday when the Otters officially announced Schaefer's commitment to the team. Here's GM Dave Brown on what Schaefer brings to the table.
---
Latest News & Highlights
---
"Matthew is dynamic and brings great energy to the game, and we are excited about Otters fans seeing him when the 2023-24 season begins. We are thrilled to share in Matthew's exciting journey as a member of the Otters' organization, and can't wait to see his contributions on the ice and in the Erie community."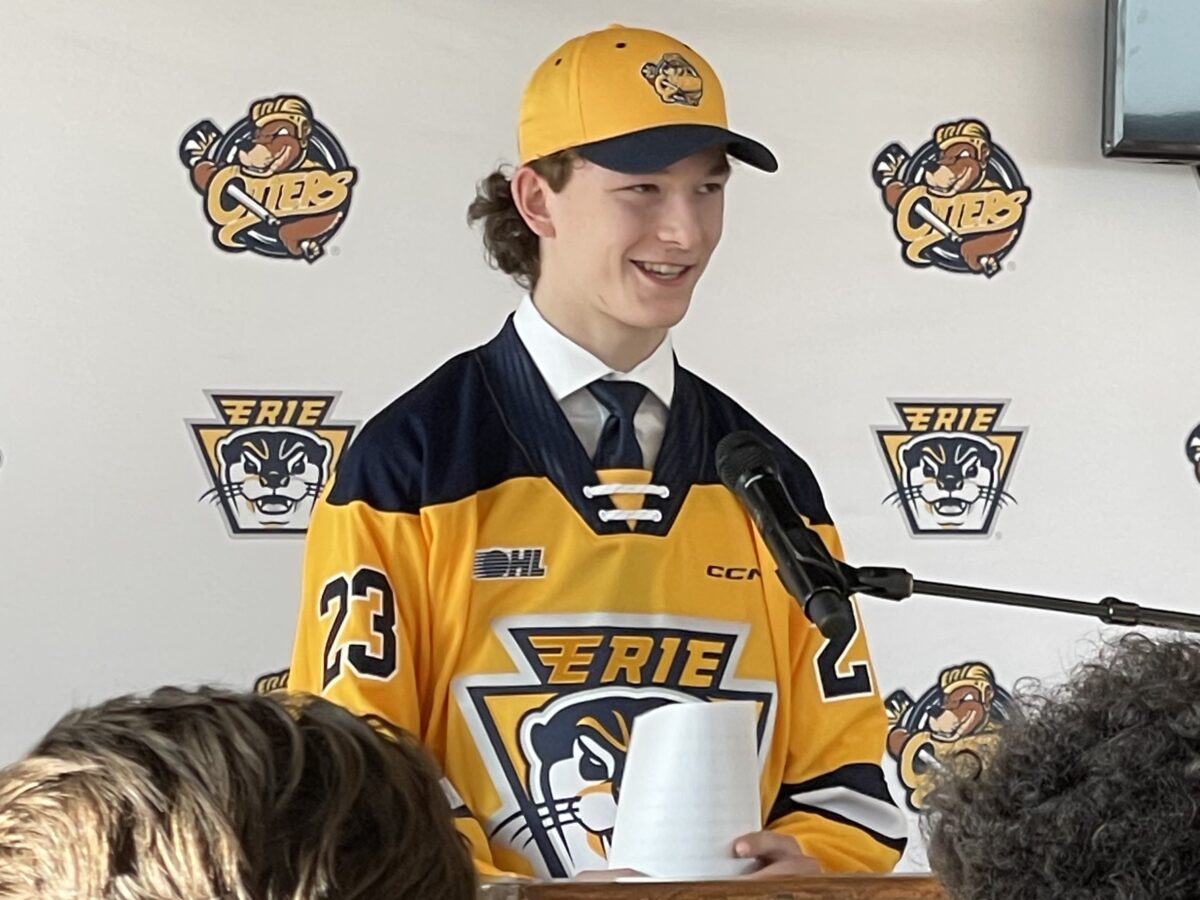 The Otters were just as excited to announce Royston's commitment. Here's Brown on what Royston will bring to the table.
"We were thrilled on draft day when we selected Wesley, but we're even more excited to sign him and watch him grow into the player we believe he can be. Wesley has a very promising future, and we look forward to the years ahead and achieving our goals together as he grows into an exciting power forward."
After getting together for dinner, the prospects got to take part in three scrimmages over the weekend. Two were played on Saturday and the other was played on Sunday morning at ErieBank Sports Park. Several Otters' veterans and head coach Stan Butler were in attendance.
For the players, it was a fun weekend. For Schaefer, getting to meet with all the players stood out for him.
"Last night we got to kick things off with a nice dinner and a little meet and greet with all the players. There's a ping pong table. So a bunch of the boys and us were playing some ping pong, getting to know each other. So it's been good. This is my first orientation camp. We had fitness testing this morning and that went good. I was with some of the older guys so they pushed me a bit. It's my first one so I'm looking forward to the rest of it."
Royston echoed Schaefer's comments about the importance of Orientation Camp and the opportunity it presents the incoming players.
"We had dinner last night," Royston said. "It was good. Got to meet some guys. Then we had the Orientation Camp this morning. (We were) running on the track, being in the gym. It was just amazing meeting all the guys."
Get to Know Schaefer & Royston
We got to ask some getting to know questions with both Schaefer and Royston. Here's a little bit of our conversation with each including the same first question what got you into hockey as a kid?
Schaefer: "I remember it a bit, bits and pieces. I played in this house league in Grimsby. It's called the Peach King. I remember that quite a bit. That's where I started off."
Royston: "I just played house league when I was younger and just fell in love with the game there."
You Might Also Like
What made you realize that the OHL was the path you wanted? Was there a moment that sealed it for you?
Schaefer: "I love hockey. I've been watching my brother grow up. He played for the Niagara Icedogs. I watched him five years growing up and he's taught me so much I need to know about hockey. So I would say when I started getting to AAA and minor hockey these last couple years, I kind of thought this is the way I want to go."
Royston: "I think all along just being from Barrie seeing the Colts play. Seeing the OHL, it was just a cool experience and I was looking forward to playing for a team in the OHL one day."
Schaefer Quick Hits
What fun activities would we see you do off the ice?
"I love sports. I love to be athletic. I love to play sports and be outside. So hanging out with friends, playing football, basketball and hanging out with my family outside."
Favorite subject in school?
"Gym is not really a subject. I like gym. But English and Math probably."
Favorite meal?
"Chicken and pasta."
Favorite music?
"I like any music. I like hip hop, rap, country. I like all of that."
Favorite movie?
"Stepbrothers."
Favorite hockey player?
"I like my brother. But if we're talking pro, I'm probably going to say Auston Matthews."
Royston Quick Hits
What off-ice activities would we see you doing?
"I like to spend a lot of time at the cottage in the summer and tubing, water skiing, wakeboarding, all fun stuff."
Favorite school subjects?
"Science and gym."
Favorite meal to cook?
"Pasta because it's easy."
Favorite music?
"Probably country. I like Morgan Wallen."
Favorite hockey player?
"Tom Wilson. I try to model my game after him. He's a physical player but can also play both sides of the game. He can score too."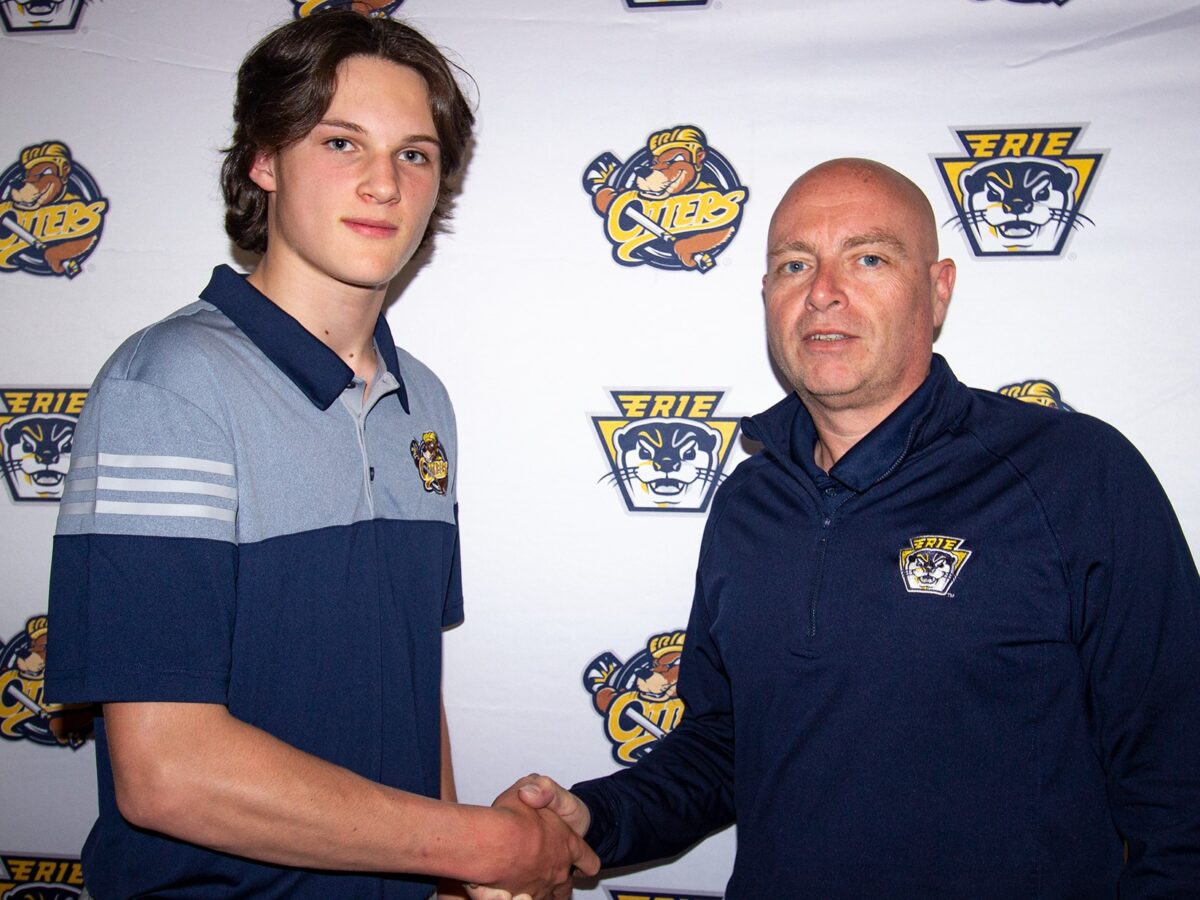 With Orientation Camp wrapped up, the Otters head into the summer with the momentum of the OHL Draft on their side. They will prepare for the upcoming CHL Import Draft as they hold the first-overall pick.
They will reconvene in August for the start of training camp. Both Schaefer and Royston have a good shot of making the opening night roster. Each are ready and hoping to make an immediate impact with the Otters in 2023-24.