A few days ago, we looked at the New Jersey Devils' unrestricted free agents and who could return and who could test the market on July 1. Today, we'll be looking at the organization's eight restricted free agents, and there are some big names general manager Tom Fitzgerald has to get signed to long-term deals. Who could stay? And who could find themselves playing elsewhere, possibly through a trade?
Timo Meier
The Devils undoubtedly would love to get Timo Meier, who has arbitration rights this summer, signed to a long-term extension. After acquiring him from the San Jose Sharks at the trade deadline, he had nine goals and 14 points in 21 games with the Devils — a 35-goal, 55-point pace over 82 games. 
Though Meier only had four points in 11 playoff games, he was one of the Devils' best shot and chance creators. He just couldn't buy a goal, especially in their Round 1 series against the New York Rangers. Even then, Meier made his impact felt with his physicality and agitating Rangers goaltender Igor Shesterkin. He had four points against the Carolina Hurricanes in Round 2, but the team fell in five games.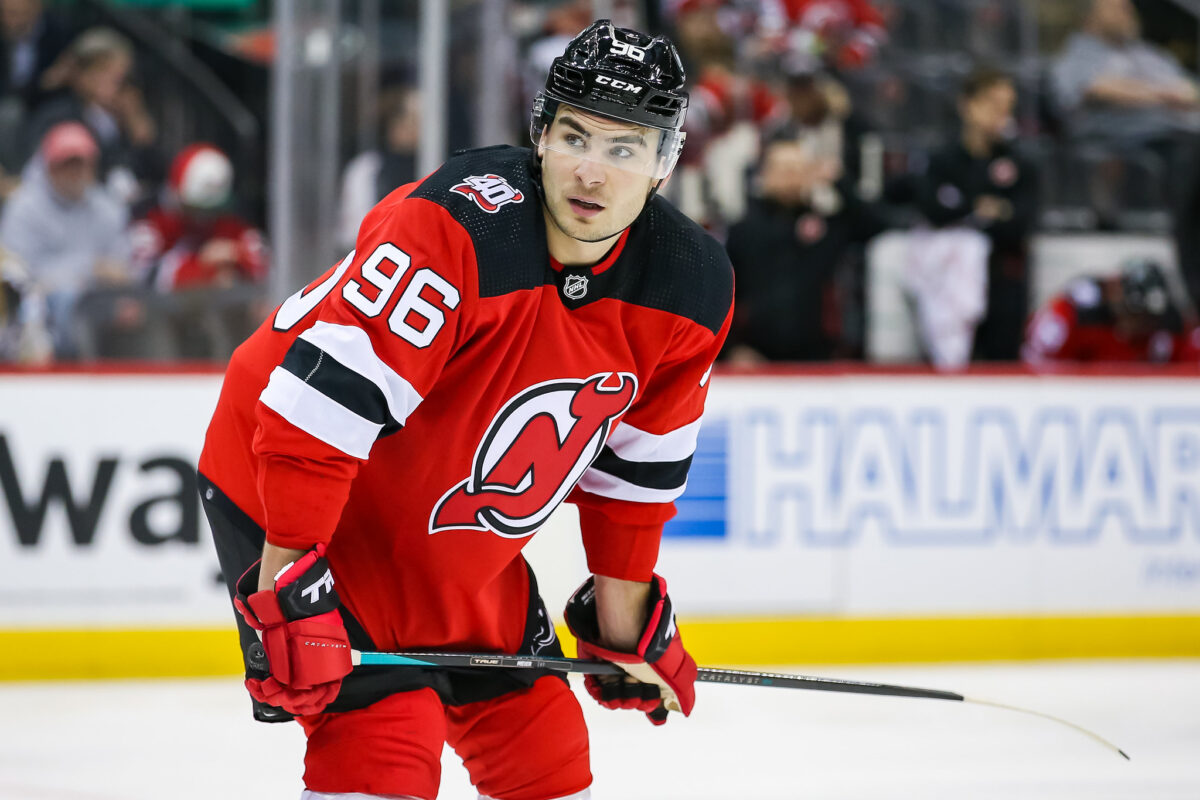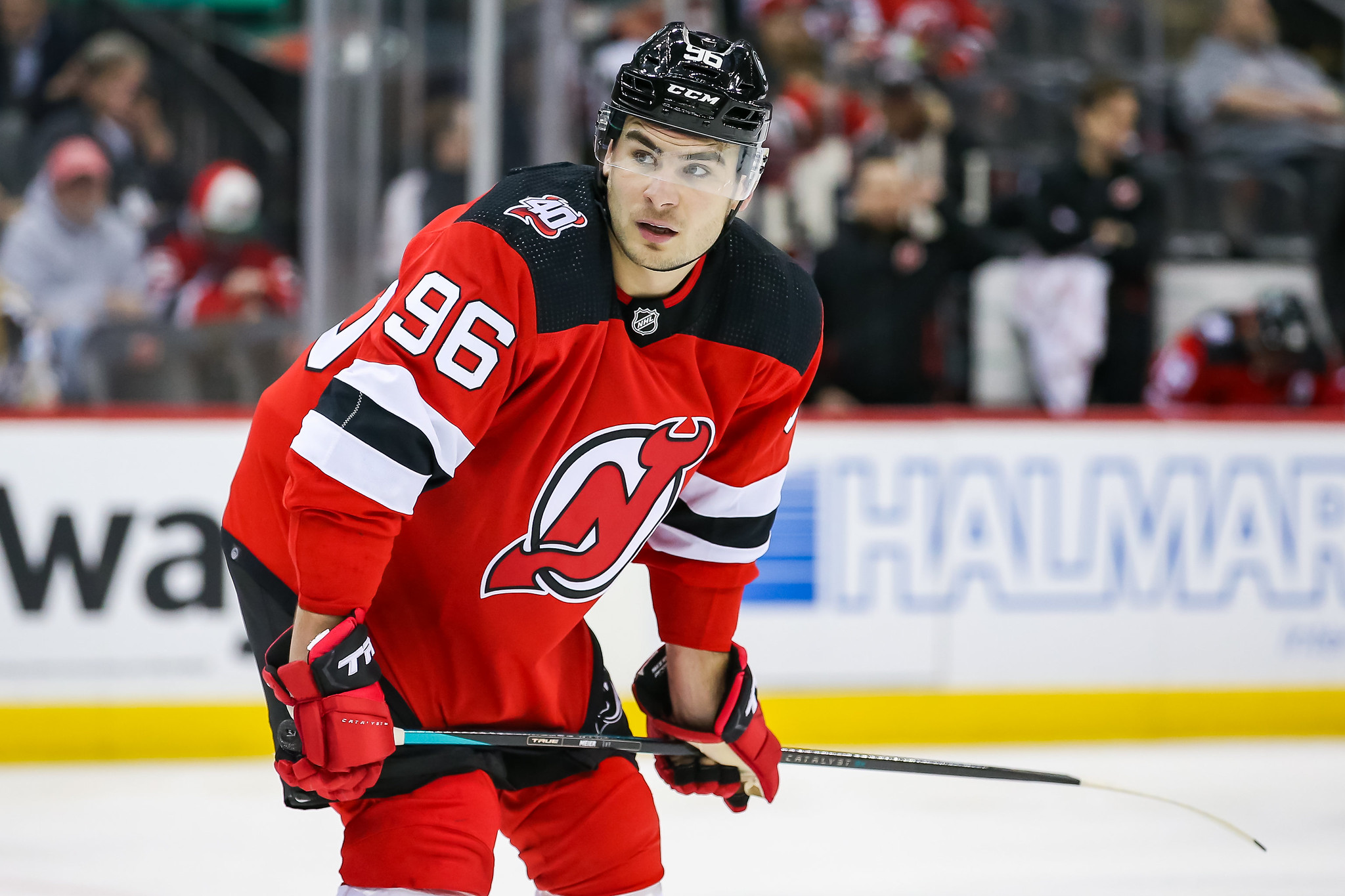 Even in his short time in New Jersey, it's easy to see what Meier provides. He's a high-volume shooter who's physical and can drive a line, something you don't always get from a winger. Evolving-Hockey projects him to land an eight-year extension at a cap hit of $8.779 million. Though the Devils don't want to go far above what they're paying Jack Hughes annually ($8 million), they will have to if they hope to keep Meier long-term. 
Meier has averaged 39 goals and 75 points per 82 games in the last two seasons, so he's worth around that contract projection. If he wants to stay in New Jersey for the long haul, I could see something close to what the New York Islanders paid Bo Horvat ($8.5 million annually for eight years). The Devils can afford that, especially with a rise in the cap expected in 2024, so I'd expect him back in New Jersey.
Yegor Sharangovich
After scoring 24 goals and 46 points a season ago, Yegor Sharangovich struggled in 2022-23. He finished with 13 goals and 30 points in 75 games and saw his underlying metrics dip from a year ago. He did have some poor shooting luck, finishing with a 9.9 shooting percentage, below his career average of 12.8 percent. But his play off the puck wasn't always consistent, especially defensively. 
Sharangovich is probably a decent bounce-back candidate for next season, but the Devils will have a decision to make on his long-term future. He projects to land a three-year extension at a cap hit of $3.55 million, a decent raise from his current $2 million cap hit. With Meier and Jesper Bratt to re-sign, Sharangovich could be a cap casualty, especially if the plan is to add some external scoring help through a trade or free agency. 
Jesper Bratt
Speaking of Bratt, after some tough and grinding negotiations over the previous couple of years, it seems more likely that the two sides will finally agree to a long-term deal. While speaking at his exit interview, Bratt indicated full confidence in his agent and Fitzgerald to get a deal done. Meanwhile, Fitzgerald mentioned that there has been progress toward an agreement and that he's not expecting contentious negotiations. 
Bratt might not have had the best playoffs this season, but he was far from the Devils' worst player. He had a 66 expected goals percentage (xG%), which led Devils skaters. He didn't score as much as he did in the regular season because the team shot just 4.35 percent when he was on the ice at five-on-five. That's partly poor luck, partly going up against a goalie like Shesterkin in a seven-game series. 
Playoff "struggles" aside, Bratt has been fantastic over the last two regular seasons. He's averaged 30 goals and 76 points per 82 games and has been one of the team's most efficient five-on-five scorers behind Jack Hughes. Even when throwing the COVID-shortened 2020-21 season into his dataset, he's been one of the Devils' best play drivers at even strength: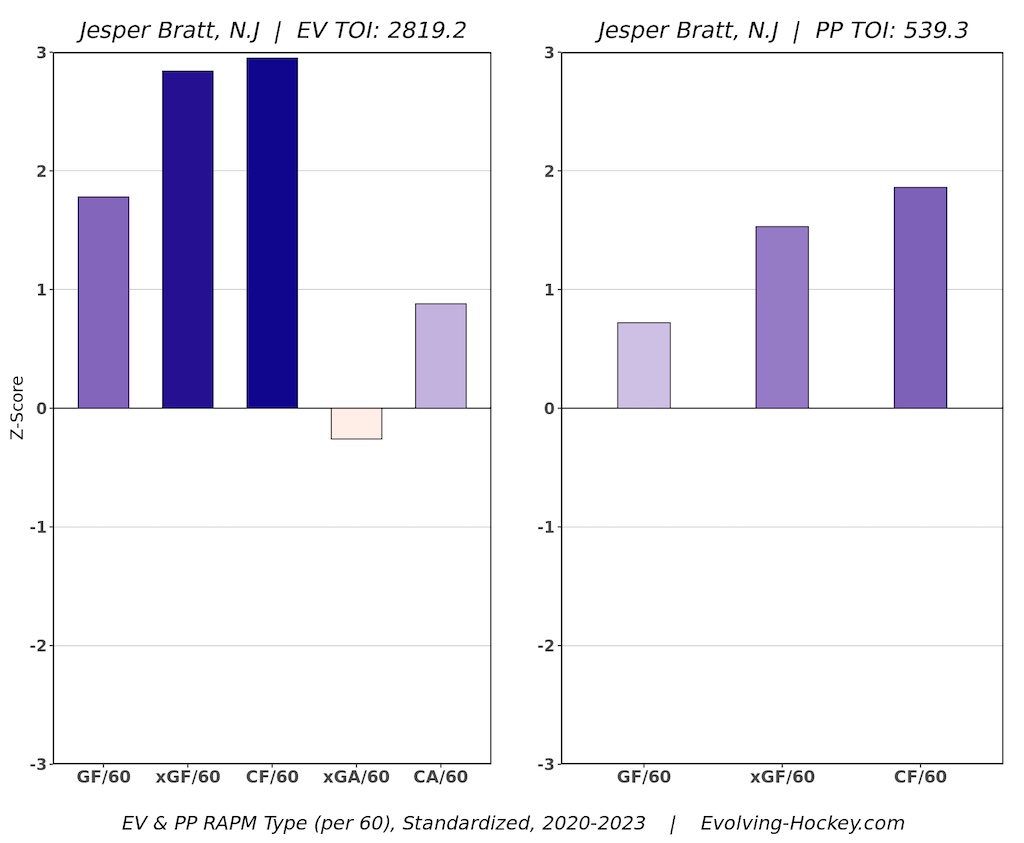 The biggest question surrounding Bratt will be how many years he gets on a long-term extension. While I wouldn't rule out an eight-year deal, something around four to five years seems more likely. If that's the case, I'd expect his cap hit to fall somewhere between $7-8 million, and certainly not over $8 million. There shouldn't be an 11th-hour deal before an arbitration hearing this time, so Bratt should be back if that's the case. 
Nathan Bastian
Nathan Bastian missed significant time with an upper-body injury in 2022-23, but he was still quite effective when he played. He totaled six goals and 15 points in 43 games — a 12-goal, 28-point pace over 82 games. Not only does he have some scoring upside for a fourth-line winger, but his defensive impacts are among some of the best on the team. His even-strength defense has been worth an expected goals above replacement (xGAR) of 7 over the last two seasons, ranked first among Devils forwards. 
Related: Devils 2023 UFAs: Who Stays? Who Goes?
---
Latest News & Highlights
---
Fourth-liners don't have to be scorers, but they can't be liabilities. Bastian is far from a defensive liability and has some scoring upside to make him more valuable and the ideal fourth-line winger. He projects to land a two-year deal at a cap hit of $1.768 million. That number might be a tad high, but I can't see a scenario where the Devils don't bring him back. Two years seems reasonable, perhaps a touch under $1.5 million a year. 
Jesper Boqvist
From one Jesper to another, Jesper Boqvist has put himself in a spot to return to the Devils for another year. After a slowish start again, he found his place as a regular for much of the second half of the season. He finished with 10 goals and 21 points in 70 games and found a role as a third-line forward who can play either down the middle or on the wing. 
Boqvist hasn't lived up to the hype he had as a prospect to this point, but he's remade his game a bit to become a regular in the Devils' lineup. He's still a high-end skater and excels in transition, but he's also one of the team's better forecheckers and has positive defensive impacts. Plus, he's a decent finisher despite not being a high-volume shooter: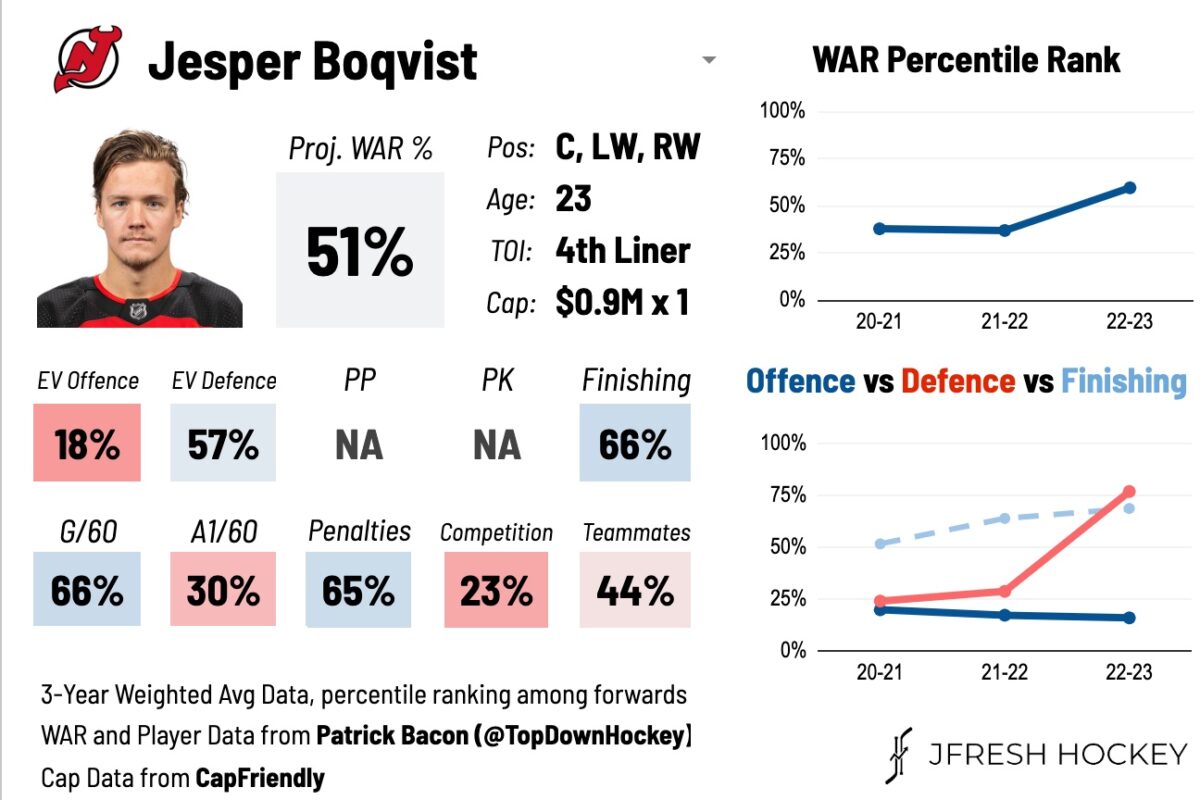 With the Devils hoping to re-sign Meier and Bratt to pricey long-term deals, filling out the roster with cheaper but effective players will be crucial. Boqvist falls right into that category, as he projects to earn a two-year deal at a cap hit of $1.55 million. Head coach Lindy Ruff seems to like what Boqvist brings, so I'd expect him back on a contract close to his projection. 
Mackenzie Blackwood
At the start of the season, the hope was the Devils' goaltending tandem would consist of close to a 50/50 split between Mackenzie Blackwood and Vitek Vanecek, who the organization acquired from the Washington Capitals at the 2022 draft. Vanecek played his part, finishing with a .911 save percentage across 52 games and 48 starts. 
As for Blackwood, he struggled with injuries for a second consecutive season. He played in only 22 games and finished with an .893 SV%, a bit below the league average of .899. Despite finishing with an SV% below .900, he had a goals saved above expected of 0.44, meaning he essentially stopped what was expected of him. 
Blackwood can still play at this level, but his health has become a concern. And with Akira Schmid's emergence, it may be time for the two sides to part ways. I think they'll try and trade Blackwood ahead of the draft, but if they can't, I'd expect them to non-tender him and allow him to become an unrestricted free agent on July 1 so he can test the waters and find a new home. 
Kevin Bahl
Kevin Bahl was a healthy scratch for much of the regular season, but took a significant step forward as the year progressed. He became a mainstay among the Devils' top six defensemen over the final two months of the regular season and played in all but one of their playoff games.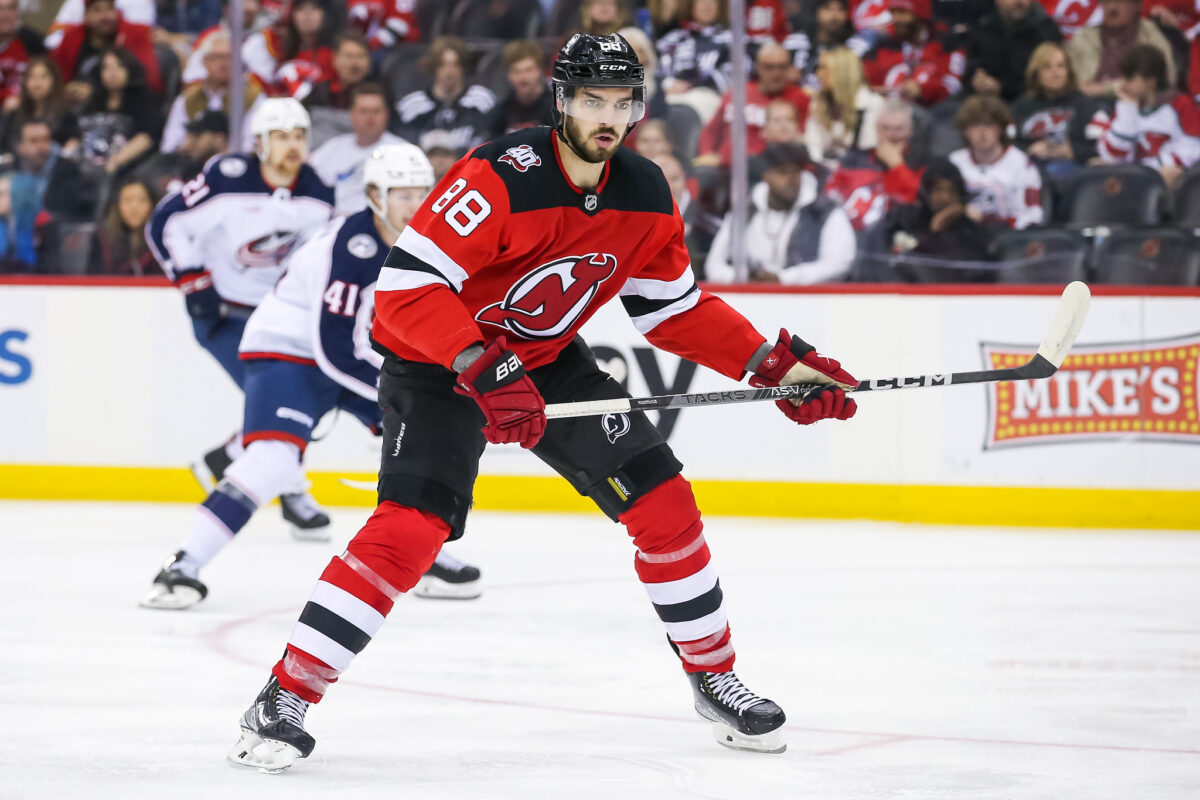 Bahl doesn't have much offensive upside, but he's made noticeable strides in his defensive game over the last few years. With Ryan Graves and Damon Severson likely to test the UFA waters on July 1, Bahl has a spot as a regular for 2023-24. And he earned it with his play. He projects to land a two-year deal at a cap hit of $954,000, and I'd expect him to return on a similar contract. 
Michael McLeod
Michael McLeod has become one of the more reliable fourth-line centers in the NHL. He may not score much, but he's a decent playmaker who's one of the best faceoff men in the league. He's constantly on the ice for crucial faceoffs, which is why he's a key part of the penalty kill, so Ruff clearly values what he brings to the team. 
McLeod projects to land a three-year deal at a cap hit of $1.946 million, a reasonable price for what he offers as a fourth-line center. I'd expect him back with the team, but there is a caveat. He was part of the 2018 Canadian World Junior team that's still under investigation, so until his name gets cleared, he's not a lock to return (he was one of a few players who never released an official statement on the incident under investigation, though he is cooperating with authorities). 
Most Devils RFAs Should Return
The Devils have quite a bit of housekeeping to do with their RFAs. Bratt and Meier are their most notable ones, but there's no reason to believe either of them will be playing elsewhere in 2023-24 as of now. Otherwise, most of their RFAs should return for the upcoming season and perhaps beyond. 
* * *
Advanced stats from Natural Stat Trick, Evolving-Hockey; all contract projections from Evolving-Hockey