Currently sidelined with a knee injury (torn right MCL), Colorado Avalanche right winger Pierre-Alexandre Parenteau is certainly an interesting case compared to other NHL players.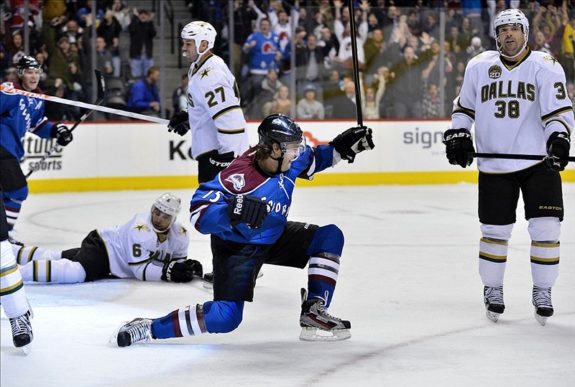 A true journeyman
After a career that saw the Hull, Quebec native travel around with three QMJHL teams, one ECHL team, four AHL teams, and two NHL teams in the Chicago Blackhawks and New York Rangers, the former 9th round Anaheim pick from 2001 finally made it as an NHL regular in 2010-11. Perhaps looking to make up for lost time, Parenteau immediately found his place on the New York Islanders' top unit as the linemate of budding superstar John Tavares and eventual three-time 30 goal scorer Matt Moulson, at the age of 27. Parenteau then posted unexpected totals of 53 and 67 points in his first two full years in the league with the Isles. His first season paid $600,000 for his services, and this was deservingly upgraded to $1.25 million the following year in a one year deal (all contract numbers available here), where he was still one of the league's biggest bargains.
New beginnings
Parenteau then continued his trend of moving as he came to the Avalanche after his pair of seasons with the Islanders as an unrestricted free agent. His four year deal came carrying a $4 million salary and cap hit, which expires following the 2015-2016 season.
Parenteau appeared to shed the "product of a superstar" status that has befallen to so many players alongside an elite player, when he posted 43 points in just 48 games in his first year in Denver. While he was playing with no shortage of talent on his new team, few would argue that any of his linemates could compare to Tavares, a 2013 finalist for Hart Trophy as league MVP.
Back to reality?
However, this season has been a trying one for Parenteau, as injuries have limited his play to only 53 of a potential 73 games. While Parenteau has posted 14 goals and 19 assists for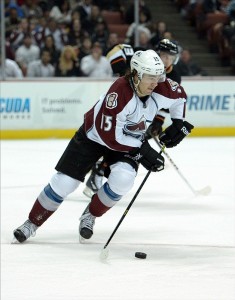 a total of 33 points, this is a clear drop off in production from his first season with the Avalanche.
It is unlikely that Parenteau's recent struggles are due to his linemates.  Parenteau's most common three linemates in 2013-14 (according to behindthenet.ca ) have been Ryan O'Reilly, Duchene and Stastny, all of which have performing well. While Duchene and O'Reilly have managed career years, Stastny has also not had a bad year by any means, as his 0.82 points-per-game mark dips just below his career average of 0.85.
Trade rumors swirled around Parenteau early this season, but he was quoted by Sportsnet as being happy with his situation and no issues appeared to exist between him and his colorful head coach, Hall of Fame goaltender Patrick Roy, so it's unlikely the situation was caused by any animosity with coaches or management.
Not-so-special teams
The most plausible explanation of his down year comes from Parenteau's inefficiency on the power play in 2013-14.
Parenteau has spent 137 minutes on the Avs' 9th ranked power play, yet accumulated just one goal and two assists. This total is a far cry from his days on Long Island where he posted totals of 19 and 20 points in his two years via the power play. Last season, he led Colorado in power play time with 138 minutes, when he also led the unit in extra strength goals with six and points with 13 (via NHL.com).
Power play shooting charts of those four seasons, (courtesy of sportingcharts.com's Ice Track feature) show Parenteau has had no shortage of quality opportunities or any drastic changes of shot quality this year. Yet, he has been unable to convert for whatever reason, shooting at an abysmal 4.76 % on the power play. It's unlikely that Parenteau has become a dramatically less accurate shooter skill wise, as he's managed to score a career high 13 even strength goals despite being injured for much of the season.
More likely, PA has been struck with bad luck and hot goalies while on the ice with the extra man. If Parenteau is able to find his groove again on the power play, both his individual numbers and the Avalanche's power play stats will both increase. While his ridiculously high 40 % conversion rate on the power play from 2010-11 will be a tough task to replicate, it's fair to say PA will more likely than not manage to eventually rekindle some of his magic that made him a very effective piece of the special teams unit.
Will he return stronger?
Another explanation some may point to is another injury which Parenteau suffered December 29th against Winnipeg, injuring his left knee (not his right, which currently ails him), where he missed ten games. However, Parenteau managed nine points in 15 games after coming back, which was right on pace with the numbers he was already putting up prior to getting injured.
At 0.62 points per game this season, Parenteau does not appear to be drastically overpaid, but he's not exactly a steal anymore either, putting up production rates and cap hits comparable to Adam Henrique (0.58 PPG, $4 million cap hit, according to capgeek) and Mike Fisher, (0.60 PPG, $4.2 million cap hit, according to capgeek). With two years left on his contract, the Avalanche should be satisfied with the term and value as long as he's able to not experience an even larger drop off in scoring. That being said, it's clear Parenteau's stats would look better if he were able to replicate his previous success on the man advantage.
Parenteau's regular season appears mostly likely to be done due to his most recent injury suffered March 10th (nhl.com link), and even the best case scenario would see him playing just a handful of games over the end of the season. While Parenteau should be available for the Avs come playoff time if the early diagnosis was correct, nothing can ever be guaranteed when it comes to injuries, and one can only hope he'll return at 100 %.
What lies ahead for PA Parenteau is yet to be determined, as his injury struggles have hampered the late bloomer's chances for success this season. At 31 years of age, Parenteau is far from finishing his NHL career if he stays healthy, but quickly approaching the age where players' bodies start to slow them down. Whether he stays in Colorado for the remainder of his contract is uncertain, but it appears that P.A. is safe temporarily from movement.  However, as long as he's healthy and playing hockey, Parenteau will be challenged by fans, media and fellow teammates to regain the form he's shown as a very effective NHL forward.
All stats courtesy of hockey-reference.com unless otherwise noted.