Fantasy Hockey Mailbag is a weekly column, answering your questions every Tuesday. No question is too big or too small, so if you want advice or feedback on any topic related to fantasy hockey, just ask away in the comments below.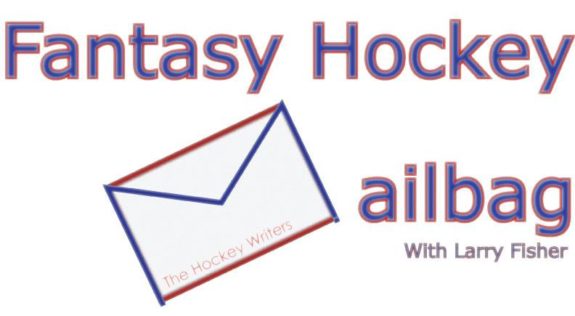 Another week, another loaded Mailbag — overflowing, really — so let's delve right into it.
Most of the questions lately have been hypothetical, as in 'would you make this trade?' So it was refreshing, yet challenging, this week when Mick Hurley contacted me via email requesting feedback on a couple of his already completed trades. It's easier, for whatever reason, to give advice rather than feedback. Maybe it has something to do with the potential of hard feelings, but I always try to be honest — sometimes brutally, or bluntly — so here goes nothing.
Trade 1
INCOMING = Aleksander Barkov, Jonathan Huberdeau and Andre Burakovsky
OUTGOING = Taylor Hall and Anthony Duclair
ANALYSIS: Honestly, I don't really like this deal for Mick. Reason being, to me, Hall is the best player changing hands by far and he just turned 24 years old on the weekend. That's the kind of guy you want to build around. Mick is in the midst of a huge rebuild in his dynasty keeper league, attempting to get younger and retool for the future after winning this league two years ago and finishing as runner-up last season. Mick mentioned that the current frontrunner is so stacked that he felt the need to rebuild to compete over time. The league's scoring system includes goals (worth two points), assists (one point) and goalie wins (worth two, or four for a shutout). To me, that makes Hall even more valuable as the best goal-scorer in the deal too. I prefer Duclair to Burakovsky as well. It's not that I don't like the Florida tandem of Barkov and Huberdeau — they play together on the Panthers' top line — but I just think Hall is on another level from them. Any time you give up the best player in a deal, you run the risk of losing that trade. I think Mick runs that risk here.
Trade 2
INCOMING = Gabriel Landeskog, Alexander Wennberg, Dylan Larkin, Petr Mrazek and a pick around 14th overall in 2016
OUTGOING = Max Pacioretty, Eric Staal, Bobby Ryan, Jaromir Jagr and Alex Edler
ANALYSIS: Mick is going to hate me — and probably never write to the Mailbag again — but the more I look at this trade, the less I like it. I'm really high on Larkin, so he's a name that jumped out at me immediately. If he reaches his lofty potential over the next couple seasons, he could emerge as the best player in this deal. Great work getting Larkin, he's definitely going to be a keeper. Landeskog is a great player, even if he'll never be great from a fantasy perspective. I think he'll be a consistent 60-point guy, but he won't outscore Pacioretty any time soon. Landeskog for Ryan would be a toss-up for me, and Ryan is arguably the third best player Mick gave up. Landeskog is five years younger than Ryan, so I guess we can give him a slight edge. If I was rebuilding — like Mick is — that is the only way I'd consider Wennberg for Jagr as a 1-for-1 because Jagr should be nearing retirement (keywords, should be). I'm not sure what Wennberg's upside is or if he'll play in Columbus's top-six forwards but, worst-case scenario, he should be a serviceable 40-point guy in the future. Wennberg reminds me a little of Patrik Berglund in St. Louis, although I'm not sure that's a good thing. Before you scoff at that comparison, Berglund was a first-rounder, 25th overall in 2006, while Wennberg was selected 14th in 2013. Working through this trade, I see it as Mick getting the pick (potentially 14th) for Edler. Again, if I'm rebuilding, maybe I do that too. I'm starting to like the 2016 draft class more and more, so if you could pick a defenceman like Kale Clague or Dante Fabbro at 14th overall or perhaps a forward like Tyler Benson or Tyson Jost — apologies for the Western bias — then I'd make that move. But, and it's a big BUT, that still leaves Pacioretty and Staal unaccounted for. Larkin is going to be good, but he's going to have to be great in order for Mick to hold his head high in the fallout from this trade.
Kris Noble asked via email: I was offered Henrik Lundqvist, Joel Ward and Scott Hartnell for Andrei Vasilevskiy, Valeri Nichushkin and a first-round pick. Currently I'm in second place, so the first-round pick will hopefully be a late one and it is a keeper league. Should I accept or reject?
ANSWER: If you're going for it and need to hitch your wagon to a goaltender, there may be no one better than Lundqvist. Well, Carey Price fans would beg to differ, but you can't go wrong with either of them. Kris's goaltending would be nearly unbeatable with Lundqvist, considering he already has Tuukka Rask and Sergei Bobrovsky as former Vezina-winning starters. Lundqvist is the best of the bunch because he plays for the best team — goalie wins are worth two points and shutouts are worth five in this league. Vasilevskiy could be a future Lundqvist, he's got that all-world potential, but Kris is living in the present. He's in second place and he wants to cash in this season, so I think this is a deal worth making. It could have long-term implications if Nichushkin and the pick pan out, but Kris is thinking short-term here — he's in win-now mode. Hartnell and Ward will chip in offensively and give Kris a bit of a boost up front too, but they aren't necessarily keeper material. Perhaps they'd be worth hanging onto if shots on goal were a category, but the scoring system is simply one point for a goal or assist, two for a power-play point and three for a shorthanded point. Lundqvist will turn 34 in the spring, but I think he should be as good (or better) than Vasilevskiy for at least a couple more years. I see more reward than risk for Kris, so go ahead and welcome King Henrik to the fold — accept.
Kris also asked: Just wondering your thoughts on Jakub Voracek? Will he have a year like last year? It would be a trade centered around me giving Nikita Kucherov for Voracek. As an extension, would Ryan Nugent-Hopkins be worth offering for Claude Giroux in order to get them as linemates?
ANSWER: Voracek and Giroux got off to a slow start this season, but they are beginning to heat up a bit. Voracek finally scored his first goal of the season on Saturday — netting the overtime winner against Carolina — so that could should be a sign of things to come. Voracek only has seven points in 17 games ahead of facing the Kings tonight, which means he's on pace for five goals and 34 points if he plays all 82 games. He had a career-high 81 points in 82 games last season, including 22 goals. Prior to that breakout, Voracek's best total had been the year before, with 62 points, including a career-high 23 goals, also in 82 games. I think Voracek will finish closer to that total this season — closer to 62 than 81, but also closer to 62 than to the aforementioned 34. I think he'll pick up the pace and at least get into the mid-50s, so now is a good time to buy low on Voracek. That said, giving up Kucherov — who already has five goals and 10 points, after breaking out for 28 goals and 64 points last season — isn't exactly buying low. I'd say it's a pretty fair swap. As for getting Giroux, if you can get him for Nugent-Hopkins, that's probably a smart move too. They have both played 17 games and Nugent-Hopkins has a slight edge statistically with six goals and 14 points to Giroux's five and 11. But history suggests Giroux should pull ahead as the season progresses — he's surpassed 70 points on four occasions in his career, including 73 last season, and topped out at 93 points, while Nugent-Hopkins has produced 56 points in back-to-back seasons. I'm predicting a career year for Nugent-Hopkins if he can stay healthy — he's on pace for 68 points — but I wouldn't be the least bit surprised if Giroux caught up or outscored him the rest of the way. Giroux is on pace for 53 points but, like Voracek, I expect him to finish 10 to 15 points higher once he gets going. It takes a lot for me to say that, considering my perceived bias towards Oilers players, but as much as I want to tell you to stick with Kucherov and Nugent-Hopkins, all signs (and past statistics) are pointing to Voracek and Giroux. If you can buy low on them, it's probably a good idea. That said, in a keeper league, you also have to take age into consideration. Giroux is turning 28 in January and Voracek is 26, while Nugent-Hopkins and Kucherov are both only 22. For that reason, I might personally shy away from this trade, but if you polled 10 people — 10 fantasy "experts" — I bet at least six would tell you to pursue that 2-for-2 and especially to move Nugent-Hopkins for Giroux if possible.
THW reader Margo asked: Should I trade Tyler Toffoli or Patrick Sharp and Matt Duchene for Jakub Voracek?
ANSWER: Another person contemplating Voracek as a buy-low candidate. This time, I'm going to discourage it. Margo is in a single-season league, which changes the mentality a bit from a keeper, but either way, I think the asking price is far too steep here no matter how you look at it. I would strongly consider a 1-for-1 for any of those three, but I'd quickly reject any of those 2-for-1 combinations. The stat-lines are as follows, with games played, goals, assists and points: Voracek 17-1-6-7; Duchene 17-8-6-14; Sharp 18-7-8-15; and Toffoli 17-10-6-16. Yes, I think Voracek is going to pick it up (quite substantially) and I realize only their stats going forward count, not what they've already accomplished this season — but that's still an overpayment you want to avoid. Stick with the guys you've got, Margo — they're doing just fine thus far. If the other GM offers up Voracek for Duchene as a 1-for-1, then that's a deal you might want to take, but you definitely don't want to be throwing in Toffoli or Sharp.
THW reader Marin asked: Would you hold on to players like Wayne Simmonds and Matt Niskanen? Drop them or trade them even though their price is low? And who would you rather have on your team, Eric Staal or Dylan Larkin?
ANSWER: All good questions, Marin. Much like Voracek and Giroux, I do think Simmonds has more to offer and I'd wait it out on him. He's on pace for 14 goals and 43 points, but I think he'll end up with closer to 25 goal and 55 points. That would be in line with his past two seasons of 29 and 28 goals, 60 and 50 points. Referencing the previous question, if you can move Simmonds for guys like Toffoli, Sharp or Duchene, then go for it. But if the offers are more like Charlie Coyle, Craig Smith and Ales Hemsky, then you're better off giving Simmonds the benefit of doubt. Niskanen, on the other hand, I think you're safe to shop around. Niskanen has a bit of name value and he's not having a bad season by any means — on pace for 10 goals and 36 points, which would be up six goals and five points from last season. I'm not a huge fan of Niskanen's as a fantasy player, so I'd personally explore my options. Maybe you can swap him for a younger underachiever, somebody like Cam Fowler in Anaheim. I'd prefer Sami Vatanen or Hampus Lindholm from the Ducks, but I'd take any of those three in exchange for Niskanen and they all have fewer points than him at present. It's worth a shot. As for your other question — Eric Staal or Larkin — that's a tough one. In a single-season league, probably Staal. In a keeper, definitely Larkin. Their stat-lines are almost identical to this point in the season — Staal at 17-4-8-12 and Larkin at 17-4-7-11 — but Larkin just got bumped off Detroit's top line with the return of Pavel Datsyuk. He's no longer with Henrik Zetterberg and Justin Abdelkader, but he's still centering Gustav Nyquist and Tomas Tatar, so that's not a huge downgrade in linemates. Providing the rookie can develop chemistry with those talented wingers, I think Larkin can keep pace with Staal. But don't forget, this is a contract year for Staal — he's a pending unrestricted free agent next summer, playing for the last big payday of his career — so I expect Staal to have a big year. He could also get traded in real life if he's not close to an extension with Carolina by the deadline, so that could give Staal another boost for the stretch run in your fantasy season. For that reason, sticking with Staal might be your best bet in a single-season league.
Mike Hall asked via email: My defence at the moment consists of Erik Karlsson, John Carlson, Oliver Ekman-Larsson, Niklas Kronwall and Dougie Hamilton, but I need to make room for Duncan Keith coming off the IR. I feel Hamilton is my weakest D, should I trade him and Alex Galchenyuk for Jiri Hudler (which would really be Hudler and Keith for Hamilton and Galchenyuk)? Or keep Galchenyuk and trade Andrew Ladd?
ANSWER: First off, I really like Hamilton and wouldn't give up on him yet. If you can't hang onto him with Keith coming back — I'd still be tempted to keep Hamilton over Kronwall, personally — then I'd consider that trade, but I think as a 2-for-1 with Galchenyuk included, you could target a better forward than Hudler in return. I'd also rather part with Ladd the Galchenyuk, especially in a keeper league. I think Hamilton and Galchenyuk will pick up their pace, more so than Kronwall and Ladd, but that's a hunch more than a fact. If you're focused entirely on this season and not looking too much to the future, then Kronwall and Ladd might still combine to put up better numbers. It's tough to say. I do wonder what, or rather who, you could get if you traded Kronwall and Ladd in a 2-for-1 package for an upgraded forward? Could you still get Hudler? I'd rather do that deal. If you take a look at my big list of the top 400 fantasy forwards from prior to this season, I'd probably package Kronwall and Ladd for almost anybody in the top 108 — providing they are healthy, of course. (P.S.: That is one stacked defence corps you've assembled, well played sir).
Stefan Morrone asked on Facebook: I was offered Patrick Marleau and Kyle Okposo for T.J. Oshie, which I'm going to do. Problem is, I have to drop someone. The two candidates are Thomas Vanek and Jason Zucker. Which should I keep long-term?
ANSWER: I saved the toughest for last this week. I honestly don't know what to do here. My heart says Vanek. I've always liked him, dating back to his Buffalo Sabres days, and he's been racking up the points at an impressive rate this season — on pace for 36 goals and 67 points, which would be his highest goal total since 2008-09 and highest point total since 2010-11. But Vanek has been a bit injury prone and streaky in recent years, so is this hot start going to be sustainable? That's the question Stefan has to ask himself. My crystal ball says . . . maybe. On the other hand, you have Zucker, who is almost exactly eight years younger than Vanek and has matched his stat-line to this point in the season — Vanek at 16-7-6-13 and Zucker at 16-5-8-13. Vanek has two more goals, Zucker has two more assists. Vanek turns 32 in January, Zucker is just turning 24. Based on age and potential, I guess Zucker is the better keeper long-term. But based on pure ability, I'd prefer Vanek on my team — in real life and in fantasy. Go with your gut or just a flip a coin on this one, Stefan. Or if you want to go off my big list of the top 400 fantasy forwards heading into the season, then Vanek is your man because I had him ranked 88th and Zucker was way down at 182nd.
---
My Fantasy World
Keeper 1
A rough Sunday forced me to settle for a rare tie (3-3-4), thanks to Jonathan Toews' empty-net goal — the final goal of the week and Toews' first in six games. It was just one of those days, one of those weeks, where I wasn't getting the bounces. Earlier Sunday, Ryan McDonagh scored his third goal of the week to keep pace with my perennial MVP, Erik Karlsson.
Despite starting the day with a 5-3-2 lead, I had my doubts it would hold up considering my opponent had twice as many players going. On top of those two ringers, he had Dougie Hamilton and Jarret Stoll, while all I had left was world-beaters Jesper Fast and Matt Hunwick — neither of whom even registered a shot on goal, not that it would have mattered. I had a hefty lead in shots, although he rallied to within five (114-109) there.
When the dust settled, we were deadlocked in defence goals (4-4), forward goals (8-8), forward assists (10-10) and special-teams assists (3-3). He edged me in special-teams goals (3-2) and I got the upper hand in defence assists (6-4), but that gives you a sense of just how close this matchup was — a real nail-biter. Only a couple categories were lopsided, with his team dominating in penalty minutes (44-24), while my goalies posted a sparkling save percentage (.940-.891), yet he recorded an extra goalie win (3-2).
I'm really missing Carey Price between the pipes and his absence will likely prove costly this week. I'm leading the 20-team league with a .932 save percentage year-to-date, while my opponent is tops in wins with 20. I'm running a trio of backups in Vancouver's Jacob Markstrom, who lost last night, Buffalo's Linus Ullmark and Columbus's Curtis McElhinney. He's countering with Nashville's Pekka Rinne, San Jose's Martin Jones, the Islanders' Thomas Greiss and maybe even Ottawa's Matt O'Connor if he gets a start this week after getting recalled due to Andrew Hammond's injury. I don't like my chances in the goalie categories — or in general, to be honest. This could be a rough week for my team.
We're both hurting, with Price and yet-to-debut Patrik Elias on my IR, while he's without a handful of skaters in Zach Parise, Mark Streit, David Pastrnak, Brett Ritchie and Justin Fontaine. He'll miss out on some games played because we only have the two IR spots, but he's still icing a stacked roster, especially after acquiring Alex Ovechkin and Ryan Getzlaf in the same deal last week (stay tuned for the details of that trade).
Here's hoping Ovechkin will wait another week to break Sergei Fedorov's record as the all-time leading goal-scorer among Russian players. Wishful thinking, I know, but Ovi's pointless in three games since tying that mark (483 career goals). It looks like the Capitals will try reuniting Ovechkin with his longtime centre Nicklas Backstrom for Wednesday's game against the Red Wings, but that doesn't bode well for me either — you guessed it, he's got Backstrom too. At least I've got Sidney Crosby . . . ugh, yeah, he's also pointless in his last two games (prior to facing Minnesota tonight) and currently on pace for 44 points for crying out loud. Talk about a battle of struggling stars, but if either of them can break through, it could make a big difference in our matchup. Both have three games — Crosby against Minnesota, Colorado and San Jose, all at home in Pittsburgh; Ovechkin in Detroit, then home to Dallas and Colorado in Washington. You've got to like Ovi's chances of busting out of his mini-funk, considering he's got eight goals and 16 points in 15 games on the season to Crosby's two goals and nine points in 17 games.
Crosby's been a huge disappointment to fantasy owners far and wide, and he's now tied with Bobby Farnham in goal scoring this season. Bobby who? Farnham, the former Penguins' penalty-minute machine with their minor-league affiliate, who has since been claimed off waivers by New Jersey and actually scored his second in a 4-0 win over Pittsburgh this past Saturday. I sure didn't see that coming this season — Crosby and Farnham tied in goals at the quarter-pole. That calls for a Farnham tribute:
Farnham's a fun cat and he's already becoming a cult hero with the Devils, but hopefully he doesn't forget what got him there — and why he's on my roster in the first place, for the penalty minutes.
This is shaping up as a huge matchup this week. Not only is it Crosby-versus-Ovechkin, but my opponent and I are separated by a single point in the standings — I'm 10th and he's 11th, but we're really not that far back from the top of the pack. The leader has built up a nine-point lead on second place, but there is only 11 points between second and 11th. Despite being 10th, I'm only five points out of fifth place, seven out of third and 10 out of second. On the flip side, I'm also only five points up on 15th place and nine on 16th (the final playoff spot). So a lopsided win or loss really shakes up the standings from one week to the next, and so far almost any team can still beat any team in any given week. Fun times!
On the trade front, about two-and-a-half sellers have emerged among our 20 teams. The other 17 teams are still very much pushing for the playoffs. I finally made my first trade of the season on Saturday afternoon, perhaps a stroke of genius or at the very least a perfectly timed buy-low move.
INCOMING = Craig Smith
OUTGOING = Brad Boyes, my third-round pick and my free-agent signing
ANALYSIS: Smith had been struggling mightily — pointless in his last 10 games — and I noticed he had been benched for this full-slate Saturday in favour of Vernon Fiddler, among other less prominent names. So I sent the original offer of Boyes, who had been a healthy scratch in consecutive games but is a potentially cheap keeper, and my third-rounder. The other GM rejected but countered moments later, asking that I throw in the free-agent signing. That offer arrived in my inbox just prior to the puck drop between Smith's Nashville Predators and the Winnipeg Jets, and fortunately I didn't hesitate in accepting because he surely would have withdrawn in short order. By the end of the first period, Smith had a goal and two assists — a three-point performance, in an eventual 7-0 blowout win, that doubled his point total on the season. Smith only had three points in Nashville's previous 15 games and hadn't registered a point in almost a month dating to Oct. 17, but he broke out in a big way and looked more like the guy who has scored 23 and 24 goals in each of his last two seasons. Smith is on an expiring extension in this league, so hopefully he heats up now, considering I have him on both my keeper teams. That pick could be anywhere between 41st and 60th overall, but hopefully somewhere in the 50s. As for the free-agent signing, every team gets one to start the season — as a tradable asset — and it can be used to retain a reserve-draft pick or a waiver claim providing that player has suited up for 26 career games by season's end and has played a minimum of 10 games by our signing deadline, which is Jan. 27 this season (also our trade deadline). My current options were Fast, Elias, Farnham, McElhinney, Hunwick, Jakub Kindl, Tomas Jurco, Stefan Elliott, Kyle Clifford and Ullmark, who may not get to 26 games if demoted when Robin Lehner returns from injury. Besides, we're only able to keep two goalies and I already have Price and Markstrom on first-year contracts. Elias might retire after this season, so I was leaning toward Kindl unless Fast, Jurco or Elliott emerged over the next couple months. But, ultimately, I deemed my signing expendable as a means of upgrading from Boyes to Smith and I'm quite happy with that decision in hindsight.
Here's a look at the other trades from this league over the past week, including a couple of blockbusters:
INCOMING = Ovechkin and Getzlaf
OUTGOING = Vladimir Tarasenko and a second-round pick
ANALYSIS: This was quite the deal, for a number of reasons. It was a half-sell by the team acquiring Tarasenko, currently in 19th place and unlikely to make the playoffs. But our league is switching to a draft-lottery tournament to decide the top four picks in our 2016 rookie draft, so getting Tarasenko in return improves that team's chances of competing for the first overall selection, projected to be American power forward Auston Matthews. Tarasenko, who only turns 24 next month, is also locked up for two more years at a bargain salary in this league. Ovechkin has our league's highest salary and might be released to auction despite having one year left on his contract, while Getzlaf needs to be signed to an extension to be kept and he's getting expensive even for another year or two. The buyer in this deal has shifted into win-now mode and also greatly improved his chances of cashing in with the additions of Ovechkin and Getzlaf, regardless of whether he intends to keep them. Either way, this could be one of those win-win trades.
---
INCOMING = Henrik Lundqvist
OUTGOING = Anders Lee, Michael Dal Colle, Jack Campbell and a second-round pick
ANALYSIS: As mentioned in the Mailbag portion, if you're looking to bolster your goaltending, there is no better target than Lundqvist. This buyer added him to the Dallas tandem of Kari Lehtonen and Antti Niemi, giving him a formidable trio in net. Lundqvist has another year left at a reasonable cap hit, which gives him insurance with both Lehtonen and Niemi on expiring extensions and bound for auction. He also has Carolina's Eddie Lack as an extendable option, although he's been struggling so far with the Hurricanes, thus necessitating Lundqvist's acquisition. The return was pretty fair for this seller too, with Lee still having another year left on his cheap entry-level contract for evaluation before he'd require an extension. Dal Colle was a top-five pick two years ago for the Islanders and he's become a point-per-game prospect in the OHL with a good shot at representing Canada in the upcoming world juniors. Campbell is another former first-rounder (11th in 2010), but he's been a borderline bust to date and will be stuck in the minors for the foreseeable future behind that aforementioned Dallas tandem. The pick helps balance the deal, especially if Campbell amounts to nothing going forward.
---
INCOMING = Toews
OUTGOING = Mattias Ekholm, Anders Lindback, Mark McNeill, Felix Sandstrom, a first-round pick and a free-agent signing
ANALYSIS: I almost forgot Toews was acquired at the start of the week and, boy, did he ever deliver in the end for his new team. Granted, Toews only made up one point in the standings with his clutch empty-netter, but he pulled his new team into a tie for 14th place in the standings and should help continue that climb as the season progresses. Toews has also been a surprising source of penalty minutes this season — totalling 24, including two fighting majors already — but I wouldn't expect much more of that. Toews hadn't fought at all since the 2012-13 campaign and had never dropped the gloves more than once in a season until this year, bringing his career total to five scraps. His career-high for PIMs is 51, as a sophomore back in 2008-09, but he hasn't topped 40 in the five seasons since. With all that said, this seller probably took notice of the buyer's current place in the standings and likely targeted his first-round pick in hopes it remains a top-10 selection at season's end, which would seem possible. The prospect picked in that spot will become the real key to this deal. Ekholm is a decent blue-liner, but Lindback won't be a keeper, McNeill is trending toward bust territory, Sandstrom is a long-term goaltending prospect and free-agent signings don't have a ton of value in this league. Toews has another year left on his contract at a cap hit that matches his value, so he'll likely be a two-year addition and thus the bigger package. Was it an overpayment? Perhaps, but we'll have to wait and see how this buyer fares the rest of the way — whether he can crack the top five for regular-season money or cash in come the playoffs — and also await the prospect that pick turns into.
---
INCOMING = Matt Moulson
OUTGOING = Marian Gaborik
ANALYSIS: A swap of first-year contracts with similar salaries — Moulson is only a dollar more than Gaborik, so they both project as keepers for two more seasons. Gaborik is almost two years older, turning 34 in February, while Moulson has slightly better statistics so far at 17-4-3-7 to Gaborik's 17-2-2-4. It's a fair trade and maybe a change of scenery in fantasy will help these two get going in real life.
---
INCOMING = Craig Anderson
OUTGOING = Jonathan Bernier and a first-round pick
ANALYSIS: This trade came with a bit of controversy. You see, the CBS Sports fantasy app doesn't show which draft pick you're giving up and that GM claimed he meant to offer his second, rather than his first, with Bernier. He spoke up as soon as the deal was approved but, as commissioners, we couldn't reverse it based on human error — mainly because the offer was made 12 hours prior to be accepting, so it sat there plenty long enough for him to notice the mistake and withdraw. Instead, we suggested that he and the other GM strike a second deal to compromise, perhaps returning the first for the second and a prospect like Josh Ho-Sang or Ty Rattie, but so far they have agreed to disagree with some hard feelings. That's too bad, but this will go down as a live-and-learn experience for the GM who is now without a first-round pick (currently ninth overall). That said, Anderson should be a big upgrade on Bernier and he's a relatively cheap starter with two years left on his contract whereas Bernier is auction-bound on an expiring extension. Personally, Bernier and a second was probably fair value, but if Anderson plays up to his potential and doesn't lose his starter's job to Hammond or O'Connor, then he should help keep that pick to a mid-first. Assuming Anderson does become a keeper for his new team, that's not such a bad deal.
---
Keeper 2
I pulled off another big 'W' here, prevailing over a division rival that was ahead of me in the standings and outscoring my team by a substantial margin year-to-date (843.5-738.0). He ended up having a down week and I got above-average output from most my key guys to help me come out on top (185.1-152-2). I had eight players with at least 15 total fantasy points whereas my opponent had only two — and my top producer (Cody Franson, 26.3) also outpointed his leader (Corey Perry, 23.7).
That victory improved my record to 4-2 on the season and pulled me into a tie with that opponent for third in our division. The top two teams are also tied, at 5-1, but they will likely stay ahead of us based on superior rosters — be it top-end talent or overall depth. I'll have to play each of them twice in the regular season, having already lost to one in our shortened season opener (152.0-125.3). I'll get my first look at the other frontrunner next week — that being Luc, who boasts Price, Crosby, Evgeni Malkin, John Tavares an John Klingberg as his go-to guys. My biggest name is probably Erik Johnson or Hampus Lindholm on defence, or perhaps Lehtonen in goal. Up front, a rookie is leading the way for me in Artemi Panarin, while Smith and Mika Zibanejad will have to be my answer to Crosby and Malkin (yikes, I know). I'll need all the luck I can get in that matchup, especially with Brandon Dubinsky sidelined for 2-3 weeks with an upper-body injury. Dubinsky is currently my third-best forward and seventh-best player overall, totaling 66.3 fantasy points to rank behind Panarin (98.1), Johnson (78.0), Franson (72.3), Lehtonen (72.4), Zibanejad (69.7) and backup goalie Michal Neuvirth (69.0).
I've got my hands full this week too, against a 5-1 team from another division that got off to a good start and sizable lead (37.1-8.1) on Monday night. Despite this opponent missing Evander Kane, Jaden Schwartz and Robin Lehner to injury, he's still a very formidable foe with no fewer than eight forwards better than my second-best in Brendan Gallagher (119.1), Matt Duchene (88.5), Brad Marchand (88.0), David Desharnais (83.7), Ryan O'Reilly (83.5), Jason Spezza (82.4), Ryan Johansen (74.2) and Eric Staal (74.1). I'm stronger on defence and in goal, but I'm definitely the underdog again here. It wouldn't be at all surprising if I'm back to .500 (at 4.4) in two weeks time, but wish me luck — I'll need it!
Shockingly, there wasn't a single trade in this last week. Luc didn't even make any moves. It's normally the busier of the two for trade activity, so I don't expect this stand-pat trend to continue ahead of next week's Mailbag.
---
Do you have a question for the Fantasy Hockey Mailbag? You can reach out to me in the comments section below, by email at larry.fisher31@gmail.com, or on Twitter: @LarryFisher_KDC.
Larry Fisher is a sports reporter at The Daily Courier in Kelowna, British Columbia, Canada, and has been an at-large contributor for The Hockey Writers since August 2014.