The Mailbag is back! It may not be a weekly column this season — perhaps biweekly or monthly — but I'll once again be fielding your questions on all things fantasy hockey and doing my best to provide advice and insight that will help, not hinder your teams.
I will also be keeping you in the loop on my leagues, which include two keepers — one entering its seventh season with an auction to come on Oct. 8, and the other a dynasty format with limited roster turnover from year to year — as well as a couple box pools. The first of which is for the World Cup of Hockey, with team submissions due tomorrow — selecting 10 forwards, four defencemen, and three goaltenders. I'm going heavy on Canadian and North American players, but I'll wait until the next column to reveal that roster.
For this column, I'll start off with the question I seem to be getting the most this fall . . .
Where to take Connor McDavid? Top 10? Top 5? First overall?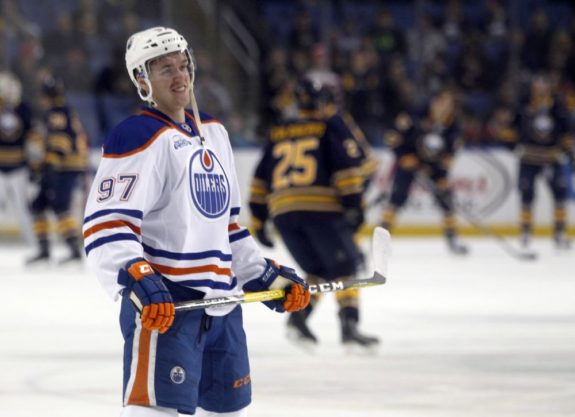 ANSWER: In a points-only league, I would pick McDavid third overall behind only Sidney Crosby and Patrick Kane. Crosby racked up the most points after the calendar flipped to 2016, but Kane held him off to win the Art Ross Trophy as the league's leading scorer last season. Both those guys are in their prime, so you have to give them the benefit of the doubt.
After that, it's a crapshoot and McDavid did produce the league's third-highest point-per-game pace, albeit in a limited sample size as a rookie last season. McDavid put up 48 points in 45 games and is talented enough to double that total over 82 games as a sophomore. Yes, I believe McDavid is capable of topping 90 points and possibly even getting into triple-digits.
McDavid's fantasy upside is through the roof, so I wouldn't think twice about taking him over the likes of Jamie Benn, who finished second (behind Kane) in points-per-game last season and won the Art Ross with 87 points the previous year. Benn would still be in my top five — he is coming off a career-high 89-point campaign — but he missed the World Cup to further recover from a core muscle surgery in the offseason. Benn's running mate in Dallas, Tyler Seguin, had to pull out of the World Cup too after hurting his ankle in a pre-tournament game. Both those Stars are supposed to be ready for the start of the regular season and Seguin would be right up there near the top of my rankings as well, along with some of the other usual suspects like Alex Ovechkin, Evgeni Malkin, and Erik Karlsson.
All things considered, I'd take my chances with McDavid at third overall. That would obviously be a controversial pick and a bit of a bold one, but I'm not alone in being that bullish on McDavid's potential to contend for the Art Ross this season.
Sidney Crosby leads my list of projected Top 300 scorers: https://t.co/9efISKrE9u pic.twitter.com/tTig1HZofn

— Scott Cullen (@ByScottCullen) September 12, 2016
Mike Hall asked via email: What are your thoughts on the Dobber fantasy rankings and which site (Yahoo, ESPN, TSN, CBS) would you say is usually more accurate with their rankings?
ANSWER: First off, it's always best to take the time to come up with your own personal rankings. Remember that these rankings are just the opinion of one person or a small group of people and that they are generally applicable only to standard rotisserie leagues. Every league is different in its format and scoring system, so my advice to fantasy players is to use these rankings only as a guideline and to customize a list specific to your league and to your liking.
In years past, I have published THW's Big Lists ranking fantasy forwards, defencemen, and goaltenders, comparable to what Dobber, Yahoo, ESPN, TSN and CBS put out annually. Unfortunately, other projects prevented me from continuing that series for this season, but my rankings were usually quite different from the other sites. Again, just one person's opinion and nobody sees the game the same.
Position-by-position NHL fantasy rankings: https://t.co/ZrEnaKHrVA pic.twitter.com/6dJAG8dgAy

— Scott Cullen (@ByScottCullen) September 14, 2016
Sometimes I shake my head at the rankings that those sites publish, but they probably do the same if and when they see mine. I do tend to prefer TSN, Dobber and even the NHL Network/NHL.com's rankings over the other three, but I'm never a huge fan of any of them. I typically think mine are better, as do they about theirs. To each their own, really.
Again, that's the key here — coming up with your own. Compare all the rankings side by side or in a spreadsheet and adjust according to personal preference. Pre-ranking players is a big part of fantasy hockey, but stick to your list when the draft starts, and that way at least you'll be happy with your picks at the end of the day.
Steve Hornbeck asked on Twitter: Can you review my Jimmy Vesey trade and tell me whether you think I made the right move?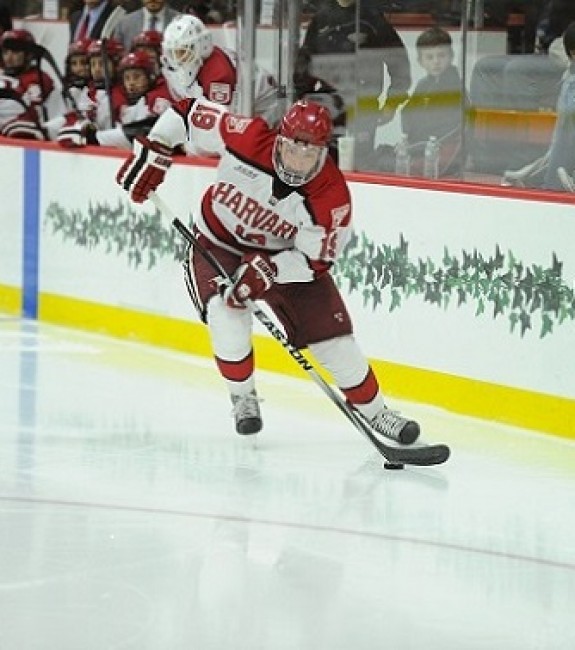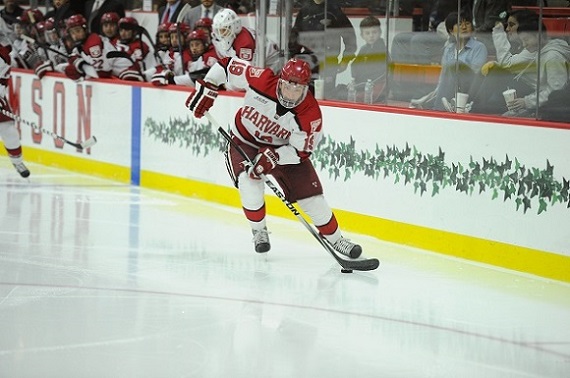 ANSWER: Vesey was actually traded in both of my keeper leagues immediately after signing with the Rangers. Apparently, his former owners weren't thrilled with that landing spot. Here's what the Hobey Baker winner returned:
Trade One
INCOMING = Jimmy Vesey, Anthony Beauvillier, Nikita Gusev, a first-round pick (top 8) and a second-round pick
OUTGOING = Matthew Tkachuk, Chris Tierney, Reid Boucher and a first-round pick (8-18 range)
ANALYSIS: This was Steve's trade, and he's the guy acquiring Vesey here. It's a complicated deal with many moving parts but, at first glance, it looks fair enough to me. I'll be honest with Steve, I prefer Tkachuk to Vesey long-term and perhaps even for this season.
Vesey is an older prospect — he's already 23, Tkachuk won't turn 19 until December — so he should make a bigger impact as a more mature rookie. However, there is a possibility that Tkachuk will be paired with Sam Bennett and I could see them becoming a dynamic duo for the Flames from the get-go, more so than anybody the Rangers have to complement Vesey.
Tierney and Boucher are closer to making an NHL impact than Beauvillier and Gusev, but Beauvillier could be the best of that bunch. As a 2-for-2, it's probably a saw-off, but I'll give a slight edge to Steve there.
This deal could very well be decided by those draft picks, depending which prospects are selected in those spots once our 2017 rookie draft rolls around next June. I'm assuming that top-eight pick will end up being top five and quite likely top three. So that could turn into a stud with even better upside than Tkachuk, which would tilt this transaction in Steve's favour.
Long story short, I wouldn't have given up Tkachuk to get Vesey — I wouldn't have done that swap straight up — but getting that top-eight pick thrown in could prove to be quite the coup for Steve. Well played on that front, and getting the extra second-rounder is just the icing on the cake.
Trade Two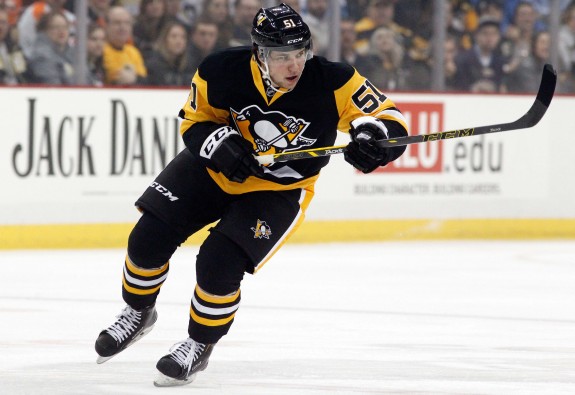 INCOMING = Jimmy Vesey and Brendan Lemieux
OUTGOING = Derrick Pouliot, Travis Konecny, and Jacob Larsson
ANALYSIS: This deal went down in my other keeper and also appears fair at face value. Pouliot had already surpassed our games played limit for prospects, so he'll take up a roster spot through the auction, which negatively impacts his immediate value at least a little.
Pouliot is still cheap, though, entering the final year of his entry-level contract before needing an extension and a raise next summer. Assuming he'll have a bigger role in Pittsburgh this season, Pouliot could turn into a long-term keeper and be a big boost to that team's defence going forward.
That was the reasoning behind this trade, with one team wanting to upgrade its defence and willing to sacrifice Vesey to accomplish that. Larsson is a decent defence prospect too, and Konecny is a better forward prospect than Lemieux, though I believe the latter is underrated as well.
I probably prefer the return for Vesey here — I'd rather have Pouliot and Konecny if you consider Lemieux and Larsson a wash. Then again, I'd rather have Lemieux than Larsson, and if Vesey lives up to the hype that his free agency generated, this trade could still go either way.
Kyle Hipwell asked via email: I'd like help with my draft plan. Can you tell me a few targets for each pick number and what you would consider an "ideal" draft for my team?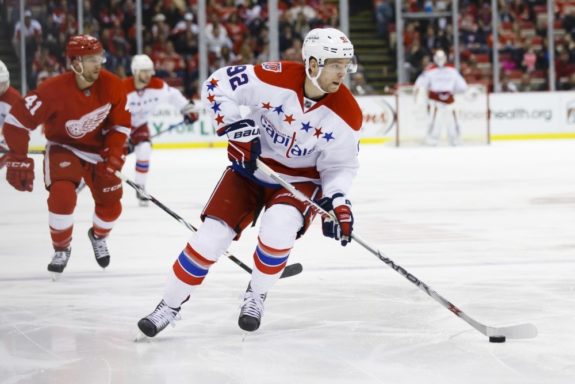 ANSWER: There were a ton of back-and-forth exchanges factored into this response. I had to obtain a lot of background information from Kyle that I'll be omitting here. What you need to know is that his 14-team league only permits four keepers each from one season to the next.
Kyle is keeping four forwards in Evgeny Kuznetsov, Taylor Hall, Nate MacKinnon and Max Pacioretty. He is also carrying over Max Domi as a rookie keeper. Not every team is protecting a rookie, but there will be upwards of 70 keepers in total — somewhere between 56 and 70 to be exact.
Forwards have the most value of any position — thus the reason Kyle is keeping five of them — and the scoring system is convoluted but values goals more than assists (worth three points to two), so keep that in mind.
Kyle owns nine picks going into his 10-round draft. He's missing a second-rounder, having traded it away, so he'll pick 10th in the first round and then not again until 37th in the third round. From there, he'll pick in each of the remaining rounds at Nos. 55, 60, 75, 94, 103, 122 and 131.
Kyle's roster has room for two more forwards, two defencemen, one goaltender and four bench players of any position. Kyle provided me with a pool of available players and I ranked them by position, with plans to prioritize with each pick rather than necessarily taking a best-player-available approach.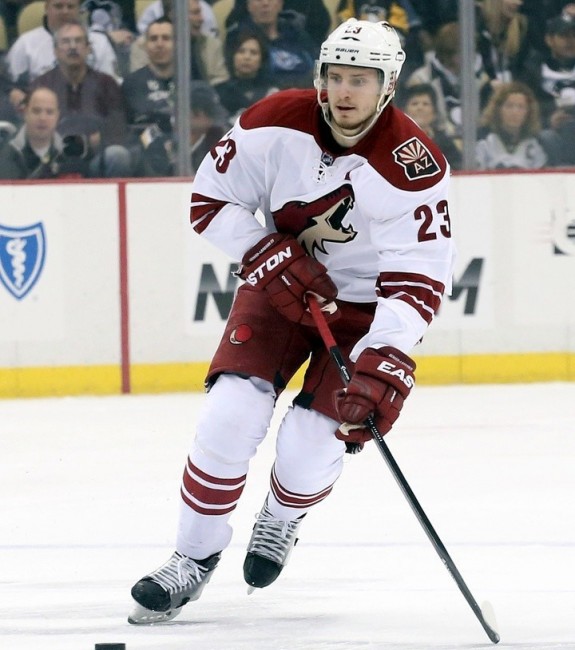 At No. 10, you have to go BPA, with Kyle and I already discussing this pick at length. The plan is to take Oliver Ekman-Larsson if he's still on the board. Failing that, with the entire 2016 draft class being eligible, Kyle might consider going young with this pick. He's assuming that Auston Matthews and Patrik Laine will be long gone, but Jesse Puljujarvi, Matthew Tkachuk, and Pierre-Luc Dubois might be lingering at No. 10 and could be worth picking even if they don't debut until next season.
Kyle can convert Domi to a regular keeper following this season, replacing Pacioretty, and opening up his rookie spot for one of those three. However, if Kyle wants to win now, which he does, then he could grab a goalie at No. 10 if Braden Holtby or Carey Price happen to fall that far. Even Martin Jones or Corey Crawford could be tempting there.
The forward pool isn't as strong because most of those 56 standard keepers are a who's who of the league's best forwards. There should be plenty of quality second-tier forwards available in the later rounds, so I'd hope for Ekman-Larsson at No. 10 or go with a goalie, preferably Holtby or Price unless Matthews or Laine get overlooked.
At No. 37, it depends on who Kyle took at No. 10. Let's assume he got lucky and landed Ekman-Larsson. In that case, I'd go goalie at No. 37 as long as one of the following were available: Jones, Crawford, Ben Bishop, Pekka Rinne or Jonathan Quick. Any of those guys would be a good pick in the third round and I'd rank them in that order based on the categories in Kyle's league.
However, if Kyle already got his goalie at No. 10, I'd go defence here instead. A lot of the bigger-name blueliners will be going in the top 35, but if John Klingberg or Tyson Barrie were still available, that would be a no-brainer for me. If they are gone, I might consider reaching a bit for Rasmus Ristolainen, Sami Vatanen, Aaron Ekblad or Justin Faulk in that order. So one way or the other, I would be going D-G or G-D to start Kyle's draft at Nos. 10 and 37.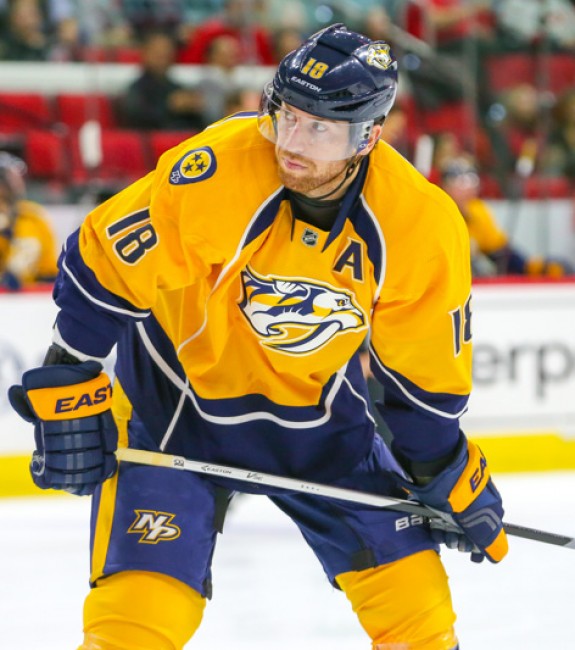 At Nos. 55 and 60, let's plug those two forward holes with some goal-scorers. If by some miracle, Bobby Ryan, Kyle Okposo or Milan Lucic are still available, I'd grab one or two of them. Based on my running draft here, that trio is off the board in the top 50. James Neal is lingering on my list, so are T.J. Oshie, Patric Hornqvist, Brandon Saad, Alexander Radulov and Gustav Nyquist or Tomas Tatar. Radulov is obviously a boom-bust guy, but Kyle should be able to target two of these forwards for Nos. 55 and 60. Again, if Ryan, Okposo or Lucic are options, you take them ahead of this group.
At No. 75, Kyle may as well fill his other defence hole before moving on to the bench. There should be lots of options left on D, with Dougie Hamilton, Seth Jones, Morgan Rielly and Hampus Lindholm jumping out at me as younger guys, while Alex Goligoski and Mike Green could be intriguing veterans in this range. Kyle might be able to take his pick of those six.
With four bench spots remaining for Nos. 94, 103, 122 and 131, I'd start by taking a look at the leftover goaltenders. Kyle will already have a legit starter, so maybe a second goalie isn't a necessity at all and he could load up on three or even four more forwards. However, I'd give that second goalie some consideration at No. 94.
Sergei Bobrovsky is looking sharp heading into the World Cup and if he's not taken, that could Kyle the best tandem in his league. If Robin Lehner appears healthy when Kyle's draft takes place, I'd consider him at No. 94 too, along with fellow up-and-comers Connor Hellebuyck, Andrei Vasilevskiy and Jacob Markstrom. All those guys could be steals this season, but Kyle could hold off on them and hope they fall further.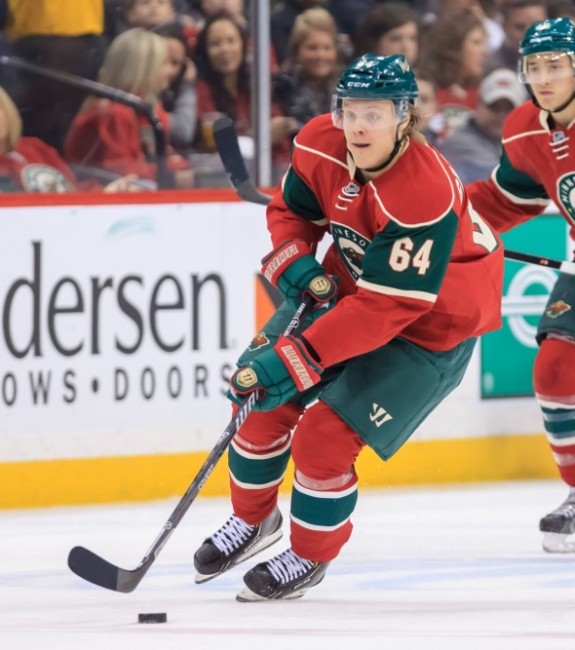 So, if not Bobrovsky, I'd probably grab a forward at No. 94 with the likes of Mikael Granlund, David Pastrnak, Tomas Hertl and Mika Zibanejad catching my eye. If Kyle could snag two of them at Nos. 94 and 103, they could provide some nice depth scoring.
At No. 122, if Kyle didn't get Bobrovsky and one of those young goalies were available, I'd go that route with Lehner, Hellebuyck, Vasilevskiy or Markstrom in that order. If Bobrovsky is on Kyle's roster, then I'd just go BPA for Nos. 122 and 131.
Some potential sleepers that I like include Jakob Silfverberg, Ryan Strome, Nino Niederreiter and Joonas Donskoi as younger forwards, or Marian Gaborik, Thomas Vanek and Clarke MacArthur as veterans.
Kyle might also want to add another defenceman like Ryan Murray, Matt Dumba or Noah Hanifin too. Or if Kyle wanted to roll the dice on another prospect at No. 131, Mikko Rantanen, Kyle Connor, Oliver Bjorkstand, Sebastian Aho, Anthony Mantha, Frank Vatrano, Timo Meier, Pavel Zacha, Jimmy Vesey and Michael Dal Colle are all intriguing rookies who could/should debut this season.
To recap, this would be my ideal draft for Kyle's team:
10 — Ekman-Larsson/Holtby/Price/Jones/Crawford
37 — Jones/Crawford/Bishop/Rinne/Quick/Klingberg/Barrie/Ristolainen/Vatanen/Ekblad/Faulk
55 — Ryan/Okposo/Lucic/Neal/Oshie/Hornqvist/Saad/Radulov/Nyquist/Tatar
60 — Ryan/Okposo/Lucic/Neal/Oshie/Hornqvist/Saad/Radulov/Nyquist/Tatar
75 — D. Hamilton/S. Jones/M. Rielly/H. Lindholm/Goligoski/Green
94 — Bobrovsky/Granlund/Pastrnak/Hertl/Zibanejad
103 — Granlund/Pastrnak/Hertl/Zibanejad
122 — Lehner/Hellebuyck/Vasilevskiy/Markstrom/Silfverberg/R. Strome/Niederreiter/Donskoi/ Gaborik/Vanek/MacArthur/R. Murray/Dumba/Hanifin
131 — Silfverberg/R. Strome/Niederreiter/Donskoi/Gaborik/Vanek/MacArthur/R. Murray/Dumba/Hanifin/ Rantanen/Connor/Bjorkstand/Aho/Mantha/Vatrano/Meier/Zacha/Vesey/Dal Colle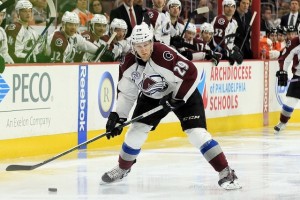 That would leave Kyle with the following roster:
Forwards
Kuznetsov
Hall
MacKinnon
Pacioretty
Domi
Ryan/Okposo/Lucic/Neal/Oshie/Hornqvist/Saad/Radulov/Nyquist/Tatar
Ryan/Okposo/Lucic/Neal/Oshie/Hornqvist/Saad/Radulov/Nyquist/Tatar
Defencemen
Ekman-Larsson/Klingberg/Barrie/Ristolainen/Vatanen/Ekblad/Faulk
Hamilton/Jones/Rielly/Lindholm/Goligoski/Green
Goaltender
Holtby/Price/Jones/Crawford/Bishop/Rinne/Quick
Bench
Bobrovsky/Granlund/Pastrnak/Hertl/Zibanejad
Granlund/Pastrnak/Hertl/Zibanejad
Lehner/Hellebuyck/Vasilevskiy/Markstrom/Silfverberg/R. Strome/Niederreiter/Donskoi/ Gaborik/Vanek/MacArthur/R. Murray/Dumba/Hanifin
Silfverberg/R. Strome/Niederreiter/Donskoi/Gaborik/Vanek/MacArthur/R. Murray/Dumba/Hanifin/ Rantanen/Connor/Bjorkstand/Aho/Mantha/Vatrano/Meier/Zacha/Vesey/Dal Colle
That looks like a potential winning lineup to me. Hopefully Kyle would be just as happy with those results, and hopefully, he can pull it off in real time.
---
My Fantasy World
Keeper One
In this league, we are allowed to keep a maximum of 15 and must keep a minimum of five contract players from one season to the next. We then fill out our 20-man active rosters (12 F, 6 D and 2 G) in the auction, with an eight-round reserve draft to follow, which serves as our bench players.
Our keeper deadline was earlier this month and I kept a total of 12 (6 F, 5 D, 1 G). I won't have much money left for the auction and will be bargain-bin shopping to buy eight more players (6 F, 1 D, 1 G).
My current roster is as follows:
Forwards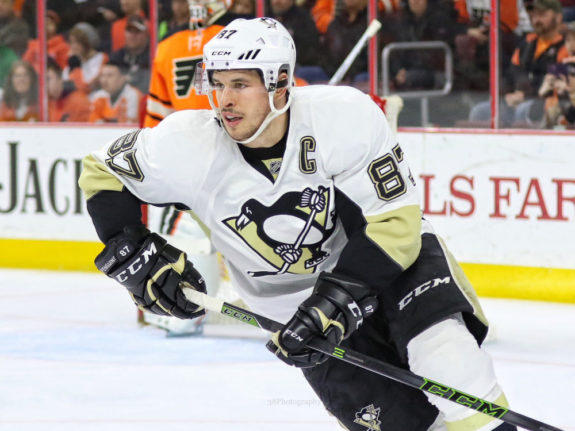 1) Sidney Crosby
2) Ryan Nugent-Hopkins
3) Mikael Granlund
4) Nail Yakupov
5) Radek Faksa
6) Joel Armia
Defence
1) Erik Karlsson
2) Ryan Murray
3) Jacob Trouba
4) Adam Larsson
5) Chris Wideman
Goalies
1) Carey Price
I also own these 17 prospects: Daniel Sprong, Michael Mersch, Nikita Scherbak, Jansen Harkins, Alexander Nylander, Jordan Kyrou, Pascal Laberge, Artur Kayumov, Cam Morrison, Slater Koekkoek, Gustav Forsling, Samuel Girard, Ethan Bear, Caleb Jones, Laurent Brossoit, Anton Forsberg and Daniel Vladar.
All in all, I'm in decent shape but would need to stay healthy and get my share of luck to finish in the top-five payout positions. More likely, I'll end up as a seller sooner than later, with Karlsson, Nugent-Hopkins, Granlund and Yakupov on expiring contracts this season, while Crosby and Price could fetch massive returns with another year remaining on their current deals. I could really reload if I could that route and sell off, but I'll try to be patient and take a wait-and-see approach while evaluating my team through the first five weeks of the NHL season. Who knows, it might make sense to be a buyer come Christmas.
---
Keeper Two
The most exciting aspect of this league heading into the season is the divisional realignment. After years of lopsided matchups week in and week out, the league has been divided into three divisions based on last season's standings — and now we only play our divisional rivals in weekly head-to-head matchups, which should promote parity from top to bottom and make every week a battle for every team. No more blowouts, just nail-biters. Fun times ahead!
My team is in the midst of a rebuild and thus resides in the bottom-feeder division. However, I see a lot of upside in this group for the years to come:
Forwards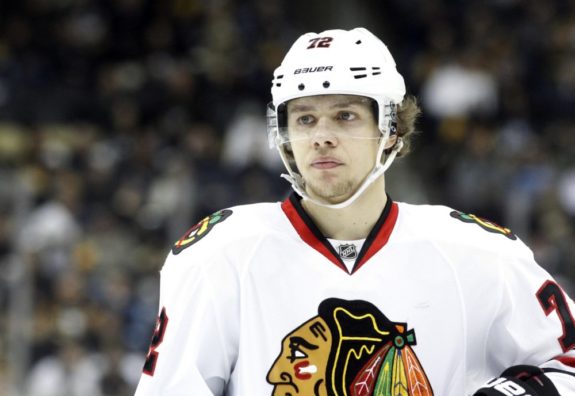 Artemi Panarin
Frank Vatrano
Michael Mersch
Tomas Jurco
Sam Gagner
Bryan Rust
Magnus Paajarvi
Emerson Etem
Joffrey Lupul
Tanner Kero
Defencemen
Dan Boyle
Nikita Nesterov
Philip Larsen
Andrew MacDonald
Jakub Kindl
Patrick Wiercioch
Goaltenders
Michael Hutchinson
Linus Ullmark
Prospects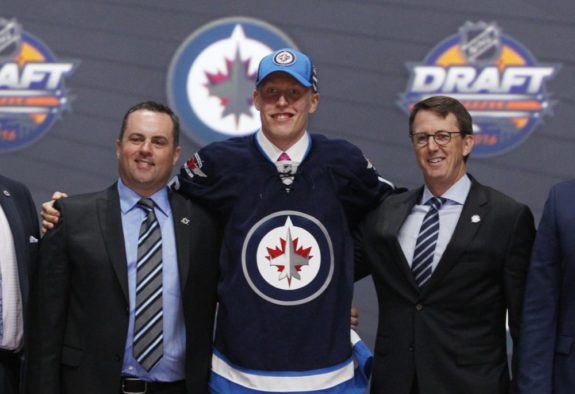 Patrik Laine
Jesse Puljujarvi
Tyler Benson
Christian Fischer
Dmytro Timashov
Artur Kayumov
Michael McCarron
Tyler Bertuzzi
Artturi Lehkonen
Michael Matheson
Tony DeAngelo
Gustav Forsling
Jeremy Roy
Travis Dermott
Brandon Davidson
Zachary Fucale
Carter Hart
As you can see, this roster is hurting in the present but poised to contend in the future. I look forward to climbing the standings with every passing season. Stay tuned!
---
Do you have a question for the Fantasy Hockey Mailbag? You can reach out to me in the comments section below, by email at larry.fisher31@gmail.com, or on Twitter: @LarryFisher_KDC.