It was a woeful start of the year for the Philadelphia Flyers, they couldn't score and they couldn't win. The obvious result was that their top line was non-existent in terms of fantasy hockey. The likes of Claude Giroux and Jakub Voracek made little to no contribution. Lost in this snail-like start, was the disappearance of the usually reliable Wayne Simmonds.  In October alone, Simmonds had only one goal to go along with four assists, and was a terrible -7. While his numbers did improve slightly in November (4g, 4a, -1), it was still nowhere near his career average.
Everybody Loves the Holidays:
Here are Wayne Simmonds' numbers since December 7: (18-10-8-18, plus-6, 31 PIM, 5 PPPts). #Flyers

— Dobber (@DobberHockey) January 14, 2014
It was really only when the team made its turnaround that Wayne Simmonds began to reemerge as a valuable fantasy asset. In his last 13 games, Simmonds has scored 10 goals, and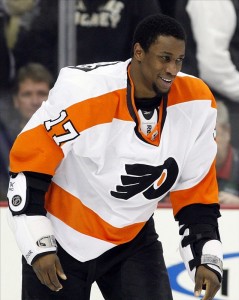 added 5 assists, to go along with a solid +4 rating. Although the numbers he is currently putting up are far and above higher than his career number. It is a sign that he is certainly playing a much higher level of hockey. It is important to combine this with his other stats, especially for those of you who are in multi-category leagues. His penalty minutes have remained consistent at about five a week, which is valuable for any league that counts them. He also has 67 hits, which puts him on pace for 119. There are very few players in the league that can contribute in so many different categories, and Wayne Simmonds is certainly one of them. It seems as though, he has caught the same wave his team has, as when they are winning he plays significantly better. If he can continue on this run of scoring, while maintaining his contributions to the other categories, he his certainly a force in any league, and is a must-own in the deeper leagues no matter what the categories are.