In another edition of the The Hockey Writers fantasy news, we'll take a look at some of the latest stories out of the hockey world and how they will affect fantasy owners across all types of leagues.
From dailies to weeklies and even those panicking keeper league owners, this short list of news clippings will help everyone in their quest for fantasy glory. With that in mind, here's a look at how the news stacks up today.
1. Fantasy Fluctuation: This Week's Biggest Risers & Fallers (Dustin Nelson at The Hockey Writers)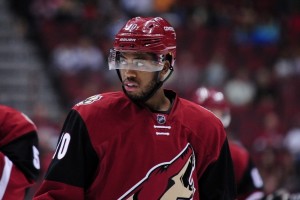 In one of the newest weekly pieces by Dustin Nelson at THW, he gives owners a quick glance at some of the biggest adds and drops over the previous week according to ESPN's fantasy hub.
In this week's edition, two Arizona Coyotes find themselves on the rise while a couple Predators were preyed on by the wonderful 'drop' button. While the type of the league and the different types of roster spots (including the existence of injury reserves) do play a role in these significant numbers, it's always helpful to join the popular crowd in the transactions they seem to thing will help their fantasy clubs.
2. Fantasy top 100 forwards: Injury replacement options (Pete Jensen at NHL.com)
Are you struggling with injuries on your fantasy team? Are there just not enough IR spots on your rosters to fit the growing number of wounded? If that's the case, this might just be a good article for you to check out.
Not only just Pete Jensen offer up the top 100 forwards, he's throws in some thoughts on who should be filling those empty forward spots on your fantasy league rosters. Barkov (2-4 weeks) and Evander Kane (4-6 weeks) are two of the latest that've been added to the long list of stars missing in action.
With that in mind, Jensen has some fillers for those empty spots. So if you're in need of a part-time fix, check out the latest from the NHL fantasy correspondent.
3. How John Tortorella to Columbus Affects Your Fantasy Team (Dan Mount at The Hockey Writers)
If you're anything like me, you've been looking at those Blue Jackets on your fantasy roster cringing every time they step on the ice. Here come the minuses. There goes the chance at moving up in your league standings.
But how does the addition of John Tortorella fuel the increase in value of your Columbus players? Some might think that he's anything but a great add for the club. Others might start smiling at the idea of Blue Jackets in their lineup.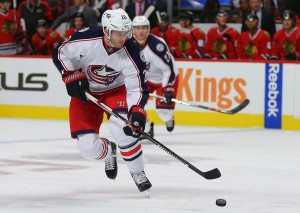 Either way, you might want to check out the latest from Dan Mount at The Hockey Writers as he takes a closer look at just what we're talking about – how will Torts help or hinder the underperforming Jackets?
4. Fantasy Hockey Mailbag: Injuries Taking Toll, But No Time to Panic (Larry Fisher at The Hockey Writers)
Finally, with all these injuries starting to pile up for the leagues big guns, Larry Fisher explains that it's not time to panic as a fantasy owner. Sure, there's never a bad time to start making changes, but don't be afraid to sit back and see how your players start to pick up their play as the season progresses.
While our livelihoods (as fantasy owners) don't rely on the success or demise of our fantasy teams, we should remember that finding the best value available could be worth moving any player at any time so long as it helps your team.
In Fisher's latest edition of the THW's Fantasy Mailbag, he discusses possible prospect choices in dynasty leagues, the possibility that it may never be too early to make changes and answers readers' questions regarding trades in their fantasy leagues.
For more fantasy hockey news, follow @TheHockeyWriter or @AndrewGForbes on Twitter.