The 2016 World Junior Championships wrapped up on Tuesday as Finland topped Russia to claim the gold medal. The tournament, as we have come to expect, was a tremendous commercial success, the attendance numbers setting a European record. Good luck to anyone breaking the Canadian record by the way, besides, of course, the Canadians.
On the ice, the level of play was as high as ever, the parody in international hockey spreading across Europe like a cross-ice pass. For evidence of this, look no further than Team Canada, erstwhile kings of the WJC, who finished sixth this year in Finland. (Now, hysteria spreads across Canada, not so much like a cross-ice pass but a bench-clearing brawl.)
But let's narrow our focus to Brooklyn, and look at the three Islanders' prospects who played in this year's tournament. And, because we can, let's slap grades on their respective performances and send home report cards – but remember: these kids all deserve A's because they are better at hockey than you, me and anyone else in the world their age. Imagine that…
Linus Soderstrom, Goalie, Team Sweden  
Soderstrom, a fourth round pick by the Islanders in 2014, made quite a name for himself in Finland. After finishing the WJC with a 4-1 record, .947 save percentage and 1.42 goals against average, Soderstrom was named the tournament's best goalie.
His team bowed out to Finland in the semifinals, 2-1, though not before Soderstrom, all 6'4 of him, had bored his way into shooters' heads like an unshakeable nightmare. Team USA, who fired 46 shots at Soderstrom in a 1-0 loss, may still be checking under their beds for the swindling Swede.
Soderstrom plays his club hockey for Vita Hasten of Sweden, where his record – 4-8-0 – lets down his otherwise sterling stat-line: .927 save percentage, 1.90 goals against average, three shutouts.
Final Grade: A+
Mathew Barzal, Center, Team Canada
Barzal was the Islanders' first selection in last year's draft (#16 overall), and has certainly justified the hype so far in the WHL. The 18-year-old center leads his Seattle Thunderbirds in assists (34) and points (43) through 25 games of the 2015-16 season.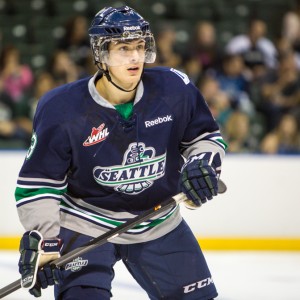 In Finland, Barzal didn't find it quite as easy. He started fast, with a goal and an assist in Canada's opening game against Team USA, but added just one goal in the next four games. Team Canada pretty much struggled across the board, though, and Barzal's three points were tied for third most on the team. (So we'll grade him on a curve.)
For what it's worth, Barzal began the tournament on the team's fourth line and was eventually promoted to third-line duties in Canada's quarterfinal game against Finland. That reflects well on his work ethic and "coachability," but it's hard to imagine Barzal wasn't disappointed with his total output after that strong first game.
Final Grade: B-  
Anthony Beauvillier, Left Wing, Team Canada
Like Barzal, Beauvillier was taken in the first round of the 2015 entry draft (#28 overall), and like Barzal, he struggled to produce in the WJC. The left-winger scored his lone goal – and lone point – in Canada's 6-1 win over Denmark in their second game of the tournament.
From there, he was held off the scoresheet, though he was also promoted to the third-line with Barzal. In fact, the two Isles' prospects played together for all of Canada's five games, which means, of course, they will always play together in the NHL. Right?
Beauvillier plays for the Shawinigan Cataractes of the QMJHL where he has posted 17 goals and 41 points through 21 games this season.
Final Grade: C