In their Oct. 6 season opener against the Tampa Bay Lightning, Florida Panthers goaltender Roberto Luongo went down with an injury around the 32-minute mark. The result of teammate Frank Vatrano falling on him, Luongo left the game with a lower-body injury. Since then, he has been diagnosed with an MCL strain in his right leg and the Panthers placed him on injured reserve. He is expected to miss two to four weeks.
With Luongo sidelined up to a month, what does this mean for the Panthers, a team that has aspirations of returning to the postseason after a two-year absence?
Reimer and Hutchinson's Time to Shine
After Luongo was removed from the game, his backup/platoon mate James Reimer finished the game. Prior to his injury, Luongo had stopped all 13 shots he faced and was riding a shutout through a period and a half. Afterwards, despite coming in cold, Reimer was nearly as unbeatable as he allowed one goal on 16 shots while the Panthers fell in a shootout.
Reimer Called On Again
Reimer has been Luongo's backup the past two seasons after the Panthers signed him to a five-year, $17 million contract in July 2016. The 30-year-old netminder has played well throughout his career with a 131-108-35 record, 21 shutouts, .915 save percentage (SV%), and 2.78 goals against average (GAA) in 303 games. He's been equally as good in 88 games as a Panther, having gone 40-30-12 with seven shutouts, a .916 SV%, and 2.76 GAA.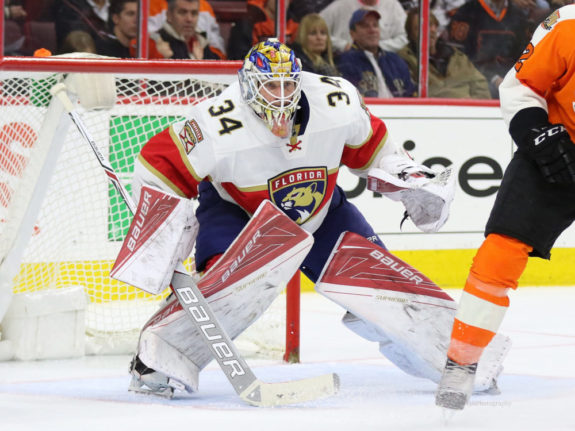 Reimer is a qualified backup or even "1B" goaltender with an above average save percentage in five of his eight seasons and is capable of starting stretches of games when needed. He showed that quality last season when he made a career-high 42 starts as Luongo missed time with a groin injury. Between Dec. 7 and Feb. 14, Reimer played in 20 of the team's 27 games, including 11 straight between Dec. 7 and Jan. 19. He was great and kept the Panthers afloat as he won 11 games, had a .920 SV%, and allowed two or fewer goals in eight starts.
Hutchinson Called Upon Sooner Than Expected
The Panthers signed 28-year-old Michael Hutchinson to a one-year, $1.3 million deal this offseason to be their starting AHL netminder as well as the first goalie called up when injury struck. Unfortunately, that didn't take long. Although the Boston Bruins drafted Hutchinson in the third round of the 2008 Draft, he never played an NHL game with them. Instead, after three seasons in the Bruins' system, the Winnipeg Jets signed Hutchinson during the 2013 offseason.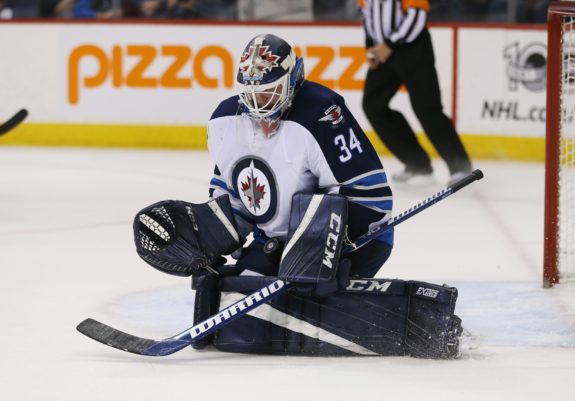 With the Jets, he played in 102 games, had a 43-39-11 record, three shutouts, a .910 SV%, and 2.65 GAA. He spent most of last season with the AHL's Manitoba Moose and appeared in 26 games, won 17 of them, had two shutouts, and averaged a .935 SV% and 2.08 GAA. In one start this season with Florida's AHL affiliate, the Springfield Thunderbirds, he turned aside 44 of 46 shots for a .957 SV%.
Other Goaltenders in the System
The Panthers have two additional goaltenders who can be called up in an emergency, but the team's front office has to hope it doesn't come to that. At the top of the AHL depth chart is Sam Montembeault, the Panthers' 2015 third round pick. Last year was his first professional season after he played two seasons in the QMJHL after his draft year. In 41 AHL games last season, he had an .896 SV% and 3.25 GAA. He may be the Panthers' best internal candidate for future franchise goaltender, but it's best that he stays in the AHL all of 2018-19.
Currently backing up Montembeault is 24-year-old Chris Driedger, whom the Panthers signed to a minor league contract this offseason. He spent last season in the Ottawa Senators' system, going between their AHL and ECHL affiliates. While he was good in the ECHL with a .922 SV% in 17 games, he struggled with the Belleville Senators of the AHL with an .885 SV% and 4.04 GAA in 10 games.
When they signed him, Florida's vision for Driedger was for him to stay in the ECHL and be called up to the AHL as needed. It's likely that if Reimer, Hutchinson, and Montembeault follow Luongo to injured reserve, the Panthers will sign or acquire a goaltender before Driedger gets called up to the NHL.
What Affect Will Luongo's Injury Have?
Essentially, as long as Reimer stays healthy and Luongo returns at the end of the four-week injury window, the team should do fine. Reimer proved he could carry the team last season and there's no reason to think he can't do it again. Meanwhile, Hutchinson has a history of average to slightly below average goaltending in his NHL career.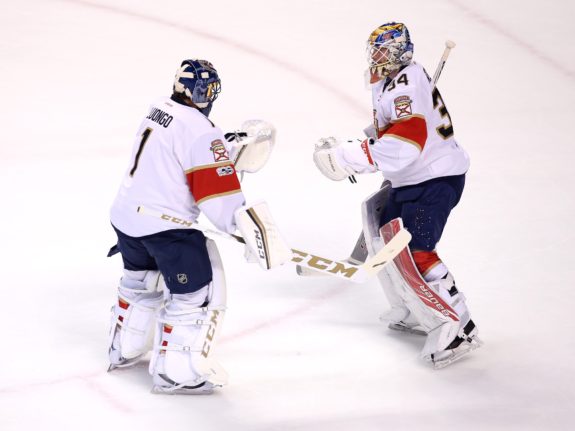 If you use Oct. 6 as the start of Luongo's injury timeline, four weeks out is Nov. 3. In that span, the Panthers play 10 games, including three sets of back-to-backs. Two of the back-t0-backs involve both a home and road game, the most difficult of which is the home-and-home series against the Jets on Nov. 1 and 2.
Other teams they face during the span include a home game against the Columbus Blue Jackets and road matchups versus the Philadelphia Flyers and Washington Capitals. Fortunately, they also play games against the Vancouver Canucks, Detroit Red Wings, and both the New York Rangers and New York Islanders.
If they go .500 from now until Nov. 3, the Panthers should stay on track for the rest of the season and their postseason aspirations won't be derailed. However, if they drop one or more of their easier games with Luongo out, their season could be over before it truly starts.
Florida's back-to-back games will force head coach Bob Boughner to make a decision as to how much he wants to play Reimer. He needs to stay fresh and split starts even after Luongo returns, but he also gives the Panthers the best chance to win until Luongo is healthy. It will be a decision based upon what's more important: the present and early portion of the season, or the end of the year when they are making a playoff push.
*All stats came from Hockey-Reference, Elite Prospects, and the AHL